South Korea's President Vows to Expand Non-lethal Aid to Ukraine
Ukraine's First Lady Olena Zelenska requested the additional aid in a meeting with President Yoon in Seoul.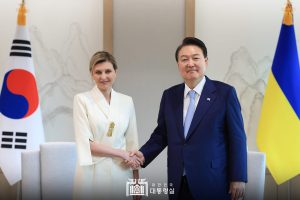 South Korean President Yoon Suk-yeol vowed to expand the country's non-lethal aid to Kyiv when he met with Ukraine's first lady Tuesday in Seoul.
Olena Zelenska visited South Korea as a special envoy of President Volodymyr Zelenskyy. During her meeting with Yoon, Zelenska requested South Korea expand its support of non-lethal military supplies, including equipment for detecting and removing mines and ambulance vehicles, according to Yoon's office.
Yoon replied that his government would closely coordinate with NATO and other international partners to "actively support the Ukrainian people," his spokesperson Lee Do-woon said during a briefing.
Yoon also condemned Russia's invasion of Ukraine, saying the "horrific losses of innocent lives, especially women and children, are unacceptable under any circumstances," according to remarks shared by his office.
Lee said Zelenska made no request for South Korean weapons supplies during her conversation with Yoon.
South Korea, a growing arms exporter with a well-equipped military backed by the United States, has provided humanitarian aid and other support to Ukraine while joining U.S.-led economic sanctions against Moscow. In total, Seoul has promised around $230 million worth of aid to Ukraine.
But South Korea has not directly provided arms to Kyiv, citing a long-standing policy of not supplying weapons to countries actively engaged in conflict. Analysts say Seoul's hesitation is also driven in part by concerns that Russia could retaliate by providing advanced weapons to North Korea, with which the South is still technically at war.
During a visit to South Korea in January, NATO Secretary-General Jens Stoltenberg called for South Korea to provide direct military support to Ukraine, saying Kyiv is in urgent need of weapons to fight off the prolonged Russian invasion.
Since Russia's invasion of Ukraine, South Korea has reached billions of dollars worth of deals to provide tanks, howitzers, fighter jets, and other weapons systems to Poland, a NATO member. A U.S. official said in November that the United States has agreed to buy 100,000 artillery rounds from South Korean manufacturers to provide to Ukraine, although South Korean officials have maintained that the munitions were meant to refill depleted U.S. stocks.
Documents released as part of the Discord Leaks allegedly detailed the Yoon administration's internal deliberations on the issue of providing arms to Ukraine. According to the Associated Press, the documents "indicate that South Korea's National Security Council 'grappled' with the United States in early March over an American request to provide artillery ammunition to Ukraine." The round-about solution, proposed by National Security Council Director Kim Sung-han, was to sell artillery ammunition to Poland, which could then pass along munitions from its own stocks to Ukraine.
South Korea and the United States have said that many of the documents included in the Discord Leak were fake, without specifying which ones had been falsified.
Later this week, Yoon will head to Hiroshima, Japan, to attend the G-7 summit as a special guest. Russia's invasion of Ukraine, and what the G-7 and its allies can do in response, are expected to be major topics of discussion.