The Hiroshima G7 Summit and Japan's Evolving Security Identity
Kishida's biggest achievement thus far may be showing Japan that sitting out on all conflicts is perhaps no longer an option.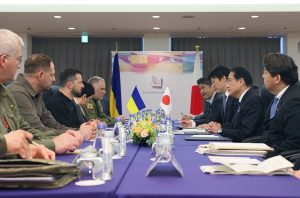 No recent G-7 summit was filled with as much excitement as the latest gathering in Hiroshima. As G-7 leaders visited the Hiroshima Peace Memorial and laid wreaths, news of Ukrainian President Volodymyr Zelenskyy's visit to Hiroshima broke. Given that the G-7 is the gathering of the leaders of the world's most powerful democracies, it is only fitting that Zelenskyy seized this opportunity to address the strongest supporters in his nation's fight against Russia's aggression.
Signaling solidarity and peace was symbolic, notwithstanding that the idea and meaning of "peace" varies for each nation as much as what Hiroshima signifies for each state, be that wartime atrocity, reconciliation, or reconstruction. This all-encompassing, equivocal, something-for-everyone approach is the gist of what an international summit of democracies is built upon. Without controversy or unpredictability, leaders acted as statesmen, did their homework, addressed issues, and found common ground.
For Kishida, hosting a G-7 summit in his hometown was a big deal for domestic consumption. He also delivered precisely what his critics said they wanted in terms of Japan's response to Russia's invasion: more diplomacy. Those who opposed Kishida's support for Ukraine disagreed with his new national security agenda announced last year. Most significantly, he controversially scrapped a self-imposed defense budget cap of 1 percent of GDP, a practice in place since 1958.
Yet Kishida has not hesitated to seize a more prominent role in supporting Ukraine, such as making a surprise visit to Kyiv in March this year. Indeed, no other post-World War II Japanese premier has visited a war zone. Redefining such Japanese norms, particularly in the area of defense, was perhaps least expected of Kishida when he took the premiership from his predecessor, Suga Yoshihide.
With an unwavering determination to support Ukraine and stand firm with the rest of G-7, Kishida's biggest achievement thus far may be that he has potentially delegitimized Japan's domestic pacifist construct, by showing that sitting out on all conflicts by default is perhaps no longer an option. Russia's assault on a sovereign and democratic Ukraine revealed how the world has changed since the end of World War II, when Japan voluntarily tied its hands. This time the aggression hit too close to home.
Japan has long been performing a rhetorical dance around defense, due to its inability to update its 1947 constitution. Because of Japan's past war crimes, an awkwardness to discuss anything defense-related has created a peculiar stasis in the Japanese psyche. Yet while, historically, global security issues have felt less threatening to Japan, the Ukrainian situation has served as a wake-up call. It has exposed the fundamental flaws of Japanese pacifist thinking, in which perennially sitting out could imply an indifference to aggression and violations of international law. Moreover, such distance and impartiality now appear imprudent as a policy if the primary goal is survival.
Kishida is looking at the bigger picture and aiming to forge new alliances. To this point, ahead of the G-7, Japan and the United Kingdom announced the Hiroshima Accord, an enhanced global partnership encompassing clean energy, semiconductors, and defense. The two island nations share not only the same fundamental values, but also some common concerns. Post-Brexit, the U.K. needs a partner, and a Japan-U.K. free trade agreement was agreed in 2020.
Both countries are also heavily intertwined with the United States for their own defense. And yet, during the last U.S. administration, then-President Donald Trump suggested the unthinkable, entertaining the idea of a nuclear Japan and distancing the U.S. from NATO. Although these unprecedented and dangerous ideas were not followed by deeds, Trump is set to run for president again. As a consequence, it is only natural that Kishida is mindful of hedging Japan's national security options through defense cooperation with other stable democratic partners.
Kishida is, for now at least, enjoying a political tailwind, and this G-7 summit awarded him a positive nod for his diplomatic acumen. Without public support, of course, Japan's national security paradigm cannot change. The interesting takeaway from recent events, however, is that Kishida's actions and initiatives may not be out of step with the Japanese public. If this is the path, Japan may truly have begun a shift toward a new national security identity.