The Sino-Indian Border After Galwan
Three years since the Chinese incursions in Galwan Valley began, the Sino-Indian border remains a tinderbox.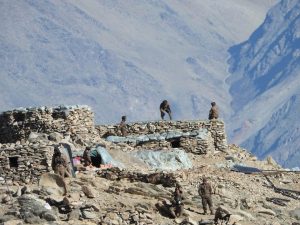 The lightly armed Indian patrol, about a hundred soldiers strong and led by a senior field commander, a colonel, moved cautiously through the Galwan River Valley. They were on a mission to monitor the Line of Actual Control (LAC), as Beijing and New Delhi call their de facto boundary in Ladakh. 
Two months earlier, in April 2020, thousands of Chinese soldiers from the People's Liberation Army (PLA) had intruded across the LAC at Galwan and five other places. In early June, attempting to reduce the risk of escalation, senior military commanders from both China and India negotiated a disengagement agreement that required troops on both sides to withdraw a few hundred meters, creating a buffer zone between them. 
Now the Indian Army patrol was in Galwan to verify if the PLA had withdrawn, as agreed.
According to unofficial Indian versions of what transpired next (no official version has been put out) the patrol found a Chinese tent still standing on Indian-claimed territory, in violation of the mutual pull-back agreement. Believing that the PLA had left the tent behind, the Indian patrol set it on fire. But it was a trap. A large number of PLA soldiers who were hiding in the Galwan River Valley emerged and set upon the Indian soldiers.
In the barbaric fight that ensued, soldiers from two nuclear powers battled it out with spears, staves, and crude wooden clubs wrapped in barbed wire. Indians who tried to escape by climbing the steep cliffs along the Galwan River ran into Chinese ambushes. Some of the outnumbered Indians were thrown off the cliffs to their deaths, others were seriously injured. The Indian government announced that 20 Indian soldiers died in the clash, many more were wounded, and 10 were taken prisoner by the PLA. They were repatriated after a few days with serious injuries from torture and beatings at the hands of their Chinese captors. The Chinese side, more than six months later, said that only four of its soldiers had died in the clash – a number disputed by the Indian side in its reports.
Occasional clashes are not unprecedented on the LAC, where border guards and soldiers from both sides robustly patrol the areas they claim. Yet, lethal violence has been avoided by a litany of confidence building measures (CBMs) and agreements that lay out restrictions on the conduct of soldiers involved in patrol confrontations. For the most part, this has managed to keep the peace. 
But in 2020, India and China found themselves dealing with the most perilous border crisis since 1967.
Today, three years after the Galwan River Valley clash, Chinese and Indian troops remain heavily deployed in disputed areas – a tinderbox ready to explode.