Turkmen President Pays Visit to Tajikistan
Although they don't share a border, budding autocratic dynasties Turkmenistan and Tajikistan are close political neighbors.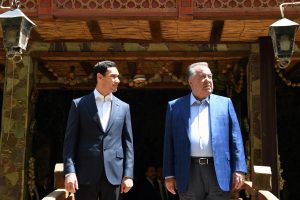 Turkmen President Serdar Berdymuhamedov made a state visit to Tajikistan on May 10, meeting with President Emomali Rahmon and other Tajik officials. The visit came a day after the two presidents visited Moscow to attend Russian President Vladimir Putin's toned-down victory day parade. 
Although Turkmenistan and Tajikistan do not share a border, they're neighbors in political style: Turkmenistan hosts Central Asia's first modern autocratic dynasty, with the passage of the presidency from father to son in 2022. Although the exact power dynamics were muddled by the elder Berdymuhamedov's reassertion of power via government changes earlier this year, Serdar remains president. Many analysts believe that Rahmon has similar plans for his son to succeed him. Rustam Emomali is currently mayor of Dushanbe, appointed such by his father in 2017 and in 2020 he was elected speaker of the Tajik parliament, placing him next in line to the presidency.
Turkmenistan and Tajikistan are also near neighbors on various rankings of democracy and press freedoms; both have been recommended by the U.S. Commission on International Religious Freedom (USCIRF) for designation as "countries of particular concern" when it comes to religious freedoms. 
During Berdymuhamedov the Younger's recent visit to Tajikistan, he met one-on-one with Rahmon, after which the two led bilateral talks. According to government statements, the two sides signed 23 new documents on cooperation and a separate declaration on deepening their strategic partnership. The 23 documents signed covered a great variety of issues: health, cyber and information security, veterinary issues, and "plant quarantine." There was a "road map" on expanding agricultural cooperation for 2023-2025; memorandums of understanding between national authorities in each country on combatting the financing of terrorism, on central bank cooperation, on mining, on statistics and other areas, as well as various agreements on customs, cargo flows, trade and construction.
In a statement after their meeting, Rahmon remarked on Berdymuhamedov's first state visit to Tajikistan and the litany of agreements signed. Rahmon said the visit "opens a new page in the strategic cooperation between Tajikistan and Turkmenistan" and expressed hopes that Berdymuhamedov would visit Tajikistan again in the fall, in particular for the next summit of Central Asian leaders and a meeting of the Council of the heads of the International Fund for Saving the Aral Sea, both scheduled for September in Dushanbe.
The two presidents will meet again soon, in the Chinese city of Xi'an where they are set to attend a summit with Chinese leader Xi Jinping on May 18-19. Tajikistan and Turkmenistan have some of the region's closest ties with China. Beijing is Ashgabat's single largest trade partner and most critical gas customer, with an estimated 80 percent of the gas transported to China via the Central Asia-China pipeline network originating in Turkmenistan. Tajikistan's Gorno-Badakhshan Autonomous Region (GBAO) borders China's Xinjiang; in both cases the central governments in Dushanbe and Beijing view these regions as troubled and troublesome. They have both carried out different, but significant, crackdowns in these regions. China has also, in recent years, invested in shadowy security architecture in Tajikistan, involving the construction of border posts and bases, training, and reports of Chinese security personnel being based in Tajikistan.