UN Summit in Qatar on Afghanistan Ends, Another Planned
Absent from the meeting were the Taliban themselves, who took over Afghanistan in August 2021.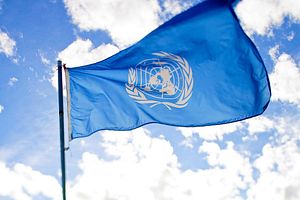 A closed-door summit on Afghanistan ended Tuesday in Qatar without any formal acknowledgment of the Taliban-controlled government there, though the United Nations' chief said they would hold another meeting in the future.
U.N. Secretary-General Antonio Guterres attended the summit, which the world body described as nations and organizations trying to reach unified stances on human rights, governance, counterterrorism, and anti-drug efforts. No recognition had been anticipated to come out of the meeting, though activists in recent days criticized the possibility.
"To achieve our objectives, we cannot disengage," Guterres said. "And many called for engagement to be more effective and based on lessons we have learned from the past."
He did not elaborate, though the Taliban previously controlled Afghanistan from 1994 to 2001.
Asked by a journalist if there would be any circumstance under which he'd be wiling to directly meet with the Taliban, Guterres said: "When it is the right moment to do so, I will obviously not refuse that possibility — but today is not the right moment to do so."
Absent from the meeting were the Taliban themselves, who took over Afghanistan in August 2021.
Suhail Shaheen, the head of the Taliban's political office in Doha, told The Associated Press that the new Afghan government dismissed the talks.
"If they are not ready to hear us and know our position regarding the issues, how can they reach a convincing and palatable solution?" Shaheen said. "One-sided decisions couldn't deliver. Afghanistan is an independent country. It has its own voice; we want them to listen to our voice."
Shaheen on Sunday met Andrew McCoubrey, director of Afghanistan and Pakistan at the United Kingdom's Foreign Office, and Yue Xiaoyong, China's special envoy for Afghanistan, in Doha.
"As you know, the U.N. envoy has talks with government officials in Kabul, but when it comes to these sorts of conferences … we are not invited," Shaheen added. "We think this is not the solution for Afghan issues and its outcome can't be effective."
Afghanistan's acting foreign minister, Maulvi Amir Khan Muttaqi, will travel to Pakistan's capital, Islamabad, later this week to meet Chinese and Pakistani officials.
In the time since the Taliban seized power, Afghanistan has become the most repressive place in the world for women and girls, who are deprived of virtually all their basic rights, according to the United Nations.
Girls are banned from education beyond sixth grade and women are barred from working, studying, traveling without a male companion, and even going to parks or bath houses. Women must also cover themselves from head to toe and are barred from working at national and international non-governmental organizations, disrupting the delivery of humanitarian aid. Afghanistan remains wracked by poverty and hunger, squeezed like other nations by Russia's war on Ukraine.
Meanwhile, concerns remain over Afghanistan again becoming a haven for Islamic extremists wanting to strike out abroad. The U.S.-led 2001 invasion came on the back of al-Qaida's 9/11 attack on New York and Washington. Since the takeover, the United States has carried out drone strikes targeting suspected militants.
Those concerns have complicated how nations, particularly the West, deal with Afghanistan today.
Activists had worried the Qatar summit could see the international community reach a recognition deal with the Taliban even as women remain largely barred from society.
The Taliban are "a terrorist group whose deeply repressive regime has systematically sought to erase more than half of the population from society," an open letter from the activists read. "Having denied women and girls almost all of their fundamental human rights, the Taliban has become the only regime in the world upholding a system of gender apartheid."
The countries that took part in the Doha summit included China, France, Germany, India, Indonesia, Iran, Japan, Kazakhstan, Kyrgyzstan, Norway, Pakistan, Russia, Saudi Arabia, Tajikistan, Turkey, Turkmenistan, the United Arab Emirates, the United Kingdom, the United States, and Uzbekistan.
Qatar, an energy-rich nation on the Arabian Peninsula that has long hosted a political office for the Taliban, hosted the talks.