Uzbekistan's President Mirziyoyev Visits Germany
Tashkent's readouts of the president's meetings in Berlin highlight the quest for "multifaceted" cooperation.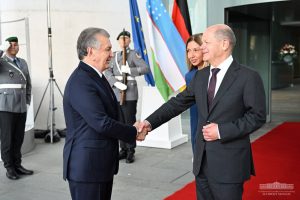 Shortly after a new constitution was approved via referendum in Uzbekistan, President Shavkat Mirziyoyev traveled to Germany for a two-day visit. 
Mirziyoyev arrived in Berlin on May 2 and met with German Chancellor Olaf Scholz. There was no joint press conference planned, and the German side has not published much, officially, about the meeting. On the Uzbek side, however, every step has been fastidiously documented. 
According to the Uzbek readout of Mirziyoyev's meeting with Scholz the two leaders "discussed the possibilities of expanding multifaceted relations." Mirziyoyev, it said, emphasized that Uzbekistan sees Germany as a "reliable and strategic" partner and highlighted a "twofold" increase in mutual trade. 
The readout also noted a joint business forum held in conjunction with the visit at which agreements worth $9 billion were reached, spanning cooperation in green energy; the mining, chemical, and pharmaceutical industries; modernization of transport infrastructure, "digitalization of agriculture" and other areas. Germany, the Uzbek readout said, was ready to support Uzbekistan's joining the World Trade Organization and the signing of an Enhanced Partnership and Cooperation Agreement with the European Union. The Trans-Caspian Corridor got a mention, as did the logistics hub in Termez (as well as an Educational Center for Afghan Youth in the city).
In his May 3 meeting with German President Frank-Walter Steinmeier, Mirziyoyev again beat the drum of "multifaceted cooperation." 
Ahead of the visit, a German press release broadly stated that the discussion would focus on "bilateral, foreign, security and regional policy issues as well as questions on economic, energy and climate policy."
Absent from the Uzbek readouts of these meetings was any mention of Ukraine or Russia, or human rights in Uzbekistan. It is unlikely that these topics were avoided entirely, but neither side has made public mention of them. Since Russia's invasion of Ukraine and the start of the ongoing war in February 2022, Uzbekistan has tried to maintain a careful neutrality; Germany, meanwhile, has sent considerable military aid to Ukraine.
RFE/RL's Uzbek Service, Radio Ozodlik, reported that a group of protesters picketed outside the German chancellor's office before Mirziyoyev's arrival, but when the Uzbek president arrived another group of Uzbeks "appeared and blocked the critical activists." The two camps reportedly tried to out-shout each other — one side calling Mirziyoyev a "dictator" and the other countering with slogans in support of the Uzbek president. 
Germany is home to a number of Uzbek expats, and the home base for several Uzbekistan-focused human rights organizations such as the Uzbek Forum for Human Rights (UGF, previously the Uzbek-German Forum for Human Rights). In an op-ed published by the German paper Tagesspiegal, UGF head Umida Niyazova wrote that while Mirziyoyev's rule in Uzbekistan since 2016 has brought some improvements, there is a sense among many that the core authoritarian nature of the Uzbek government has not changed. Niyazova highlighted the constitutional referendum, which among other things extended the presidential term from five to seven years and resets the clock on Mirziyoyev's terms — enabling him to remain in power through 2040.
Niyazova called on the Germany government to stress that advances in trade are only possible if human rights are respected.