Evolving Narratives in German Foreign Policy Toward Central Asia
Germany's key role is in helping Central Asia reduce its reliance on Russian and Chinese investments and, more significantly, trade.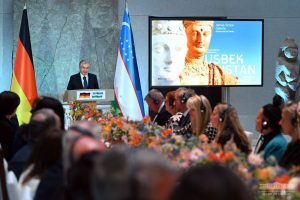 Amidst significant geopolitical shifts and Central Asia's burgeoning economic and political potential, German interest in the region has significantly increased in recent years. Germany, along with the European Union, aims to divest from U.S. strategic hegemony to engage in a multipolar global contest with China and Russia. This recalibration is further informed by Germany's recent comprehensive National Security Strategy, unveiled on June 14, 2023, which seeks to address German interests in a European landscape deeply impacted by Russia's incursion into Ukraine.
Germany's foreign policy vis-à-vis Central Asia operates on two parallel tracks. First, German foreign policy is strongly related to the European regional strategy. The country served as the architect of the European Union's Strategy for Central Asia, initially adopted in 2007  and subsequently revised in 2019. Second, Germany pursues its individual bilateral imperatives in the region, such as advocating for German-speaking minorities.
The most recent summits and high-level visits with the participation of the German leadership — including those by Federal President Frank-Walter Steinmeier to Uzbekistan in May 2019 and Kazakhstan and Kyrgyzstan in June 2023; Uzbek President Shavkat Mirziyoyev's visits to Germany in January 2019 and May 2023; German Foreign Minister Annalena Baerbock's visits to Kazakhstan and Kyrgyzstan in October 2022; the EU-Central Asia Summits in Astana in October 2022 and Cholpon-Ata in June 2023; and the first EU-Central Asia Connectivity Conference in November 2022, in Samarkand — underscore the invigorated dialogue between Germany and Central Asia.
Germany's Aims in Central Asia
Berlin's foreign policy toward Central Asia is primarily focused on three areas: countering Russian and Chinese dominance and, ultimately, staving off their total control of the region; fostering economic development, with a particular focus on German goods and services; and navigating the complexities associated with Afghanistan.
First, Germany's foreign policy seeks to fortify Central Asian nations' statehood and independence in a shifting post-Soviet landscape increasingly influenced by China. Josef Borrell, the EU's high representative for foreign affairs and security policy, emphasized the importance of strategic autonomy for both Europe and Central Asia during a summit in Samarkand in November 2022, and noted they could achieve that goal by enhancing connectivity.
Germany's new National Security Strategy states that "the security environment in Germany is undergoing profound change, and we are at a tipping point, Zeitenwende, or a turning point. With Russia's threat to European security and China seen as a difficult competitor, a systemic rival, but still an 'essential partner', we are redoubling our efforts to keep our country safe and free." Since 2014, Germany has been instrumental in sustaining the EU's consensus on sanctions against Russia.
Experts on Central Asia argue that the region occupies a central role in the current geopolitical discord due to its unique location, historical trajectory, institutional configurations, and developmental paradigms. The region itself, however, is among those worst impacted by Russia's invasion of Ukraine. The Central Asian republics, which are surrounded by nations that are subject to Western sanctions (Afghanistan, Iran, China, and Russia), are eager to deepen their global alliances despite grappling with the effects of new, unprecedented sanctions against Moscow.
German Foreign Minister Annalena Baerbock observed on the eve of her visit to Central Asia in October 2022 that while the Central Asian republics had long wanted to serve as a link between Russia, China, and Europe, they now feel as if they are wedged between all of the other players and are frightened of becoming a trophy. She made it clear that the visit's goal was to convey to the Central Asian states that Germany remains actively involved in their struggle to maintain their status as independent states against the backdrop of Russia's aggressive war against Ukraine.
An agreement was made to start a dialogue platform between Germany and the Central Asian states during Mirziyoyev's May 2023 visit to Germany.
Europe, on the other hand, has pursued a "carrot and stick" strategy, which threatens Central Asia by enforcing secondary sanctions. The recent influx of European envoys to the region, including visits by the European Union Special Envoy for Sanctions Implementation David O'Sullivan and the U.K. Foreign Office Sanctions Director David Reed, show that the West is cognizant of Central Asia's contribution to the Kremlin's efforts to evade sanctions. A first wave of sanctions has already affected a number of businesses from Kyrgyzstan and Uzbekistan.
Germany has been wary of engaging in deep economic collaboration with China since the 2010s. The German stance on Chinese international economic projects serves as a prime illustration: Germany joined the Asian Infrastructure Investment Bank and is now its fourth-largest shareholder, but it has opted out of the Belt and Road Initiative. Germany adopted its first-ever China policy in July 2023. It accepts that, as a result of Xi Jinping's reforms, China has undercut German interests badly. Germany is still attempting to strike a balance between domestic and European perspectives, as well as between industry and politics.
Moreover, Germany has stepped up its diplomatic ties with nations in the Indo-Pacific area in an effort to curtail China's influence over the past two years. German politicians are engaging in previously unheard-of diplomatic activity in the Indo-Pacific area since 2020, meeting frequently with the leaders of other regional powers.
On April 14, 2023, at the conclusion of the sixth round of the Sino-German Strategic Diplomacy and Security Dialogue in Beijing, then-Chinese Foreign Minister Qin Gang stated that "carrying out comprehensive exchanges, strengthening strategic mutual trust, and avoiding strategic miscalculations" are the keys to developing bilateral ties between China and Germany. He said China and Germany should cooperate and not be in confrontation, be it a zero-sum confrontation or a bloc confrontation.
Second, Berlin is interested in setting up the conditions for regional economic growth and social welfare improvement, including the prevention of external migration processes. This is primarily done by promoting German products and services. Given the influx of Afghan migrants into the EU, in particular, the current migration problems in Europe demonstrate the necessity of preventive work in neighboring regions.
Germany, which has one of the most developed economies in the world, together with the rest of the EU, became Central Asia's third-largest trading partner in 2010, behind only Russia and China. And in the ensuing years Germany's economy interests in the region have only grown. In 2021, the trade turnover between Uzbekistan and the European Union amounted to $3.8 billion – a quarter of which is with Germany. The volume of bilateral trade and export of goods from Uzbekistan to Germany also increased.
In 2022, Germany was the leading trade and economic partner among the EU countries, accounting for almost 26 percent of the total trade volume between Uzbekistan and the EU. Of the total volume of investments received in 2021 in Uzbekistan from EU countries, about 60 percent were German investments, reaching almost $5.5 billion. The country's government supports Uzbekistan's entry into the World Trade Organization (WTO) and the early signing of an Enhanced Partnership and Cooperation Agreement with the European Union.
In general, trade turnover between Uzbekistan and Germany increased 2.2 times between 2016 and 2022, from $529.1 million to $1.2 billion; exports increased by 2.4 times, from $36.9 million to $88.9 million; and imports increased by 2.2 times, from $492.2 million to $1.1 billion. Germany's share of global trade turnover climbed throughout the period from 2.2 percent to 2.3 percent, general exports increased from 0.3 percent to 0.5 percent, and total imports dropped from 4.1  percent to 3.5  percent.
In exchange for effective economic and political reforms, the EU gave advantages to Uzbekistan under the Generalized System of Preferences-Plus (GSP+) program. And since 2008, Germany has been leading the so-called "Berlin Process" to assist Central Asia with its pressing water management challenges.
Third, due to the Taliban's refusal to hold talks with Europe, Central Asia is a crucial ally of Germany in relation to Afghanistan. With extensive experience in this area of interaction with the Central Asian states, Berlin has already taken on increased responsibility for planning military and special operations in Afghanistan. For instance, in 2021, Germany evacuated its military and other personnel from Afghanistan with Uzbekistan's support.
Addressing Structural Issues
To implement its plans for participation in the regional process in Central Asia, Germany must address some structural issues, such as bridging the interregional gap caused by the vast Russian territories that lie between Europe and Central Asia and pose communication challenges, as well as rising competition from China and Russia for markets (particularly in the context of the search for alternative means of trade).
First, Central Asian transport networks are expanding in two significant directions to the west, where Kazakhstan and the Caspian Sea are the most important links in the Sino-European trade routes, and to the south, via both land and sea with the development of port communications between Kazakhstan, Turkmenistan, and Azerbaijan and Iran, as well as a railway line connecting Uzbekistan, Afghanistan, and Pakistan.
In the energy industry, Kazakhstan anticipates the continuation of oil shipments to European markets via the Caspian Sea despite occasional Russia blocking of its main oil pipeline. Turkmenistan sends gas to China and South Asia, while its hydroelectric plans, like those of Kyrgyzstan and Tajikistan, are vulnerable to dangers brought on by the situation in Afghanistan.
Second, the EU sought to lessen its reliance on Russia for energy supplies by importing oil and gas rom elsewhere. Naturally, Central Asia could not take the place of imports from OPEC nations into the EU, but it might greatly reduce the EU's perpetual "energy hunger." Oil from Kazakhstan is now being shipped to Germany via the Middle Route. The EU is making investments in Central Asian space stabilization to "fix" the Central Asian nations as producers of energy resources. This is true for all nations who have access to the Russian market and are successfully promoting themselves as alternative investors and raw material suppliers who will gain from Russia's waning influence.
Third, as of 2018, the Global Gateway Initiative ("Connecting Europe and Asia: building blocks of the EU strategy"), which was later incorporated into the EU Policy for Central Asia in 2019, was already being used by European nations. This endeavor to develop bridges is crucial given the West's current rift with Russia and its escalating systemic conflict with China.
Germany at the Forefront of EU Central Asia Policy
In general, Germany sets the direction of Central Asia policy for the EU. The area serves as a launchpad for the realization of Germany's objectives as well as those of the EU. It is safe to say that this region will play a significant part in enhancing Germany's geopolitical stability, particularly its access to food and energy. This is a situation where everyone benefits, especially the Central Asian states. This collaboration will aid the nations of the region in implementing a strategy of "checks and balances" against China and any other entities interested in filling the expanding vacuum in addition to providing geoeconomic and geopolitical benefits.
To protect its political, military, and other interests, it would appear that Germany's existing goals in the region should increase Berlin's geostrategic and geoeconomic capital. Through joint industrial cooperation projects and the export of jointly produced goods to international markets, further institutionalizing contacts, as demonstrated by the Germany-Central Asia discussion format and other examples, will contribute to regional consolidation based on mutual benefit.
Germany's key role is in helping Central Asia reduce its reliance on Russian and Chinese investments and, more significantly, trade. German technology and knowledge, particularly in areas like digitalization and green economy can help create growth potential for Central Asian exports to China, which will also help reduce Germany's rapidly expanding trade deficit with China, which reached record levels in 2022 and totaled 298 billion euros.