What's Behind China's New Alliance for Cultural Heritage in Asia?
China's drive toward cultural internationalism could address the complicated connections between culture, heritage, development, and infrastructure.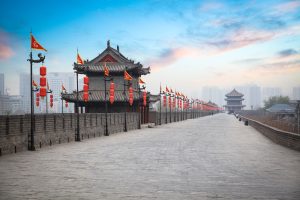 The restoration and preservation of buildings, artifacts, landscapes, and historic cities is often described as a technical, scientific process. Dig a bit deeper, though, and the cultural and political dimensions of this multi-billion dollar sector soon reveal themselves.
As this industry evolved in the modern era, European institutions and experts created the standards and norms that continue to guide international policy today. But in recent decades, the pendulum has begun to swing toward Asia. Will last week's developments in Xi'an further accelerate this trend?
On April 24 and 25, experts and representatives from more than 20 countries gathered in northwest China, culminating in the establishment of "The Alliance for Cultural Heritage in Asia." In promising to "provide an Asian approach to global cultural heritage conservation management," the Alliance is conceived as a platform for fostering cross-regional international cooperation, dialogue, and intergovernmental aid.
To better understand the significance of this initiative we need to go back to the 1990s and the pivotal role Japan played in reshaping global heritage policy, including the work of UNESCO. In 1994, a similar meeting took place in the city of Nara, resulting in the so-called Nara Convention, which has had a major impact on global cultural policy, given it was backed up by substantial funding and diplomatic investments to UNESCO by the Japanese government.
Today, as China reopens its borders after COVID-19, its drive toward cultural internationalism is accelerating rapidly, and in ways that are likely to have long-term consequences.
The idea of developing "Asian approaches" to the conservation and preservation of the cultural past has been around for decades. It remains unclear what this actually means, and whether such an idea has any real merit. It does, however, signpost the need for developing paradigms and approaches that move beyond those developed under different historical and cultural circumstances. The context now is civilizational. Coming shortly after Xi Jinping's announcement for a new Global Civilization Initiative, the April meeting in Xi'an represented one of the first tangible manifestations of this grand manifesto of internationalism.
The choice of Xi'an as the location for founding the Alliance clearly signals the importance of the Silk Road narrative in all this. The Silk Road acts as a symbolically potent architecture for connecting both pasts and futures, and cities, countries, and institutions into networks of cooperation. How this matrix of cooperation will be developed and built will be crucial. Conserving buildings and museum artifacts is one thing, but many more issues now engulf cultural heritage, particularly in Asia.
There is an opportunity to learn from the mistakes from previous decades. Across the region, sites of cultural significance, particularly those listed as World Heritage sites, have invariably become honeypots of development, and led to the elite capture of resources. Tourism creates major social and physical upheaval, and the complexities of this are often poorly understood. In the Belt and Road/Silk Road nexus we are seeing the construction of major infrastructure projects – railways, airports, cruise-ship ports, or hotel and leisure districts – that will have profound long-term implications on the economies and livelihoods of regions.
The story of world heritage in Asia in the past few decades has been one of forced displacement of communities, and rising inequalities. It took the World Bank, Asian Development Bank, and others some decades to realize the importance of the connection between culture, heritage, development and infrastructure. Not surprisingly, the forced marriage of conservation, economic growth, and social and environmental welfare is fraught with competing agendas and the political power that comes with capital investment.
With the infrastructure roll-outs of the Belt and Road, the challenges only increase further, in both speed and scale. This is already evident in Central Asia, in different parts of Sri Lanka, including the post-conflict regions of the north; in Laos and Cambodia; and across the Himalaya, to cite a few examples.
To date, the China-led Asian Infrastructure Investment Bank (AIIB) has dedicated little attention to the issue of culture and cultural heritage, which is somewhat surprising given its centrality to the fifth pillar of BRI: people to people connections. Here then, the Alliance formed in Xi'an can make a tangible impact on building the knowledge infrastructures and institutions that are now required across the region to address the multiple and complex phenomena associated with historically significant land-based sites, cultural and religious practices, museums, and the various forms of heritage associated with rivers, seas and oceans. Addressing the latter is particularly important for those communities and places lying along coastal regions affected by climate change.
Recent developments in India, Turkey, and elsewhere also speak of a growing trend to remodel and govern cultural heritage in ways that advance the nationalist ambitions of populist leaders. UNESCO's remit since World War II has been about countering such forms of cultural politics and the forms of violence they generate, and this remains a key challenge today.
Saving culture is not enough. It's about understanding how it can be a source of tolerance, empowerment, equity, and dignity, both within and across groups and borders. If the Xi'an Alliance can develop mechanisms and platforms that productively help counter the ways in which cultural heritage is being weaponized as a political tool in different parts of Asia today, it will indeed go a long way to fulfilling its ambition of contributing more robust and productive policy architectures that are of global relevance.