Is the Worst Yet to Come for Imran Khan?
As things stand, it seems neither Khan nor his political party will be permitted to contest elections.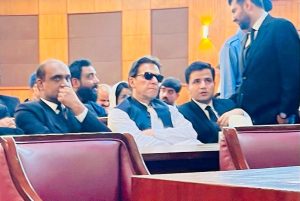 Rioting and attacks by Pakistan Tehreek-e-Insaf (PTI) activists on army installations on May 9 so enraged the country's powerful military that it seems that the party has been all but wiped out in the ensuing crackdown.
PTI workers went on a rampage on May 9 following the arrest of party leader and former prime minister Imran Khan. Those involved in the violence have either been arrested or have become silent, fearing action.
It is clear to the PTI's top leaders and supporters that the military is not in the mood to forgive and forget the damage Khan has done to undermine the army's institutional interests. In an attempt to escape responsibility, many PTI leaders have either gone into hiding or abandoned Khan's party to join other political parties.
For several months, Khan refused to appear before the courts in connection with different cases as he believed that due to his massive support base, the courts would not dare to act against him. He provoked the military leadership, warning them of severe consequences if he was arrested or his party was sidelined. His high-risk political maneuvering backfired in such a way that he is now cooped up in his Lahore residence and attends court hearings every day.
Post-May 9, Khan continues to create problems for himself. He has refused to accept that his months-long campaign inciting his supporters against the military may have led to the violent rioting in May. Even after the May 9 violence, the PTI chief did not stop the party's social media campaigns against the military leadership and even went as far as accusing the law enforcement agencies of carrying out human rights violations. For weeks, he has been trying to shift blame and downplay the severity of the violent demonstrations by engaging in conspiracy theories. He has openly called on the international community to condemn the government and law enforcement agencies' punitive actions against his party.
Last week, the PTI's representatives in the United States even urged lawmakers to link Washington's military aid to Pakistan to the human rights situation in the country. However, millions of overseas Pakistanis have not welcomed this as they do not necessarily agree with Khan's stance.
It seems that Khan has yet to accept the fact that he has lost the battle with the military. Earlier this week, PTI Vice Chairman Shah Mahmood Qureshi tried to persuade Khan that it is time for him to leave the party leadership and step aside from politics. Reportedly, Qureshi advised Khan to leave the country, or at least remain silent and allow him to settle matters with the establishment. Qureshi's proposals, however, were rejected by Khan.
Khan's recent conduct has infuriated the military further. It was reflected in the statement issued after the latest Formation Commander Conference. The meeting categorically stated that those who planned and were accomplices in the May 9 attacks will be held accountable under the "Army Act and Official Secrets Act." According to the military, it is time to "tighten the noose of law around those who mounted the hate-ripened and politically driven" rebellion against the state and state institutions in order to bring chaos to the country. Moreover, there was a message for Khan's facilitators in the judiciary as well: "Endeavors by any quarter to create obstructions and stymie the conclusive defeat of ill-design of inimical forces will be dealt with an iron hand."
It is clear that the military now wants to make an example of Khan. It is likely to try him under military laws and send him to prison for a long time. As things stand, neither the PTI chief nor his party has a chance of contesting elections, let alone returning to power. The worse is yet to come for Khan.
It is clear at this point that Khan is not able to negotiate with the military. Neither does the military have much patience left to deal with the PTI chief's dangerous antics.
In order for Khan to ease his troubles, he would have to leave the party leadership, end his social media wars with the military leadership, and accept responsibility for his mistakes that led to the violence on May 9. He might get pardoned if he keeps quiet. As someone who has not given up and has a combative style of politics, however, Khan seems destined to make things worse for himself and those who remain in the party.