Kazakhstan and Germany: Dissecting President Frank-Walter Steinmeier's Visit
The German president's recent visit underscores Berlin's commitment to strengthening ties with Kazakhstan amidst a volatile geopolitical landscape.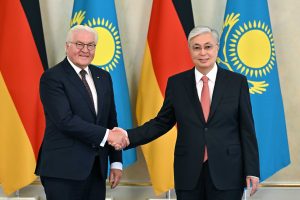 German President Frank-Walter Steinmeier's recent state visit to Kazakhstan could signal a shift in Central Asian geopolitics amidst ongoing global crises. As Germany moves to balance China and Russia's influence, the visit illuminated the potential for mutual benefits across various sectors such as education, technology, and economics. However, it also raises key questions about the future, such as the feasibility of large-scale infrastructure projects and the sustainability of resource-driven agreements. 
The EU and Kazakhstan's Multi-vector Policy 
Steinmeier undertook a state visit to Kazakhstan from June 19-21. This followed a similar high-level visit that took place in 2017. Since Russia's invasion of Ukraine in February 2022, European nations have begun to display a heightened interest in Kazakhstan. Steinmeier's trip is worth considering in the context of attempts at global containment of China and Russia, with the European Union and Germany assuming more responsibility in Central Asia.
In the build-up to Steinmeier's visit, German Foreign Minister Annalena Baerbock underscored Germany's aim to emerge as a dependable partner for Kazakhstan amidst the ongoing global crisis. Steinmeier's visit echoed this sentiment. As per Germany's Presidential Office, the visit is a testament to the geopolitical significance of the region. 
During the visit, representatives from both sides discussed bilateral collaborations across various domains, such as politics, economics, science, and education. The political discussions were particularly centered around the Ukraine war, the observance of sanctions imposed on Russia, as well as Kazakhstan's relations with the European Union and China. 
Recently, EU countries adopted an 11th package of sanctions against Russia, highlighting concerns that Russia receives sanctioned goods or their components through countries such as Kazakhstan, Kyrgyzstan, and Armenia. It is important to note that the growth of trade cooperation between Kazakhstan and the European Union in 2022 can be explained by the increase in energy prices and the increase in exports from the EU in the first eight months of 2022 of goods such as pharmaceutical products (up by 25.6 percent), tractors (up by 90.5 percent), passenger cars (up by almost 100 percent), and computer equipment (up by almost 50 percent). 
The cancellation of the delivery of sanctioned goods or components may lead to a decrease in trade between the EU and Kazakhstan, while the increase in the transportation of oil through Russia increases the influence of the latter. 
The German president's visit was to provide a new piece to this complex puzzle. Germany recently unveiled its inaugural national security strategy. Although this document does not specifically refer to Central Asian nations, a leaked draft document from the German Foreign Ministry, obtained by the German news magazine Der Spiegel, reveals that Germany is planning to shift its focus to Central Asian nations to mitigate potential dominance by Russia or China. But does Germany really have enough resources to counter the influence of Russia and China in Central Asia? Germany's main attractive offerings are science and education cooperation.
The European Union, broadly, supports the multi-vector foreign policy direction of Central Asian countries. EU High Representative for Foreign Affairs and Security Policy Josep Borrell, has said, "It is obvious that the region is looking to diversify its relationships and that the EU is seen as a partner of choice." Germany is keen to contribute toward this goal, as is evident from the recent high-level visits and agreements reached. 
As an outcome of Steinmeier's visit, nine documents amounting to $547 million were signed. These documents encapsulate cooperation between the state agencies of both countries and initiate new bilateral investment and educational projects.
Technology in Exchange for Raw Materials
The negotiation session was followed by a forum engaging university rectors from Kazakhstan and Germany. The forum saw participation from representatives of 11 German and 25 Kazakh technical universities. Kazakh President Kassym-Jomart Tokayev emphasized the significance of collaboration with German universities to foster advanced technological growth within Kazakhstan. Kazakhstan's president dreams of the country becoming a research hub and believes that the involvement of German universities will play an extremely important role in making his dream a reality.
In the historical context, it's noteworthy that back in 1997, an agreement for technical cooperation was signed between the two nations. The agreement entailed the German government's commitment to dispatching specialist personnel, ranging from instructors to scientific and technical staff, as well as experts. It also included provisions for the supply of materials and equipment, and for the training and professional development of specialists, managerial staff, and scientists in Kazakhstan, Germany, or other nations. 
Germany continues to extend support toward training quality professionals. There are already several examples of scientific and educational cooperation between the two countries. The Kazakhstan-German University, established in Almaty in 1999, holds a top-ranking position in several Kazakh educational ratings. The university offers Kazakh students the opportunity to study in Germany through academic mobility initiatives and the "Double Diploma" program. 
The Sh. Yessenov Caspian University of Technology and Engineering in Aktau is set to inaugurate a new Kazakh-German Institute of Sustainable Engineering. The Kazakh-German University played a significant role in the establishment of the institute. It will specialize in training students in fields such as logistics and energy and environmental engineering. Additionally, under the aegis of the Kazakh National Agrarian Research University, the Kazakh-German Institute for Ecosystem and Biodiversity Protection was launched.
At a meeting with Steinmeier, Tokayev noted that a relationship based on the formula "technology in exchange for raw materials" will be productive for both sides. Kazakhstan can steadily provide the German economy with energy resources and the necessary raw materials.
Balancing the Growing Economic Influence of China and Russia?
The visit sparked a considerable boost in the economic relations between Kazakhstan and Germany. As reported by Kazakh Invest, during the Kazakh-German business forum — which included the participation of both countries' presidents — 23 commercial agreements were signed. These joint projects amounted to over $1.7 billion. The agreements focused on several areas, including the processing of rare earth metals, the production of machine tools and agricultural machinery, and the textile industry, as well as fishing and green energy, among others. 
In 2021 and 2022, Germany announced the commencement of significant investment projects, such as the construction of a lithium processing and mining plant, along with hydrogen production. From 2020 up until the recent visit, Germany's investment projects have potentially created more than 1,500 jobs, according to the investment project pool. If we compare the data for 2022 on the number of investment projects, the EU countries (Germany, France, the Netherlands, Slovakia, and Lithuania) altogether announced the beginning of nine projects, which were to create 1,493 new jobs. In contrast, China announced 12 projects with 4,347 jobs in 2022; Russia, meanwhile, announced 16 projects that may create 6,860 jobs. The number of Russian projects has increased significantly compared to the previous year. Nevertheless, the signing of new agreements with Germany contributes to Kazakhstan's ability to balance Russia and China.
Distinctly noteworthy were discussions on the supply of Kazakh oil and the development of transport and logistics routes. As per the agreement regarding the oil refinery in Schwedt, Kazakhstan has committed to supplying 100,000 tons of crude oil monthly until the end of 2024. This supply is expected to augment the refinery's capacity utilization by 10 percent. 
"This is good news for Schwedt and good news for Germany's energy security," said Steinmeier. 
At the same time, German experts note that the volume of Kazakh oil is not enough to compensate for losses of Russian volumes. In addition, the oil will come through the territory of Russia, which creates the risk of Moscow blocking oil supplies. Plus, thanks to these supplies, Russia will extract new profits anyway. 
The German president also expressed great interest in the further development of the Trans-Caspian international transport route, along with the importance of increasing the supply of Kazakh oil through the Baku-Tbilisi-Ceyhan oil pipeline. As Eric Sagiyev, deputy general director for transportation of KazTransOil (KTO, a subsidiary of KazMunayGas) reported, Kazakhstan received a quota of 1.5 million tons through the Baku-Tbilisi-Ceyhan oil pipeline, which started being shipped from the resources of Tengizchevroil. 
Tokayev emphasized the need for infrastructure modernization, which can be supported by the European Union's Global Gateway Initiative and organizations such as the European Bank for Development and Reconstruction (EBRD) and the European Investment Bank. Between 2017 and 2021, the top priority of the EBRD was balancing public and private sector participation. However, for 2022-2027, the EBRD's strategic focus for Kazakhstan has shifted to "Stimulating private sector competitiveness and transport connectivity," which includes funding for transport and logistics infrastructure like roads, warehouses, and dry ports, potentially through the EU Global Gateway initiative.
An EBRD study on sustainable transport and connectivity between Europe and Central Asia estimates that a significant upgrade of the Central Trans-Caspian network would require an investment of approximately 18.5 billion euros. And here the question arises: Can the parties pull off such an amount to improve infrastructure in the Central Asian countries? And, if so, will it not lead to a new casino card for other players (like Turkey), which can use it to achieve their own geopolitical goals?
Anticipating the Future of Kazakh-German Relations
Steinmeier's state visit underlines Germany's commitment to strengthening ties with Kazakhstan amidst a volatile geopolitical landscape. Through education, technology, and economic partnerships, both nations seek to achieve mutual benefits. However, the complexities of large-scale infrastructure investments, reliance on resource-driven agreements, and the necessity to balance China and Russia's influence are challenges that await on the horizon. As Germany and Kazakhstan advance in their collaboration, these will be critical areas to monitor, shaping the future trajectory of the relationship between these two countries.