Kazakhstan Walks Diplomatic Tightrope Between Russia and Europe
Back-to-back visits by Kazakh President Tokayev this week to Moscow and Paris underscore Astana's unique position.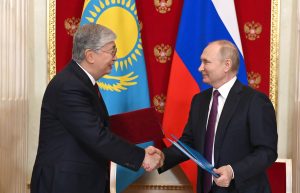 Kazakhstan's diplomatic tightrope walking continues, with recently re-elected President Kassym-Jomart Tokayev traveling to Moscow on November 28 for an official visit and discussions with Russian President Vladimir Putin. He also participated in the 18th Forum of Interregional Cooperation between Russia and Kazakhstan. Tokayev then headed for France, where on November 29 he was warmly welcomed by French President Emmanuel Macron. 
The pair of visits maintains a certain balance and underscores Kazakhstan's position as one of only a few bridges between Europe and Russia, their relations critically strained nine months after the Russian invasion of Ukraine began. In both visits, one can find friendly phrases and references to strategic partnerships, deep and deepening economic ties, and artful skirting of the Ukrainian elephant in the room.
In Moscow, Tokayev remarked on the significance of his visiting Russia first following his re-election. He noted the symbolism but also that it was "quite natural." 
"For Kazakhstan," Tokayev continued, "the Russian Federation has been and remains the main strategic partner, a state with which we have deep relationships in various industries." 
For his part, Putin again congratulated Tokayev and noted that the two leaders meet regularly. "[W]e always use any of our meetings to discuss current affairs," Putin said, "And above all, of course, we are talking about the economy, because this is the basis of all our other successes in all areas." He also underscored the "special nature" of Kazakhstan-Russia relations.
Tokayev and Putin then signed a declaration marking 30 years of diplomatic relations between the two countries, both formerly joined under the Soviet Union until its 1991 collapse.
In the declaration, the two countries reaffirmed their commitment to a pair of treaties — the 1992 Treaty of Friendship, Cooperation and Mutual Assistance and the 2013 Treaty on Good Neighborliness and Alliance in the 21st Century — that form the bedrock of their close relationship. The two also reaffirmed "their adherence to the principles of international law enshrined in the UN Charter," which rings somewhat hollow given the Russian invasion of Ukraine. The declaration makes clear that Kazakhstan and Russia pursue independent foreign policies, before underscoring the bevvy of international frameworks they mutually participate in "taking the same or close positions on topical international issues" — including the U.N., OSCE, Eurasian Economic Union (EAEU), the Collective Security Treaty Organization (CSTO), the Shanghai Cooperation Organization (SCO), the Conference on Interaction and Confidence Building Measures in Asia (CICA) and others. 
Of additional interest, perhaps, is a statement in the declaration that "The Russian Federation and the Republic of Kazakhstan proceed from the fact that there can be no winners in a nuclear war and it should never be unleashed."
The declaration goes on from there, reaffirming the close ties between Kazakhstan and Russia across a range of spheres. For those hoping for some kind of clean break between Kazakhstan and Russia, Astana is not pursing one. But, at the same time Kazakhstan is reaffirming its tight relations with Russia, it is attempting to deepen ties in Europe as well.
Tokayev was welcomed in Paris by a military band at the Musée de l'Armée before meeting with Macron at the Elysee Palace, the official residence of the French president. Per the Kazakh readout of the meeting, "President Emmanuel Macron noted that Kazakhstan is a strategic partner of France." The two discussed "the ongoing political and economic modernization" of Kazakhstan and "also discussed topical issues on the international agenda and the situation in Central Asia." Tokayev reportedly invited Macron to visit Kazakhstan. 
France has pursued deeper relations with the states of Central Asia, welcoming the region's autocratic leaders warmly. Last week it was Uzbek President Shavkat Miriyoyev receiving a stately reception in Paris (and last year, Tajik President Emomali Rahmon). A French presidential official told AFP, "We continue to … show our Central Asian partners the importance we attach to their region, wedged between China and Russia, and which needs to open up new horizons." The source also noted that the aim of Tokayev's visit was to "consolidate our relationship and expand our dialogue in a context that is also difficult for the countries of Central Asia."
A Kazakh government source, meanwhile, told AFP: "We firmly support the territorial integrity of Ukraine" in the face of the Russian invasion. While noting Kazakhstan's opposition to sanctions, in general, the source reconfirmed Astana's position that it would not allow Kazakh territory to be used to evade sanctions. 
The tightrope walk for Kazakhstan continues as it navigates the fallout of Russia's invasion of Ukraine. Kazakhstan cannot effectively sever ties from Russia; doing so would be not only a political but also an economic disaster. At the same time, Astana is not blind to the risks posed by Russia's discarding of international norms and borders and has continued to pursue broader relations beneficial to Kazakhstan.