Suitcase Killer's Plea Deal Is Rare Shot of Double Justice
Chicago woman Heather Mack was sentenced to 10 years in prison in Indonesia for aiding in the murder of her socialite mother in 2014. Will she now face further time in the U.S.?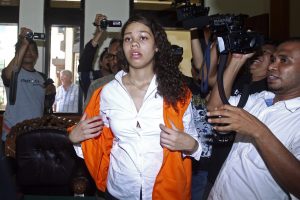 It is a rare moment in the sun for the criminal justice system when it manages to convict someone for the same crime in two jurisdictions, yet it appears to have happened in the Heather Mack murder case.
For those new to the story, U.S. citizen Heather Mack, dubbed the "Suitcase Killer" by some, found dubious fame when she was sentenced to 10 years in prison in Bali, Indonesia for aiding in the murder of her mother, socialite and philanthropist Sheila von Wiese-Mack, during a family holiday in 2014.
Mack, then just 18 years old and pregnant, allegedly helped to pin her mother down and stifle her screams, while Mack's then-boyfriend Tommy Schaefer bludgeoned her with a fruit bowl at the luxury St. Regis Hotel. Reasons put forth by the accused for the murder were that Wiese-Mack had called Schaefer a racial slur and attacked him when she found out that her daughter was pregnant.
The couple then stuffed Wiese-Mack's broken body in a suitcase and left it in a taxi where it started leaking blood, alerting the driver to the murder.
The court in Bali sentenced Schaefer to 18 years in prison for the killing of Weise-Mack, while Mack was handed a 10-year sentence for her role. She was released in 2021 after serving seven years of her sentence, in line with Indonesia's remission program which gives time off for good behavior.
At the time of her release, Mack told reporters that she was looking forward to returning to the United States with her daughter, who was born in prison, and that "even paying an electricity bill will be nice," after her years spent incarcerated.
Unfortunately, her dreams of domestic bliss did not come to fruition.
Instead, Mack was swiftly arrested as soon as she landed back at O'Hare International Airport in Chicago and charged with conspiracy to kill a U.S. national and obstruction of justice.
She has languished in prison ever since.
Now, despite having long protested her innocence, and having claimed that she panicked and fled to the bathroom of the hotel room when her mother was killed, thus not aiding in or witnessing her savage murder, Mack has now changed her story and pleaded guilty to the charges. She could face up to 28 years in prison.
Based on this latest legal twist in an already long saga, the case represents a very rare scenario in which someone faces justice in two jurisdictions for the same crime, and has left some wondering how Mack can be made to face legal charges when she has already served her time in Indonesia.
Usually, the ne bis in idem legal principle which means "not twice for the same thing" in Latin would apply in a case such as this, also known as the Double Jeopardy Clause under the Fifth Amendment which protects against someone being tried twice for substantially the same crime.
However, court documents in the case stated that the charges of conspiracy to commit murder and obstruction of justice were not part of the original case against Mack in Indonesia, where she was only charged with aiding and abetting, and therefore the Double Jeopardy Clause does not apply.
"I have served nearly 10 years in prison. I felt that I had done my time, so I was gung-ho for trial," Mack said of the situation.
"Now, after sitting for so long, I know what I have to do. I'm going to be a felon in America, and that is fine."
Further, part of the legal justification for the charges brought in the U.S. appears to be the fact that Schaefer and Mack began to plan the murder while still on American soil, sending a series of text messages to each other in which they discussed ways in which to murder Mack, and referred to themselves as Bonnie and Clyde – an infamous criminal couple who robbed and murdered during the Great Depression and were gunned down by police officers in Louisiana in 1934.
As part of the case, Ryan Bibbs, Schaefer's cousin, was also sentenced to nine years in prison in the U.S. in 2017 for conspiracy to kill Wiese-Mack based on messages he also shared with the pair in which he suggested ways in which they could commit the murder – ostensibly to gain control of Wiese-Mack's $1.5 million trust fund.
Yet despite having taken the deal in a bid to secure a lighter sentence, leniency from the court is not guaranteed, and it remains to be seen whether her time served in Indonesia will sway the judge. For his part, Judge Kelley, made an ominous pronouncement on the case, warning that he may ignore the 28-year maximum guideline when Mack is formally sentenced on December 18.
"I have to make up my own mind," he said.