Why 'Global Britain' Will Prove a Welcome Partner for Southeast Asia
Whitehall's strategy of engaging ASEAN has been a notable, though unheralded, post-Brexit success story.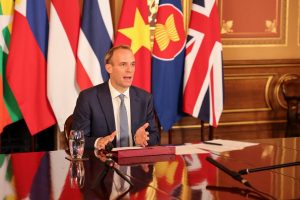 In 2012, British Prime Minister David Cameron gave a speech in Malaysia in which he announced a new era in U.K.-Southeast Asia relations, declaring that the "era of benign neglect is over." Whitehall's commitment to Southeast Asia would intensify following its exit from the European Union, when the region was identified as critical to the U.K.'s "tilt" to the Indo-Pacific, as laid out in the government's 2021 Integrated Review.
Since leaving the European Union, "Global Britain" has made notable progress in strengthening its relationship with Southeast Asia, most notably by gaining Dialogue Partner status with the Association of Southeast Asian Nations (ASEAN) in 2021. More recently, the U.K. managed to secure membership of the Comprehensive and Progressive Trans-Pacific Partnership (CPTPP), a mega-free trade agreement that includes four Southeast Asian nations: Malaysia, Vietnam, Brunei Darussalam, and Singapore.
The U.K. should build on the momentum of these recent successes to deepen trade and security ties with the region. Notably, within Europe, the U.K. has the opportunity to overtake the EU in engaging ASEAN, due both to ongoing trade disputes between Brussels and ASEAN over protectionism and environmental concerns as well as the U.K.'s preexisting security commitments in Southeast Asia.
Total two-way trade in goods and services between ASEAN and the U.K. amounted to £36.2 billion ($46.2 billion) in the four quarters to the end of Q3 2021, while foreign direct investment into ASEAN stood at £6.3 billion ($8 billion) in 2019. Joining the CPTPP is expected to expand this relationship further through a common commitment to trade liberalization. Whitehall should now seek to enter further bilateral and even multilateral trade agreements with ASEAN member states in order to foster greater economic linkages.
The U.K. in fact has an opportunity to leapfrog Brussels in striking further trade deals across Southeast Asia, especially in light of the landmark deforestation regulation recently approved by the European Parliament. Aimed at eliminating deforestation from the supply chains of a range of everyday commodities sold in the EU, ASEAN member states Malaysia and Indonesia have accused the EU of blocking market access for their palm oil, the two nations being the world's largest palm oil exporters. The EU has been accused of using environmental concerns as a way of protecting their domestic seed-oil industries.
Indeed, over the past years, countries in the Global South have been frustrated in their efforts to obtain greater market access in the EU, due in part to the latter having incorporated non-trade issues such as environmentalism and human rights into trade negotiations. In part because of this, negotiations for an FTA between the EU and ASEAN have remained stalled since 2009. Some economists have questioned whether trade policies ultimately represent the correct mechanisms for addressing these issues.
For the U.K., this presents an opportunity to surpass Brussels when it comes to strengthening trade relations with Southeast Asia. Indeed, when it comes to palm oil imports, the British have already indicated they would seek to avoid confrontation with producer countries, preferring instead an approach that would include producer buy-in.
The U.K. has also sought to enhance its security ties with ASEAN. The U.K. has the most extensive security posture in Southeast Asia of any European state, as well as the only one besides France with noteworthy power projection capabilities. This includes a garrison stationed in Brunei Darussalam as well as its membership of the 1971 Five Power Defence Arrangements (FPDA), a collective security arrangement that includes Malaysia, Singapore, Australia, and New Zealand. As part of the FPDA, the U.K. maintains a naval logistics facility in Singapore.
As part of its commitment to enlarging its defense presence within the Indo-Pacific, the U.K. plans to increase its participation in FPDA military exercises as well as bolster its regional military presence. As well, in April 2021 a British carrier strike group led by HMS Queen Elizabeth began its first operational deployment to Asia, during which time it engaged with the naval vessels from several ASEAN member states.
Nevertheless, while deeper engagement will no doubt be welcomed by ASEAN, Britain must be cognizant of the geopolitical realities of the region. Many Southeast Asians do not wish to see regional geopolitics reduced to a zero-sum competition, particularly when it comes to the United States and China. Nor will Southeast Asians willingly align themselves with a Chinese or U.S.-led regional order. Rather, Southeast Asians have grown accustomed to working through different regional frameworks for different policy ends. The 2020 announcement of the AUKUS trilateral security pact between the U.K., Australia, and the U.S. thus drew mixed reactions from ASEAN, with some members fearing a destabilizing of the regional balance of power.
Ultimately, Whitehall's strategy of engaging ASEAN has been a notable post-Brexit success story. Within Europe, the U.K. is currently best-positioned to deepen trade and security links with the region. However, ASEAN will be carefully observing how London's seeming return will impact the region's delicate balance of power. Whitehall should seek to assuage these fears by collaborating with ASEAN states on more immediate issues such as maritime security, climate change, terrorism, disaster relief, and infrastructure development. In addition to this, vocal support of ASEAN's centrality in the Indo-Pacific regional architecture will no doubt be appreciated.