Will Blinken's Trip to China Have a Lasting Impact?
In this case, the trip itself was the deliverable.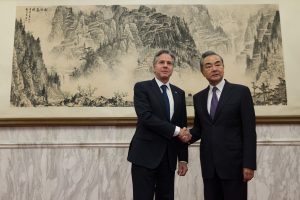 U.S. Secretary of State Antony Blinken's recent trip to China was all about putting China-U.S. relations back on track, after his planned trip in February was postponed in the light of the Chinese spy balloon incident.
On the strategic front, China and the United States have been at loggerheads over a host of issues like China's support for Russia in the ongoing war with Ukraine. Beijing and Washington have also been at odds over the Taiwan issue. China-U.S. relations worsened following the visit to Taiwan by then-U.S. House of Representatives Speaker Nancy Pelosi last August. In the aftermath of that visit, China embarked on a string of naval exercises around Taiwan and fired a string of missiles, some of which even landed in the Exclusive Economic Zone of Japan.
Harsh words have continued since then. In a summit held on the sidelines of the G-7 meeting in Hiroshima, Japan, leaders of the Quad countries, including U.S. President Joe Biden noted in a joint statement, "We believe all countries have a role in contributing to regional peace, stability, and prosperity, as well as upholding international law, including the principles of sovereignty and territorial integrity, and the rules-based international order." That was an oblique reference to China, as was the section that immediately followed: "We seek a region where no country dominates and no country is dominated – one where all countries are free from coercion, and can exercise their agency to determine their futures."
However, the United States also needs China's help in many areas. There have been reports that China is planning to sell weapons to Russia in its war against Ukraine and it is in U.S. interests not to let that happen. The United States also needs China's collaboration when it comes to the North Korean imbroglio. China still has significant levers of influence on the reclusive country.
While the gains may not be immediate, what this visit has certainly done is that it has kept the wheels grinding in the China-U.S. relationship. The last visit by a U.S. secretary of state to China was back in 2018. Expectations are that more Cabinet-level exchanges will follow Blinken's trip.
The fact that Blinken did meet with Chinese President Xi Jinping shows the importance placed on the relationship at the highest levels. Blinken also met China's topmost diplomats, Chinese Communist Party Central Foreign Affairs Office Director Wang Yi and Foreign Minister Qin Gang.
With Xi Jinping securing a precedent-breaking third term as China's president earlier this year, he has reached a position like no other leader since Mao Zedong. The United States recognizes that there is no alternative to dealing with Xi Jinping's China. Finding a sustainable way forward for China-U.S. engagement was the key item on Blinken's agenda.
"I came to Beijing to strengthen high-level challenges of communication, to make clear our positions and intentions in areas of disagreement, and to explore areas where we might work together when our interests align on shared transnational challenges. And we did all of that," Blinken told reporters after his meetings in Beijing.
While Blinken characterized the recent talks as "candid, substantive, and constructive," the proof of the pudding will be in the eating. Indeed, China-U.S. relations were already in an uproar a day after Blinken left Beijing, with China sharply decrying comments from Biden calling Xi a dictator.