A Firsthand Account of the China-India Journalist Visa Spat
A journalist with Xinhua details the frustration of living in limbo amid bilateral tensions.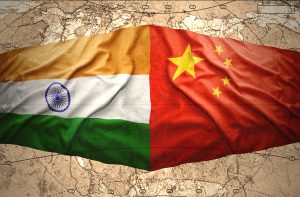 I have been packing for a move recently, as my apartment's lease is about to expire at the end of July. 
As with any move, there is always a question about what to do with items that may no longer be needed, such as some outdated clothes or an oversized mattress.
For me, this predicament involves a shelf of books: V. S. Naipaul's "India: A Wounded Civilization," "India: A Million Mutinies Now," "The Indian Trilogy," and some Chinese scholars' memoirs on their experiences in India, among many others.
I started collecting and perusing these books on India in my postgraduate period. My research supervisor Professor Zhou Qingan, a leading intellectual on international studies with China's Tsinghua University, told me at a seminar that India is one of the most talked about yet least understood countries for China. The seeds of my passion for India, one of China's largest neighbors, were planted at that very moment.
Finding your own research interest is like encountering a bosom friend. The more you learn about it, the more interested you become in discovering even more. As I delved further into Indian culture, from the Yoga Mahotsav to Dussehra and Bollywood, my curiosity for the country only grew. 
How could a land of misery, once oppressed by the West, rise to become a major global economy? As the two most populous Asian countries in the world, what are the similarities as well as differences between China and India? How can two neighbors that are so close geographically know so little about each other? 
It was the urge to find out answers to these questions that propelled me to pursue a career in international journalism. No surprise, then, I chose to start my overseas career in India. 
Before submitting my application for stationing in India, however, I was continually reminded by both my Indian friends and my colleagues at Xinhua News Agency that the Indian government has been reluctant to approve visa applications from Chinese journalists due to a border clash that has soured relations between the two countries. 
Despite all the reminders, if not warnings, I insisted on my decision and submitted my visa application to the Indian Embassy in China on October 27, 2021.
Amidst a slump in bilateral relations, where channels for exchange have been either reduced or frozen, journalists play an even more critical role in dispelling misunderstandings, enhancing communication, and bolstering civil friendship as a foundation for resolving political and border disputes.
I thought that no politician of any country would be so short-sighted as to reject journalists of a neighboring country with so many shared interests, severing one of the most indispensable forms of civil ties with a potential partner. But what happened next proved that the Indian government did not share this belief.
Three months after my visa interview, I still had not received any update from the embassy on my visa status. I reached out to the visa officer who had interviewed me and asked about the progress. He replied that "the application is being processed."
Two months later, I inquired again and received a similar response: "As of now, I have no updates… hope you understand." 
So I waited for three more months before raising my question again, but this time, I did not receive any response. And now, it has been a whole year since I received any communication from the visa officer. 
I can understand his silence, as I too would grow tired of replying with all the procedural nonsense if I were in his position. 
Many of my colleagues share my frustration. As far as I know, all Chinese journalists' visa applications for stationing in India have been stuck in "processing" since 2020, despite the fact that China has issued visas to Indian journalists during some of this period, hoping for a reciprocal response.
Recently, the Indian government denied a visa renewal to the last correspondent of the New Delhi branch of China's Xinhua News Agency, one of the major sources for Chinese people to learn about India.
Among the Chinese journalists who were forced to leave was a colleague of mine named Zhao Xu. He had worked in India for about six years. Through his lens and reports Chinese people came to know how Indians worked diligently to improve their living conditions by rolling out the Clean India Initiative, pushed forward their ambitious moon exploration project, and made spectacular achievements in developing their economy. 
In April 2021, during the height of India's COVID-19 outbreak, Zhao shortened his vacation in Beijing and traveled back to India with a ventilator to report on the Indian people's valiant efforts in combating the virus. Yet he is now also being forced to leave by the Indian government.
Zhao's experience serves as a stark reminder that while diseases and pandemics cannot hinder Chinese people from communicating with their Indian counterparts, politics certainly can. 
India's actions seem to suggest that the country is holding a grudge over the conflict at the border with China, and is using its connections with China in the economic, political, and cultural fields as tools for punishing China.
However, it is important for India to remember that all contacts between countries are based on reciprocity. Just as India created visa hassles for Chinese reporters, Indian reporters stationed in China now face obstacles. India's bid to punish China backfired.
What worries my colleagues and I more than the unfair treatment we have suffered is the downward spiraling relationship between China and India.
India needs China as much as China needs India. As India continues to rise as a global power, it must demonstrate the maturity and flexibility necessary to handle diplomatic relations with other countries effectively, especially with a neighboring country as influential as China.
Arbitrarily undoing generations of efforts by the two countries in enhancing diplomatic and civil exchanges due to minor conflicts is like throwing the baby out with the bathwater, and will not help strengthen India's position on the world stage. Without understanding that, it will be a tall order for India to become a truly strong power that commands respect from the world.
My supervisor once warned that the discord between China and India, together home to more than 2.8 billion people, about 62 percent of the total population of Asia, could become a significant Asian tragedy. Sadly, it seems that we are all bearing witness to the unfolding tragedy.
Genuine civil exchanges, rather than official visits, are the true touchstone of relations between countries. As long as civil envoys, like correspondents, continue to be expelled, achieving a real détente will remain an elusive goal for both countries.
For weeks I had been contemplating what to do with my books on India. I'm not sure whether I will finally get the chance to set foot in the country and put into practice what I learned from these books.
After hearing my dilemma, a colleague of mine, who speaks fluent Hindi and has also been waiting for his visa to the country for more than a year, advised me to keep them.
"Things will get better sooner or later. People from the two countries will learn how costly this suspicion of civil exchanges will be," he said. 
"These books will come in handy someday."