An Era of Extremes in South Asia: A Crisis of Health, Development, and Policy Planning
South Asia is one of the most vulnerable regions in the world to climate extremes, which bring serious health complications.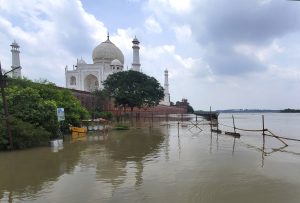 After soaring heat made headlines in April and May 2023, the northern Indian plain is now witnessing one of the worst floods in history.
In the early summer, many schools in northern and eastern India were closed to avoid heat-related illnesses among children. The death rate from extreme heat rose significantly in the past decade in South Asia. Additionally, the saga of continuous floods in South Asia that started in 2022 has not stopped. These floods have been attributed to El Nino and the Southern Oscillation (ENSO), which are popularly known as El Nino and La Nina events. The planet experienced approximately three years of La Nina, which causes wetter than usual monsoons in the Indian subcontinent. While ENSO events are not caused by climate change, their cycle and occurrence is certainly disrupted due to this global change.
South Asia is one of the most vulnerable regions in the world to climate extremes. The aftermath of these climate hazards puts into perspective the need for more dynamic climate adaptation. Persisting heatwaves in South Asia followed by devastating floods are clear motivation to scale up climate adaptation starting at the local level. The recent climate catastrophes are no longer just environmental crises, but they are also health and development crises. Millions of people are adversely affected and developing economies reports billions in loss and damage. 
A study published in 2022 reported that India loses approximately 149 billion labor hours in agriculture due to humid heat exposure of farmers. In Pakistan, the floods of 2022 that lingered for months affected 33 million people, caused a reported 1,700 deaths and led to the economic loss of $30 billion; in India, the Bengaluru floods that occurred twice in 2022 led to the economic loss of $990 million. These are just a few examples of the magnitude of socioeconomic losses borne by developing countries and how it redirects public aid to recovery instead of development. 
In addition to the economic losses, these disasters pose a heavy health burden on society. Extreme heat leads to ischemic strokes and various cardiovascular, respiratory, and renal disorders. Floods create unsanitary conditions that cause a rise in vector-borne infections. Damaged infrastructure such as loose electric wires and sharp and heavy debris also cause injuries and deaths.
While these extreme weather events are spatial disasters, their impact is not equal. People from certain age groups, socioeconomic backgrounds, and geographies are more vulnerable than others. These include children, senior citizens, people with existing chronic health conditions, poorer communities, and people residing in sensitive geographic terrains, among others. Not only are these people (such as farmers, daily laborers, mountainous communities) the first to be affected by disasters, but they also lack means and aid for successful recovery, thus making them more vulnerable when the next disaster hits. 
Shortcomings in infrastructure development are one of the major reasons that make such hazards a disaster. Poor infrastructural planning as well as lack of preparedness destabilize both urban and rural areas during such events.
Through strategic partnerships and policy development, South Asia is gradually catching up on early warning systems (EWS) that inform residents of an impacted area about pending extreme weather events. This solution, however, is a string with loose ends. While it provides basic advisory warnings, help for evacuations is often unplanned and delayed. Inconsistencies in evacuation operations and lack of resources at rescue centers were a major setback in the Bengaluru floods of 2022. The scale of rescue operations have been leveled up during the north Indian floods this year, with both central and state teams evacuating thousands of people from Himachal Pradesh to Delhi. However, how well the resources are being provided to the rescued groups is yet to be determined. 
Most South Asian countries have national level disaster management plans that walk through the disaster management cycle (preparation, response, recovery, mitigation); however, their approach on the ground is more reactionary than proactive. The phase of "preparation" must be carefully considered. Every summer, the need for heat action plans is discussed, but they are yet to see successful implementation. 
Such environmental risks are a cumulative outcome of hazard, vulnerability, and exposure. While little can be done in reducing hazards, vulnerability and exposure of affected groups can be reduced through proper planning and capacity building. South Asia is highly exposed to humid heat as well as up to 98 percent of its area has high exposure to floods. Cross sectional planning for development, aiding communication and warnings with planned actions, and healthcare preparedness can contribute in reducing health and economic crises posed by extreme weather events. Capacity building of front-line personnel such as citizen groups, police, and municipalities is also pertinent in reducing vulnerability and exposure, and enhancing planned response during such crises.   
In developing economies where food, shelter, and economic stability take priority over environmental development, it is important to look at the problem collectively. India's leadership during COVID-19 or its fast-paced growth toward decarbonization is evidence of its capabilities in managing both chronic and acute developmental issues, if only extreme weather events can be seen as next developmental crisis for the region.