Bilawal Bhutto Zardari's Visit to Japan
Japan is hoping to counter China in Pakistan, while Islamabad is trying to counteract Tokyo's historically tight ties with India.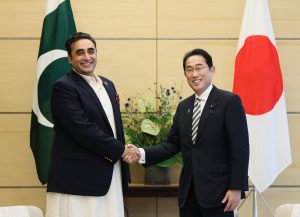 In a period characterized by rapid geopolitical developments and rising tensions, Pakistan's Foreign Minister Bilawal Bhutto Zardari embarked on a four-day visit to Japan on July 1-4. He is the first Pakistani foreign minister to visit Japan in four years, indicating a renewed emphasis on building diplomatic ties and fostering economic collaboration between the two countries.
According to the preview from the Pakistani Foreign Ministry, Bhutto Zardari's visit "signals the revival of leadership level contacts with Japan after a considerable hiatus." This is an important step toward strengthening ties between Japan and Pakistan, and has significant consequences for both countries and the Asia-Pacific region's future.
Bhutto Zardari's visit to Japan marked a diplomatic watershed moment for Pakistan, as it tries to enhance bilateral ties with a vital Asia-Pacific actor. The trip also emphasized Bhutto Zardari's increasing prominence as a key political player in Pakistan, as well as his ambitions to forge new worldwide relationships.
During his tour, Pakistan's foreign minister met with Japanese Prime Minister Kishida Fumio, Foreign Minister Hayashi Yoshimasa, business executives, and civil society organizations. The meetings focused on strengthening bilateral trade and economic cooperation, as well as examining opportunities for partnership in technology, innovation, and education.
After meeting with Hayashi, Bhutto Zardari stated, "We have agreed to further deepen and exchange our mutually beneficial bilateral cooperation in areas of trade, investment, human resource development, information technology, tourism, and agriculture."
The Pakistani foreign minister's trip to Japan underscores the growing significance of Japan-Pakistan relations in the changing global order. Relations between the two nations date back to 1952. Since then, Japan has provided significant economic support to Pakistan, contributing to different development projects and assisting in poverty alleviation.
During his tour, Bhutto Zardari engaged in successful discussions on a variety of topics, including trade, investment, and regional security. The two foreign ministers agreed to expand bilateral collaboration in a variety of areas, including science and technology, agriculture, and disaster relief.
The signing of a Memorandum of Understanding (MoU) on the establishment of a Joint Government-Business Dialogue, with the aim of encouraging trade and investment between the two countries, was a major feature of the visit. This effort will provide a forum for firms from both countries to explore new prospects and develop collaborations, ultimately contributing to economic progress and job creation in both Japan and Pakistan.
Recognizing the significance of human resource exchanges, Bhutto Zardari also met with senior officials and executives from important corporate houses and institutions involved in importing Pakistani labor to Japan. These exchanges aim to strengthen labor migration cooperation and provide additional chances for Pakistani employees to contribute to Japan's economy, at a time when Japan's own population – and labor force – is shrinking due to low birth rates.
In a significant development, Japan recently made a promise to provide $2.25 million in human resource development funding to Pakistan. The program will allow Pakistani officials to enhance their education in Japan, thus enhancing the two countries' educational connections.
Aside from that, Bhutto Zardari and his Japanese counterparts discussed opportunities for partnership in the domain of renewable energy, an area in which Japan has emerged as a global leader. With Pakistan facing an increasing energy problem, investments in renewable energy projects could help the country satisfy its power needs while reducing its reliance on fossil fuels. This would also help with global efforts to battle climate change.
The visit comes at a time when Asia's geopolitical landscape is changing. With China's expanding influence, countries such as Pakistan are seeking to diversify their alliances and relationships in order to maintain a strategic balance. Japan, being the world's third-largest economy and a vital regional player, is a suitable partner for Pakistan in this regard. Japan and other regional states are concerned about China's expanding involvement in Pakistan as a result of the China-Pakistan Economic Corridor. Bhutto Zardari's approach to Japan can be interpreted as an attempt to allay these fears while also demonstrating Pakistan's commitment to maintaining an autonomous foreign policy.
If Japan is hoping to counter China in Pakistan, Islamabad is trying to counteract Tokyo's historically tight ties with India, Japan's Indo-Pacific partner and Pakistan's main rival. This action is consistent with Pakistan's overall objective of broadening its diplomatic and economic horizons beyond its traditional partners. Bhutto Zardari stressed the need for a peaceful and stable Asia-Pacific region for global peace and development during his visit. Japan and Pakistan are both concerned about the possibility of regional instability, and both have emphasized the importance of discussion and collaboration in addressing mutual difficulties.
Because of its advantageous position at the crossroads of South Asia, Central Asia, and the Middle East, Pakistan plays a unique role in fostering regional connectivity and safeguarding the security of major trade routes. As a major maritime power, Japan has a fundamental interest in preserving freedom of navigation and the security of communication sea lanes. In this context, the two countries discussed ways to strengthen marine security cooperation, such as joint training exercises and information exchange. This could assist to establish trust and confidence between the two countries while also addressing common security concerns like piracy and terrorism.
As a significant participant in the Asia-Pacific area, Japan can contribute to efforts to foster regional peace and stability. Bhutto Zardari's visit gave an opportunity to address the situation in Afghanistan as well as the broader South Asian security picture. Japan's support for peace and reconciliation initiatives in Afghanistan, as well as its resolve to help rebuild the war-torn country, can contribute to regional stability.
While Bhutto Zardari's visit to Japan created the framework for a new chapter in Japan-Pakistan ties, both nations must build on this momentum and transform their commitments into practical results. One of the most pressing issues confronting the two countries is the need to resolve their trade deficit. Despite the fact that Japan is Pakistan's fourth-largest commercial partner, bilateral commerce remains substantially skewed in Japan's favor. Encouragement of more Japanese investment in Pakistan, as well as diversification of the range of products and services exchanged between the two nations, can help address this issue.
In addition, both countries must collaborate to confront non-traditional security challenges such as climate change, cybercrime, and infectious illnesses. Joint actions and bilateral collaboration in these sectors can benefit not just their inhabitants' well-being but also regional and global stability.
The visit of Pakistan's foreign minister to Japan has the potential to significantly alter regional politics. For one thing, it might herald the start of a long-term strategic cooperation between Pakistan and Japan, with consequences for the Asia-Pacific region's power dynamics. A strong partnership between Pakistan and Japan might also function as a check on China's expanding influence. This would give Pakistan more clout in interactions with China and enable it to maintain a balanced foreign policy. A stronger connection with Japan can also assist Pakistan in diversifying its export markets and attracting much-needed investment in crucial industries such as infrastructure, energy, and technology.
Though the long-term consequences of this visit will depend on how far Pakistan and Japan can build on the momentum created, it is apparent that this visit marks a new chapter in Asia's regional affairs. Japan and Pakistan can establish a robust alliance that contributes to the prosperity of their respective countries and the stability of the Asia-Pacific region by using the huge potential for cooperation in a variety of fields.
It is critical that both countries take this chance and collaborate closely to handle the numerous problems and capitalize on the enormous potential that lie ahead. Only by perseverance and a shared commitment to peace, growth, and prosperity can Japan and Pakistan truly realize the full potential of their alliance, paving the way for a brighter future for their people and the region as a whole.
As the young Pakistan People's Party leader makes his imprint on the global scene, the international community should keep a close eye on the emerging connection between Pakistan and Japan – and the potential ramifications for the region's broader geopolitical landscape.