China's Foreign Minister Deposed: Guilt or Power Struggle?
With no official explanation for Qin's removal from his post, speculation is running rampant.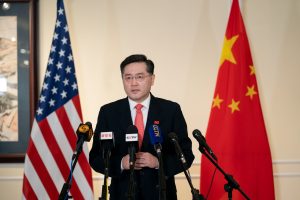 There is an urban legend in China known colloquially as the "58-year old phenomenon." It refers to a 58-year-old man, usually working in the public sector as a civil servant or official, on the cusp of official retirement at age 60, taking his final chance to reward himself financially through the auspices of his office. Any future schemes to do so are unlikely to bear fruit, as he will have lost all official power, and any past opportunities are gone.
One must wonder if the temptations of that trap have caught China's erstwhile foreign minister, Qin Gang. Qin, 57, disappeared from public view in June, and last week was removed from his post without explanation. The most explanation offered came ahead of the ASEAN summitry in mid-July, when the Foreign Ministry said he would not attend due to ill health.
A number of possible reasons have been listed by various media outlets for Qin's removal and disappearance. A possible affair with a TV anchor; a "mistake" during U.S. Secretary of State Antony Blinken's visit to China just prior to Qin going missing; simply being unliked at the Foreign Ministry, and resented for having been given the top job ahead of better qualified candidates; a power struggle with Wang Yi, the top diplomat in China, with whom it is said that Qin has a difficult relationship.
Given the suddenness and severity of Qin's ouster, however, one could surmise that Qin Gang had been caught materially benefiting from his position. That, however, does not synchronize with his continuing position as a state councilor, a role to which he was appointed at the National People's Congress in March of this year.  There has been no mention that he has been removed from the State Council. State councilors rank above cabinet ministers; Qin's position on the body is significant and powerful.
Thus, for the moment at least, Qin may not be in ultimate peril. Indeed, if Qin were suspected or known to be guilty of economic crimes, under the leadership of Xi Jinping he would not be allowed to continue to hold any official position whatsoever.
If Qin was not removed as foreign minister due to inappropriate financial transactions, then was he seen as too much the "wolf warrior" for China's current diplomatic drive to keep foreign investment from leaving the country, while encouraging new investment at the same time? During his term as China's ambassador to the United States, Qin's public persona veered from a friendly outing on the basketball court with the Washington Wizards basketball team in late December 2022, to engaging in aggressive, provocative language with American diplomats and journalists.
Did Qin make a misstep or overstep in the language or spirit of wolf warrior diplomacy in an important diplomatic interaction? The most likely opportunity for that would have been in Qin's meetings with Blinken the week before Qin went missing. Yet, that doesn't ring true, either. Qin and Blinken are known to have a cordial personal and professional relationship. Blinken is not likely to have taken anything overly strong that Qin could have said either out of context or too seriously.
Qin, if he has done something "politically suspect," as James Palmer suggested in Foreign Policy, would suffer a harder fall than most, simply because of his status as a personal protégé of Xi Jinping's. Xi will be hugely embarrassed if someone whom he has elevated has in turn been involved in bringing shame and disrepute on the Chinese Communist Party. Palmer even suggested that Qin may have been "swept into shuanggui," an extra-judicial process used by the CCP to isolate and interrogate party officials suspected of violating discipline, usually in relation to financial corruption.
And Xi, as well, with his status as a privileged member of the revolutionary royalty – his father was a cohort of Mao Zedong's and held (in between purges) high party and government positions – will not look too kindly on someone to whom he has extended his support, and who in return may have betrayed the confidence and trust of that relationship.
Qin is not only suffering the humiliation of being removed from his post. Sources reported that every mention of his name on the Chinese Foreign Ministry website has been removed, indicating a purge of his very existence in the annals of Chinese officialdom. But that digital scrubbing was reversed as quickly as it was implemented, and the list of Qin's past activities are back on the Foreign Ministry website. Perhaps top leadership realized that a Mao-esque erasure of an official's very existence was a bad look for 21st century China.
There are other clues to what went wrong with Qin Gang. Sources report that Qin didn't join the Communist Party until 1998, when he was 32 years old. That is late for a Chinese civil servant who was already posted outside of China, in Qin's case at the Chinese Embassy in London.
Of the five ministers of foreign affairs preceding Qin over the last 35 years, only one, Tang Jiaxuan, seems to have waited until his 30s to join the CCP.
Qian Qichen, who was foreign minister from 1988 to 1998, joined the party at the tender age of 14. Tang Jiaxuan took up Qian's mantle, serving for five years. Subsequent Chinese foreign ministers Li Zhaoxing, Yang Jiechi, and Wang Yi all joined the party in their 20s.
Why the delay? Was Qin ambivalent and undecided about his career path, and whether or not the route of Communist Party cadre was the path best suited to his interests and talents? Was he not a true believer in the CCP and its mission, only choosing a path leading to party membership as a career choice, not an ideological one?
After all, diplomatic service was not Qin's first job. Prior to entering the Foreign Ministry, Qin was a journalist, working as a news assistant at United Press International's bureau in Beijing. Once in diplomatic service, however, Qin Gang rose quickly – some said too quickly – through the ranks.
Qin may also have been removed due to political unreliability. In other words, he may have in some way breached his loyalty not just to Xi himself, but to" Xi Jinping thought." Under Xi, China claims it is building "the rule of law," while at the same time the thought and edicts of one person, Xi himself, are unassailable.
So pervasive is Xi's thought that it has found its way into everything from the Chinese constitution to the civil service examinations that millions take each year. Delinquency or insufficiency in the proficiency of Xi Jinping thought can cost an applicant a chance at a prestigious civil service job, which carries with it opportunities for promotion.
Candidates must navigate a bevy of multiple-choice questions testing an applicant's fluency in the ideas, concepts, and policies outlined by the general secretary of the Chinese Communist Party, who also happens to be the president of the country.
In such a political environment, an appointee could easily put his foot wrong, and commit political suicide with just one badly turned phrase.
The final reason for Qin's dismissal as foreign minister may never be officially known, but one thing is certain. Whatever the infraction or crime was, it is highly likely that Wang Yi played a role in Qin's downfall. Wang has now resumed the mantle of foreign minister, making him both Qin's predecessor and successor, while still maintaining overall control of China's diplomacy as director of the CCP's Central Committee Foreign Affairs Commission Office. In the end, Wang Yi is China's top diplomat, and the younger upstart has been seen the door.