How Indonesia's Green Energy Push Will Impact the Country's Coal-mining Communities
Jakarta needs to ensure that the dozens of villages reliant on the coal mining economy are not left behind by its renewable energy transition.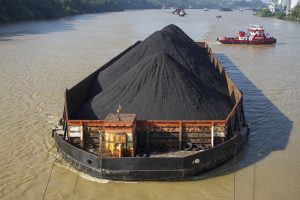 In Muara Bakah village, located along the Barito River in Kalimantan, eastern Indonesia, the primary source of income and sustenance for local people is connected to coal mining. A coal conveyor can be seen on the other side of the river, in front of their houses. Coal barges pass back and forth daily, right in their front yards.
Almost everyone in the village relies on a local coal mine for their livelihoods. However, the local workers mainly occupy non-management positions, such as truck drivers, security personnel, janitors, and catering staff. The managerial roles are filled by external recruits from renowned Indonesian universities, due to a bachelor's degree requirement.
There isn't even a junior high school in Muara Bakah village. To attend junior high school, they have to take a klotok boat to the center of the district, which takes around 40 minutes each way and costs almost $5 in fuel per day. Some parents choose a more realistic path for their children and have them take the equivalent of a junior high school examination (known as "paket C") without having to attend school.
There is one moment from the village that I cannot forget. The coal conveyor shines brightly at night, but the village is dark, illuminated only by the moonlight. On one night, a child asked me, "Why is our village dark? Isn't coal used for generating electricity?" It was a question that I couldn't easily answer.
The situation in Muara Bakah village reflects that of many other villages in Kalimantan. Over the past two decades, coal companies have flourished and expanded their activities, ranging from small illegal operations to large mining concessions with powerful backers. It cannot be denied that the mining sector has benefited the local economy. Hotels and guesthouses have sprung up, alongside car and boat rental services, t-shirt printing shops, restaurants, workshops, and motorcycle taxi stands.
However, these activities may not last long. Change is inevitable. With the Indonesian government's current energy transition efforts, the local economy in Kalimantan may collapse if it is not accompanied by real efforts to support a just energy transition.
President Joko Widodo's government aims to phase out coal mining activities by 2030, gradually closing all coal-fired power plants by 2050 and transitioning to renewable energy sources. This transition will likely lead to a considerable decline in coal demand, resulting in reduced mining operations and subsequent job losses within the coal industry. The repercussions will affect not only the small communities reliant on the sector for their daily needs but also several supportive economic activities, including micro, small, and medium-sized enterprises (MSMEs) and infrastructure development in coal-mining areas.
Even with its current substantial mining tax revenues, the government has struggled to extend electricity infrastructure to remote villages due to budget constraints. Once coal activities diminish, the situation will get even worse.
In this regard, policymakers are now in a race against time. The most significant problem is that many communities around coal mines cannot simply switch jobs, especially due to their lack of education and skills. The limited awareness among both local communities and regional governments regarding the energy transition only exacerbates the challenges ahead.
Implementing a just energy transition is key to Indonesia's development in the coming years. We need to ensure that the energy transition is carried out to protect vulnerable communities and prevent the deepening of economic inequalities.
Several efforts need to be undertaken. First, the government must guarantee the participation and involvement of communities around coal mining areas in programs related to the green energy transition. We must ensure that the desires, needs, and aspirations of local communities are heard by the government. In other words, energy transition policies should not be decided solely through a top-down approach by officials in Jakarta.
Second, training programs should be tailored to equip local communities with skills that align with future economic projections and job demands. The programs can encompass a wide range of initiatives, spanning vocational training and internships to training in technology, renewable energy, and other sustainable industries.
Third, funding for energy transition training programs should be managed by local governments in collaboration with local community organizations (village governments, traditional organizations, and local NGOs). Indonesia is slated to receive $20 billion in funding under the Just Energy Transition Partnership (JETP) scheme, an effort by industrialized nations, multilateral development banks, and other donors, to help developing nations hasten their green energy transitions. The implementation of JETP, which is currently being managed by the central government, must incorporate local contexts and knowledge. In addition to fostering trust and community engagement, a bottom-up approach will yield a more substantial and enduring effect in the long run.
Fourth, there is a need for innovative regulation that encourages mining companies to actively contribute to the energy transition. Job training programs that involve collaboration between the government, private sector, and affected communities should be promoted, targeting those living around mining sites. Additionally, infrastructure development programs funded by mining taxes should allocate more resources to areas near mines, with clear and measurable planning, implementation, and evaluation systems.
Ultimately, a fair energy transition that emphasizes bottom-up approaches, including active participation of communities, local knowledge, and participatory decision-making, will yield better results for the people. Agreements and the design of JETP programs should not be determined solely by central government officials, neglecting the voices of local communities.