Japan's Growing Drone Budget
Tokyo's spending on uncrewed systems and capabilities appears to have risen considerably.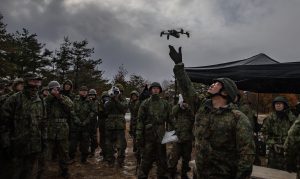 On December 16, 2022, the government of Prime Minister Kishida Fumio of Japan released a trio of documents outlining an ambitious plan for investing in its defense and security capabilities. The announcement was followed in February by the National Diet's approval of the Fiscal Year 2023 defense budget, which raised Japan's defense spending by 26 percent to a record 6.82 trillion Japanese yen ($49.2 billion). Both the strategic documents and the defense budget place a heavy emphasis on Japan's intent to invest in a range of drone platforms and capabilities. The documents represent a stark shift from Japan's laconic approach to uncrewed systems in past years and situate drones within the core of the Kishida government's rearmament strategy.  
The Kishida government's National Defense Strategy (NDS), a policy framework outlining Japan's defense objectives for the next 10 years, positions "unmanned defense capabilities" as one of seven key areas for reinforcing Japan's defense capabilities. Specifically, the government envisions that drones, along with "cross-domain" capabilities (i.e., space and cyber) and "command and control" functions, will ensure that Japan has an asymmetric advantage over opponents in the event of a war. In the near-term, according to the NDS, Japan will "acquire practical capabilities in a wide range of missions" involving drones, particularly in the underwater domain. Longer-term goals include advanced capabilities in artificial intelligence and multi-vehicle control.
The Defense Buildup Program (DBP), an accompanying document to the NDS that describes specific material and organizational objectives, identifies a host of desired capabilities in the form of air, ground, and maritime uncrewed vehicles. In the air, these capabilities include long-endurance and ship-board uncrewed air vehicles (UAVs) and, notably, at least two types of combat UAVs. In the maritime domain, Japan intends to acquire both uncrewed surface vehicles (USVs) and uncrewed underwater vehicles (UUVs). Additionally, uncrewed ground vehicles (UGVs) could help protect bases and critical facilities and directed energy weapons will help the Self-Defense Forces (SDF) defend against drone attacks. 
The eventual introduction of new uncrewed systems is expected to result in the creation of one new reconnaissance and strike UAV unit in the Ground Self-Defense Force (GSDF) and two new divisions in the Maritime Self-Defense Force (MSDF) devoted to uncrewed vehicles, according to the DBP. Japan's investment in drones could result in other organization changes. Under the DBP, the GSDF's drones could assume responsibility for many of the attack and reconnaissance missions that are currently carried out by crewed helicopters, a proposal that attracted substantial media attention when it became known earlier this year. 
Both the NDS and DBP represent substantial changes from previous iterations of these documents, the National Defense Program Guidelines (NDPG) and the Medium-Term Defense Program (MTDP). The most recent versions of these documents were published in December 2018, a time when Japan's overriding commitment in terms of drones was the acquisition of the costly Northrop Grumman Global Hawk long-endurance UAV for the Air Self-Defense Forces (ASDF). Overall, although the NDPG and MTDP identify a few similar research priorities as their successors, neither document places nearly as much emphasis on uncrewed systems as the NDS and DBP. 
Japan's Fiscal Year 2023 defense budget provides the financial backing to the seven core areas for reinforcing Japan's defense capabilities identified by the NDS and DBP, including drones. In all, Japan will spend 182.7 billion yen ($1.37 billion) on drones in Fiscal Year 2023 — which began in April — according to an overview of the Fiscal Year 2023 budget request published by the Ministry of Defense (MoD). Although it should not be taken as a comprehensive picture of Japan's budget, the MoD's overview offers a sense of the diverse priorities of this year's budget when it comes to drones. 
In its budget overview, the MoD describes a trio of projects aimed at studying and developing various types of armed drones. In the "Stand-off Defense Capabilities" portion of the overview, the MoD allocated funds for work on a tactical UAV that will collect information on advancing forces far in advance of friendly forces and, potentially, conduct strikes. Separately, the MoD has allocated 6.9 billion yen ($49.8 million) for a project to procure and evaluate "multipurpose UAVs" capable of collecting intelligence and conducting strikes, as well as 3 billion yen ($21.6 million) for a project to evaluate types of loitering munitions — expendable armed drones that are designed to explode on impact with a target. 
The budget also sets aside 22.2 billion yen ($160 million) to develop so-called "target observation rounds" that will be able to collect intelligence on advancing adversaries, particularly ships. (In June, the MoD awarded Kawasaki Heavy Industries a contract for the same amount for work on these systems.) The "target observation rounds" could be an effort to resurrect a program known alternatively as the TACOM and as the "Drone Research System" that sought to develop a loyal wingman-type of UAV, a capability in which the MoD has expressed a renewed interest. And in the DBP, the Kishida government makes multiple references to its support for the development of UAVs that can work collaboratively with crewed combat aircraft. In the budget, however, the MoD specifically refers to these systems as "rounds" or "munitions," indicating they may have a more missile-like quality. 
Multiple projects in the defense budget are dedicated to maintaining and upgrading Japan's existing inventory of drones for intelligence, surveillance, reconnaissance and targeting missions. A significant commitment in the air domain is 19.2 billion yen ($138 million) for sustaining the Global Hawk, which the ASDF began operating last year. Two programs totaling 12.5 billion yen ($90.3 million) will support efforts to upgrade an existing fleet of reconnaissance drones — probably the GSDF's Boeing Insitu ScanEagle — with synthetic aperture radar and acquire an additional type of mid-range aircraft that is capable of satellite-enabled operations, possibly the Boeing Insitu Integrator. 
In the maritime domain, Japan's priority in this budget appears to be firmly on uncrewed underwater vehicles (UUVs) rather than uncrewed surface vehicles (USVs). The MoD's budget overview includes roughly 42 billion yen ($302 million) in spending on UUVs and 4.5 billion yen ($32 million) on a USV project. 
Of the funds devoted to UUVs that are summarized in the budget overview, more than half will go toward a project to research technologies for controlling UUVs. Other projects include a mine clearing UUV and research into underwater communications for UUVs. Japan's emphasis on underwater drones is consistent with spending in past years and with recent research activity. In 2021, the MoD inaugurated a facility in Iwakuni dedicated to testing UUVs and, earlier this year, Japan's Acquisition, Technology & Logistics Agency (ALTA) and IHI Corporation each showcased new UUV designs. 
Uncrewed ground vehicles (UGVS) are a lesser priority in the budget than air and maritime drones. The budget overview includes around 20.9 billion yen ($150 million) for projects involving UGVS. These include work on combat and reconnaissance UGVs, as well as on technologies for developing a network of UAVs and UGVs to protect critical facilities. 
As part of its support for the military's integrated air and missile defense capabilities, the defense budget funds various projects to help defend against drones and "swarm attacks." The largest of these initiatives are a 11 billion yen ($79.5 million) program to acquire a vehicle-mounted high-energy laser system for defending against small drones and a 5.3 billion yen ($38 million) project to develop system for detecting and assigning targets within a swarm of UAVs. In all, the budget overview identifies roughly 23.4 billion yen ($168 million) for projects involving counter-drone capabilities. 
Based on the MoD's budget overview for Fiscal Year 2023 and those of prior years, Japan's spending on uncrewed systems and capabilities appears to have risen considerably. The MoD's budget overview for Fiscal Year 2022 contained around 64 billion yen ($460 million) for projects involving drones. Between Fiscal Years 2018 and 2021, the MoD allocated on average less than 20 billion yen ($145 million) for drones per year, according to the projects described in the MoD's annual budget overviews. 
The Kishida government's policy decisions and the MoD's budget for fiscal year 2023 underscore Japan's interest in urgently gaining familiarity with a range of drones, augmenting its existing capabilities and building on its emerging strength in certain domains. This approach reflects the Kishida government's view as expressed in the NDS and DBP that drones could be a technological "game changer" in warfare and should be incorporated into its "accelerated efforts" to reinforce the SDF. Whether this government and successive administrations are able to sustain and resource these efforts, however, remains to be seen.