Kishida's Trip to Middle East Focuses on Energy, Defense Cooperation
There are ironies involved in both, given that fossil fuels ties Japan and the region together more than shared liberal values.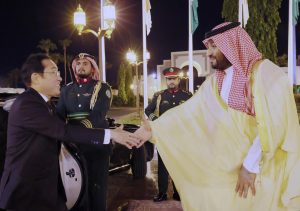 From July 16 to 19, Japanese Prime Minister Kishida Fumio traveled to the Middle East for the first time since he took the premiership in October 2021. His four-day trip had a packed itinerary: he held meetings with Saudi Arabia's Crown Prince Mohammed bin Salman, United Arab Emirates (UAE) President Mohamed bin Zayed al-Nahyan, and Qatar's emir, Sheikh Tamim bin Hamad al-Thani. More than 80 percent of Japan's crude oil imports come from these three states. This was not only Kishida's first visit to the region, but the first visit to the Middle East by a Japanese prime minister since then-Prime Minister Abe Shinzo's visit in January 2020 to Saudi Arabia, UAE, and Oman.
Japan, which is dependent on energy imports, was most interested in securing its supply of crude oil and liquefied natural gas (LNG) from the Middle East. Kishida also wanted to strengthen ties with the region in the context of China's growing involvement, and appeal to Middle Eastern leaders about the importance of an open international order based on the rule of law.
Meanwhile, the Middle Eastern countries, concerned about their dependency on oil exports in a decarbonizing world, wanted Japan's help in diversifying their economy. In response, Kishida laid out a vision for the region becoming a next-generation energy hub. About 30 Japanese company executives accompanied Kishida on his trip to explore opportunities for cooperation with local companies in fields such as decarbonization and semiconductors.
In Saudi Arabia, Kishida and Mohammed bin Salman launched a joint initiative to promote clean energy, as Saudi Arabia aims to achieve net-zero carbon emissions by 2060. Kishida and Mohammed also agreed to establish a strategic dialogue at the foreign ministerial level. Japan wants to strengthen ties with Saudi Arabia, according to Kishida, because he wants Japan to play a role in promoting peace and stability and easing regional tensions, such as "the Palestinian problem and Iran's nuclear-related activities." Security cooperation with Saudi Arabia on issues closer to home for Japan may be extremely limited, however, due to China's ties with Saudi Arabia. Though Mohammed expressed support for Japan regarding North Korea, when it came to China, the conversation ended with both sides merely explaining their respective positions toward China.
Japan and the UAE agreed to strengthen cooperation on decarbonization and clean energy, including working together to develop cutting-edge technology including decarbonized fuels, and pledged to achieve net-zero carbon emissions by 2050. As the host of the next U.N. climate change conference, COP28, the UAE called on all parties to the conference step up to reach the net-zero greenhouse gas emissions target by 2050. Kishida stated at his meeting with Mohamed bin Zayed al-Nahyan, "Japan and the UAE have ramped up cooperation not only in conventional energy sectors but also in clean energy areas such as hydrogen and ammonia."
Japan and the UAE also signed an education cooperation memorandum. Education is critical for the UAE to develop its human resources, diversity the country's economic activities, and reduce its reliance on oil exports. In addition, Kishida and Mohamed confirmed their opposition to unilateral changes in the status quo by force and agreed to enhance bilateral security cooperation. This comes in the context of Japan and the UAE signing an agreement on transfer of defense equipment and technology this past May.
In Qatar, Kishida and Tamim bin Hamad al-Thani agreed to cooperate to stabilize the energy market worldwide and enhance security cooperation through dialogue between their defense officials. The Japan-Qatar relationship may be the relationship that has the most room to grow; Oman was selected as the third destination over Qatar for Abe's 2020 trip. Furthermore, Japan Airlines has selected Doha as the destination for Japan's first direct flights from Tokyo to the region; increasing opportunities for people to travel to Qatar is likely to lead to people naturally seeking out new opportunities in Japan-Qatar cooperation.
During his trip, Kishida also met with Jasem Al-Budaiwi, secretary-general of the Gulf Cooperation Council (GCC). Kishida would like to hold regular meetings with the foreign ministers of the GCC nations and resume negotiations on a free trade agreement.
Kishida's move to secure traditional energy supplies for Japan is understandable in the context of the global turmoil caused by Russia's invasion of Ukraine, as is his desire to counter perceived growing Chinese influence in the region. However, there is something ironic about appealing to states that do not uphold the rule of law domestically to uphold the rule of law internationally.
Furthermore, there is irony in the fact that the same trip that was meant to highlight the necessity of decarbonization also highlighted Japan's dependence on traditional sources of energy. Japan's own climate change strategy has been criticized by climate change activists, who say it will prolong the use of fossil fuels rather than making the necessary commitment to renewable energy.
What Kishida's trip demonstrates more than anything else is the inevitable trade-offs that leaders face in the real world. Kishida made what he believed was the best choice that he could under the given constraints and with the information that he had at this time. One can only hope that the Japanese government in the future will course-correct as necessary to maximize global peace and minimize emissions as the constraints change (e.g., renewable energy sources become more widely available) and new information becomes available (e.g., the nature of China's role in the region clarifies).