Relief for Malaysian PM Anwar, as Opposition Fails to Alter Status Quo in State Elections
In Saturday's six state elections, Anwar's government and the Malay nationalist opposition each retained control of three states.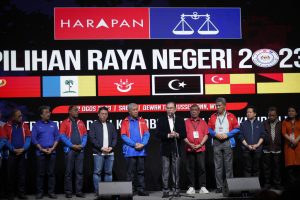 Malaysian state elections Saturday ended in a return to the political status quo, with Prime Minister Anwar Ibrahim's government and the Islamist opposition both retaining control of three states each as widely expected.
The Election Commission announced that Anwar's multi-coalition government triumphed in Selangor and Penang, two of the country's richest states, as well as Negeri Sembilan. It said the opposition Perikatan Nasional (PN) bloc, which includes the conservative Pan-Malaysian Islamic Party (PAS), captured three poorer Malay heartland states of Kedah, Kelantan and Terengganu in the north.
Analysts said the outcome lifted some of the pressure on Anwar and would boost the stability of his nascent government. But it will still be challenging as the PN bloc, led by former Prime Minister Muhyiddin Yassin, made inroads in the three government-held states and made nearly clean sweep of seats in its three states. Of the 245 seats contested, PN swept 146 compared to 99 by Anwar's government.
Anwar said his federal government remained stable and strong and urged all sides to accept the people's decision. "This is the time for everyone, for all the parties, whether they win or lose, to work together to protect national peace, raise the dignity of the country and concentrate on developing Malaysia," he told a news conference.
But Muhyiddin said the people had rejected Anwar's unity government as his opposition bloc won 60 percent of the total assembly seats. "It is a clear sign that the people want change," he said, adding that Anwar must take moral responsibility and resign.
The polls are widely viewed as an early referendum both on Anwar's leadership and the strength of the Islamist opposition after a divisive general election in November.
Anwar has zig-zagged across the country pitching the appeal of political stability and his concept of a progressive government, even marking his 76th birthday on Thursday by giving fiery speeches late into the night at political rallies. He said a win for his unity government would save the country from racial and religious bigotry, and appealed for time for his government to deliver on its promises for reforms.
"The status quo result is a huge relief to Anwar and his government. He would have been in real political trouble had he lost one of the three states under his coalition. Now he has some room to undertake real reforms," said James Chin, professor of Asian studies at Australia's University of Tasmania.
Malaysia's politics were thrown into disarray after November's general election led to an unprecedented hung Parliament. Anwar's Pakatan Harapan (PH) alliance won the most seats but failed to win a majority after many ethnic Malays threw their support behind the PN bloc and PAS emerged as the largest single party in Parliament.
At the behest of the king, rival parties came together to form Anwar's unity government. The support of the once-dominant United Malays National Organization (UMNO) and other smaller parties gave Anwar a two-thirds majority in Parliament, but analysts say this loose alliance is perceived as unstable and needs stronger support from the Malay majority.
Many in the Malay community view Anwar as too liberal. They fear their Islamic identity and economic privileges under a decades-old affirmative action program could be chipped away. By law, all Malays are Muslims and Islam is the official religion in Malaysia. Malays make up over two-thirds of Malaysia's 33 million people, with large Chinese and Indian minorities.
The rise of PAS, which espouses a theocratic state and has long positioned itself as a defender of Islam and Malays, partly reflected a growing religious conservatism. Despite a poor economic track record in the three states it rules, PAS retained loyalty through its religious agenda. PAS hardline leader Abdul Hadi Awang earlier claimed that the opposition could topple Anwar's government if it swept all six states.