Mongolia Aims for 'New Heights' in Relations With China
The Mongolian prime minister's six-day trip to China highlights the increasingly close relationship between China and Mongolia.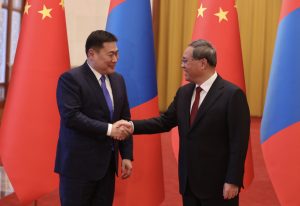 From June 26 to July 1, Mongolian Prime Minister Oyun-Erdene Luvsannamsrai paid an official visit to China. In Beijing, he held talks with Chinese Premier Li Qiang and met with Chinese President Xi Jinping and Zhao Leji, chairman of the Standing Committee of the National People's Congress. In his capacity as the chairman of the Mongolian People's Party, Oyun-Erdene also met with Liu Jianchao, head of the International Department of Chinese Communist Party.
During Oyun-Erdene's visit to China, both sides deepened their cooperation in ports, energy and mining, technology, tourism, anti-corruption, desertification prevention and control, urban planning, youth and other fields. The Mongolian prime minister said that Mongolia is willing to work with China to uphold multilateralism, maintain regional peace and stability, and jointly address global challenges such as climate change, while pushing China-Mongolia relations "to new heights." Xi likewise called on both sides to "elevate the China-Mongolia comprehensive strategic partnership to a higher level."
Since China relaxed its strict control measures implemented during the COVID-19 pandemic, the ruling parties in Mongolia and China have become more active in exchanges. Even the Mongolian opposition has reached out to Beijing – a delegation led by Odontuya Saldan, vice chairwoman of the State Great Khural of Mongolia and a leader of the Democratic Party, visited China last month, where she also met with Liu Jianchao.
During this visit, Oyun-Erdene also attended the World Economic Forum's 14th Annual Meeting of the New Champions (also known as the Summer Davos Forum) held in Tianjin. He met with Klaus Schwab, founder and executive chairman of the World Economic Forum, and leaders of multinational organizations, local governments, and companies in Beijing, Tianjin, and Ningbo.
Railways and Border Connectivity a Priority
During the Mongolian prime minister's visit to China, a contract for construction of the eastern region railway construction was signed, with a value of $1.8 billion, according to the minister in charge of road and transport development, Sandag Byambatsogt. "Within the framework of the development of the eastern railway corridor, a major construction project is being started to renovate the railway line from the Russian-Mongolian border to Ereentsav-Choibalsan, and to construct a new railway from Choibalsan to the Bichigt (Mongolia)–Zhu'engadabuqi (China) ports," he explained. "In this regard, the eastern railway corridor connecting Mongolia-Russia-China will be created, and our country will have the second railway corridor connecting Asia and Europe."
Mongolia's railway in the eastern region is planned to be 420 kilometers long, running through Choibalsan, the fourth-largest city, to the Khuut coal mine and Bichigt, the border-crossing station.
Recently, a working group from the Liaoning provincial government visited Mongolia. They also want to turn Liaoning ports such as Dalian and Jinzhou into Mongolia's new "Tianjin Port." That would also require railway construction in eastern Mongolia and a connection with northeast China.
Currently, Tianjin is by far the most important outlet for landlocked Mongolia to ship its products abroad. More than 90 percent of the cargo transportation at Zamyn-Uud, Gashuun-Sukhait, Bichigt, and other major ports in Mongolia passes through China's Tianjin port. Initially, in 2009, the Ministry of Road Transport of Mongolia and the Tianjin Municipal People's Government reached a memorandum under which China would lease of 100,000 square meters of land in Tianjin Dongjiang Free Trade Port Zone to Mongolia on very favorable terms for a period of 50 years, to support Mongolia's going to sea.
In 2019, Tianjin Port (Group) Co., Ltd. signed an agreement with the Mongolian Railway state-owned shareholding company in Tianjin to jointly establish the China Mongolia International Logistics Park Co., Ltd. and build the Tianjin-Mongolia Dongjiang Logistics Park in Port of Tianjin. According to that agreement, each side jointly contributed 100 million Chinese yuan to establish a joint venture and build the 100,000 sq m Tianjin-Mongolia Dongjiang Logistics Park in Tianjin. The total investment of the project is planned to be about 233 million Chinese yuan.
Once the Tianjin-Mongolia Dongjiang Logistics Park is put into operation, it will go a long way toward lifting the container transport bottleneck Mongolia currently faces. Cargo turnover will be accelerated, providing Mongolia with the opportunity to establish contact with about 500 ports in more than 180 countries worldwide. During his latest visit to China, Oyun-Erdene suggested that the Tianjin-Mongolia Dongjiang Logistics Park should be put into operation within one year. It seems that Mongolia now urgently needs to establish its own transportation and logistics center in Tianjin Port. It is expected to be put into operation in 2024, on the 15th anniversary of the original agreement.
In addition, China and Mongolia have also held consultations on the development of the Khangi-Mandal railway port and the 24-hour opening of the largest land port on the Mongolia China border, Erenhot-Zamyn Uud, and others. According to recent reports from media in Russia, many ports between Russia and China have implemented 24-hour cargo customs clearance since the beginning. This may be related to the recent large-scale increase in trade between Russia and China. With that example in mind, nearby regions such as Central Asia and Mongolia may push to start implementing 24-hour customs clearance on a trial basis.
To maximize their trade potential, Mongolia and China should need to reformulate and/or revise some relevant documents, such as the 1955 Mongolian China Border Railway Agreement. To do that, decision-makers in Inner Mongolia – the Chinese province that shares the longest border with Mongolia – also play a crucial role alongside leaders in Beijing. As far as I know, the last two party secretaries of Inner Mongolia (Shi Taifeng and Sun Shaocheng) have not met with the Mongolian ambassador to China in recent years, nor even given the Mongolian Consul General in Hohhot – the capital of Inner Mongolia – the opportunity to visit and meet the leaders of the province. COVID-19 outbreaks may have been part of the cause, but whatever the reason the outcome is that the local government in Inner Mongolia has been estranged from Ulaanbaatar in the recent period.
The governments of Mongolia and China have stated in the media that the railway connection between the two countries is "normal," but it is currently unclear when and how the new southern Gobi steppe railways will connect to Inner Mongolia. It is speculated that various interest groups in Mongolia and China have not yet reached a consensus or found relevant economic and trade cooperation plans.
Loans and Financing
From the perspective of China's development loans to Mongolia, China provided a $1 billion soft loan project in 2014 to build the Erdeneburen hydropower station. The designated installed capacity of this project is 90 megawatts, with an annual power generation of 366 million kilowatt hours, which will supply power to five provinces in western Mongolia. It aims to reduce Mongolia's dependence on imported energy from China and Russia, and promote economic development by facilitating mining for minerals and oil in the Ikh Nurudyn Khotgor (translated as the Great Lakes) depression in western Mongolia.
In addition, a $1.8 billion local currency swap agreement with the People's Bank of China (PBOC) will need to be rolled over in 2023. Finance Minister of Mongolia Javkhlan Bold said in an interview that one of the achievements during Oyun-Erdene's visit to China was the extension of the swap agreement between the Central banks between two countries for a period of another three years. Since 2011, this type of cooperation has continued and expanded in scale. This time, due to the request of Mongolia, China may reluctantly agree to extend the local currency swap agreement (which has already been extended three times). Perhaps next time, these negotiations will definitely not be simple and repayment will also be required.
Trade Cooperation
China has been Mongolia's largest trading partner for more than a decade. Most of Mongolia's coal, copper fine powder, iron ore, and other mineral products are exported to China. In 2022, the trade volume between China and Mongolia reached $12.2 billion, according to Chinese statistics, surpassing the $10 billion mark for the second year in a row.
During his visit, Oyun-Erdene pledged to maintain good relations with China and strengthen the trade and economic partnership, said Mongolian Prime Minister Oyun-Erdene, striving to achieve a trade volume of $20 billion as soon as possible.
In recent years, the level of China-Mongolia trade has been greatly expanded. In the future, two sides will continue to expand trade settlement channels, promote the expansion of local currency swaps, further facilitate the development of bilateral trade, and enhance cross-border financial service capabilities.
The China-Mongolia Trade and Economic Cooperation Forum was held in Beijing during Oyun-Erdene's visit. According to Mongolian officials, Chinese and Mongolian enterprises signed about 25 cooperation agreements with a total value of 3 billion Chinese yuan (around $414 million) at the forum. More than 100 Mongolian representatives and 300 Chinese representatives from mining, construction, trade, tourism, transportation, animal husbandry, and other sectors attended this event.
It is also worth mentioning that Oyun-Erdene visited the Chinese Academy of Sciences. The Mongolian prime minister hopes to carry out extensive and in-depth scientific and technological cooperation with China, strengthening research cooperation in areas such as deep processing of mineral resources, pollution control, desertification prevention, and AI. Mongolia also wants to further promote the exchange of scientific and technological talents.
During Oyun-Erdene's meeting with the leaders of the Chinese Academy of Sciences, he discussed the scientific and technological goals proposed in the Vision 2050 policy and the New Recovery Policy. These development goals will require 38,000 technical personnel and talents, according to Oyun-Erdene. He also said it was necessary for Mongolia to learn from the experience of China's scientific and technological progress while implementing its development policies.
As a mineral-rich country Mongolia has significant uranium deposits and rare earth reserves. Rare earth minerals are an indispensable raw material for the production of electric vehicles, wind turbines, portable electronic devices, and cutting-edge weapons and equipment. China is currently the world's largest producer of rare earths, which can easily become a bottleneck for Europe and the United States at any time.
Leaders in other countries are taking proactive steps to reduce their dependency on China, and this is posing opportunities for Mongolia. Mongolia already has cooperation agreements with France in uranium mining, and negotiations have been made with South Korea and the United States in rare earth mining. Mongolian leaders plan to visit France, the United States, and South Korea to continue discussing the details of such cooperation.
Given that, it's interesting that, during Oyun-Erdene's visit to China, Beijing did not specifically mention such strategic resource cooperation.
Next year will mark the 10th anniversary of Chinese President Xi Jinping's state visit to Mongolia and the 75th anniversary of the establishment of diplomatic relations between Mongolia and China. Therefore, it is possible that Ulaanbaatar actively requested Xi to visit Mongolia again in 2024.