North India Reels Under Monsoon Fury; Pakistan on Alert
Heavy rains have triggered flash floods and landslides, especially in the northern hill states.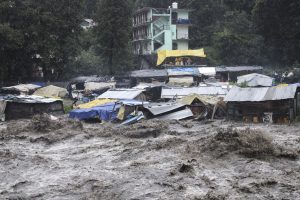 Schools in New Delhi were closed on Monday after heavy monsoon rains battered the Indian capital and caused landslides and flash floods in the country's north, killing at least 15 people over the last three days.
The torrential rain over the weekend left parts of New Delhi overflowing with water that submerged roads and stranded residents. The northern hill states were the worst affected, with 10 people killed in flash floods and landslides in Himachal Pradesh and Uttarakhand states, according to the Press Trust of India news agency.
One person died in New Delhi and four were killed in the Indian-controlled section of Kashmir.
Landslides triggered by the rains disrupted traffic on key highways in Uttarakhand, a tourist hill state in the Himalayas, prompting warnings for residents not to venture out of their homes unless necessary. Authorities used helicopters to rescue people while bridges and houses were swept away in neighboring Himachal Pradesh.
India's weather agency has forecast more heavy rains in the north in the coming days. It said monsoon rains across the country have already brought about 2 percent more rainfall than normal.
India regularly witnesses severe floods during the monsoon season, which runs between June and September and brings most of South Asia's annual rainfall. The rains are crucial for rain-fed crops planted during the season but often cause extensive damage.
Scientists say monsoons are becoming more erratic due to climate change and global warming, leading to frequent landslides and flash floods in India's Himalayan north.
In neighboring Pakistan, which has also been pelted by monsoon rains, authorities were on alert for the season's first flooding after India diverted waters from dams into the Ravi River, which flows from India into Pakistan.
Evacuations were underway from the lowlands in eastern Punjab province, according to Pakistan's disaster management agency. More than 500 people were moved from the villages of Narowal, Sialkot, and elsewhere, officials said.
At least 80 people have died and 182 were injured in Pakistan in weather-related incidents since June 25 as heavy rains impacted tens of thousands of people in this Islamic nation.
Pakistan's Prime Minister Shehbaz Sharif on Monday praised rescuers for evacuating those stranded in Punjab.
Pakistan said New Delhi had informed Islamabad about the release of water into the Ravi, as it is required to do under the 1960 Indus Water Treaty brokered by the World Bank.
Cash-strapped Pakistan is still struggling to recover from last summer's flooding that killed 1,739 people and caused $30 billion in damage.