North Korea Says It Successfully Tested Hwasong-18 ICBM for a Second Time
The missile flew for 74 minutes, setting a record for Pyongyang.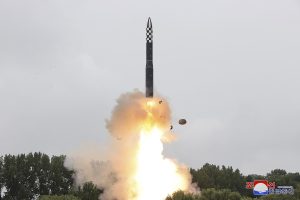 North Korea has confirmed that the missile it fired on July 12 was its Hwasong-18, a new type of solid-fuel intercontinental ballistic missile (ICBM). The missile flew for 74 minutes – the longest flight time ever recorded by any ballistic missile launched by Pyongyang.
Wednesday's launch marked the North's second launch of the Hwasong-18 following its first test-firing on April 13.
Solid-fuel missiles like the Hwasong-18 can be launched more quickly than liquid-fueled missiles, making it harder for the United States, South Korea, and Japan to detect signs of their launch in advance.
The three-stage, road-mobile Hwasong-18 was first unveiled during the military parade in February.
North Korean leader Kim Jong Un guided the test-fire of the Hwasong-18, which "fully demonstrated the might of the DPRK fully equipped with the firm nuclear war deterrence for self-defense," said the state-run Rodong Sinmun daily on July 13. (DPRK is an acronym of North Korea's official name, the Democratic People's Republic of Korea.)
Kim said the security environment on the Korean Peninsula is unstable and requires his nation to bolster its nuclear war deterrent, according to Rodong Sinmun.
He called the Hwasong-18 "the most powerful, core main force means" to strengthen his regime's deterrence.
"The test-fire was aimed at re-confirming the technical creditability and operational reliability of the new-type ICBM weapon system," the North Korean daily said.
Rodong Sinmun said the new missile traveled up to a maximum altitude of 6,648 km (4,131 miles) and flew a distance of 1,001 km (622 miles) for 74 minutes before landing in waters between the Korean Peninsula and Japan.
This explanation matches the analysis of the Japanese and South Korean defense authorities. The missile, fired from North Korea's capital region around 10 a.m., flew about 1,000 kilometers at a maximum altitude of more than 6,000 kilometers before splashing down in the Sea of Japan, or the East Sea, according to Japanese and South Korean and assessments.
Japan's military said the missile was fired at 9:59 a.m. and flew 74 minutes before splashing down 155 miles west of Okushiri Island of Hokkaido, outside the country's exclusive economic zone, Chief Cabinet Secretary Matsuno Hirokazu said Wednesday. Japan's Ministry of Defense provided a rough map of the missile's flight path.
The North Korean missile was apparently launched on a lofted trajectory, which sacrifices range for height, at a steep angle that Pyongyang typically uses to avoid neighboring countries when it tests long-range missiles.
Defense officials in Tokyo said the missile could have a range of over 15,000 kilometers when fired at a normal angle, which means it would cover the entire U.S. mainland.
North Korea's Rodong Sinmun said the missile broke records in distance, altitude, and flight time. Strictly speaking, this is not true. North Korea's ballistic missiles, for example, have flown over the Japanese archipelago seven times in the past. Since the Hwasong-18 dropped in the waters west of Japan this time, the flight distance was shorter than many previous ones. North Korea's claim of a "new record" for flight distance is believed to refer to the missile's potential range when launched at a normal angle.
Also, many military experts are still skeptical about whether Pyongyang has actually perfected the warhead and re-entry technology that enable ICBMs to reenter Earth's atmosphere without receiving any damage.
Moreover, it is unclear what kind of payloads were involved in the latest ICBM test. North Korea may have lightened them to extend its range. The weight of the payload affects how far a missile can fly.
Japanese Prime Minister Kishida Fumio and South Korean President Yoon Suk-yeol were in Vilnius, Lithuania, to attend the NATO summit at the time of the missile launch. They released a joint statement with Australian Prime Minister Anthony Albanese and New Zealand Prime Minister Chris Hipkins condemning North Korea's launch that day.
"The four countries resolutely oppose North Korea's unlawful provocation and urge it to fully comply with all of its obligations under the relevant U.N. Security Council resolutions," the statement said. "Even if North Korea continues to develop its nuclear and missile programs and threaten the use of nuclear weapons, it will only bolster the international community's resolve to achieve complete denuclearization of North Korea."
The foreign ministers of the Group of Seven leading industrial nations, consisting of Canada, France, Germany, Italy, Japan, the United Kingdom, and the United States, also issued a joint statement on the latest North Korean missile launch on July 13.
"North Korea continues to expand its unlawful nuclear and ballistic missile capabilities and to escalate its destabilizing activities. These launches pose a grave threat to regional and international peace and stability, and undermine the global non-proliferation regime," the joint statement said.
"North Korea's decision to prioritize its unlawful weapons of mass destruction and ballistic missile programs over the welfare of the people in North Korea is aggravating an already dire humanitarian situation," the G-7 statement added.
North Korea was banned by the U.N. Security Council from ballistic missile tests after its first nuclear test in 2006.