North Korea's Ambassador Blames US for Regional Tensions in Rare UN Security Council Appearance 
Amb. Kim Song defended North Korea's recent long-range missile test-flight as a legitimate exercise of the North's right to self-defense.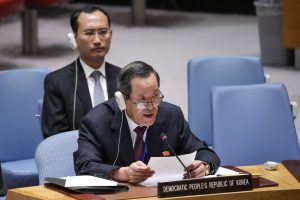 North Korea's U.N. ambassador defended his country's recent long-range missile launch in a rare appearance at the U.N. Security Council on Thursday where he also accused the United States of driving the situation in northeast Asia "to the brink of nuclear war."
Kim Song told the council that Wednesday's test-flight of the developmental Hwasong-18 missile was a legitimate exercise of the North's right to self-defense. He said the United States was raising regional tensions with nuclear threats and deploying a nuclear-powered submarine to South Korea for the first time in 14 years.
Kim said the missile launch had "no negative effect on the security of a neighboring country," pointing to Japan's announcement that the ICBM — which flew at a steep angle — landed in open waters outside Japan's exclusive economic zone.
South Korea's U.N. Ambassador Hwang Joon-kook countered, asking: "How can an ICBM launch ever make neighboring countries appear safe?"
Diplomats said Kim's appearance was the first time a North Korean diplomat addressed the Security Council since 2017.
Hwang said each of North Korea's repeated ballistic missile launches allow the country to advance its technology toward its goal of having an arsenal of nuclear-armed weapons.
Immediately before the meeting, a statement from nine council members including the United States and Japan, joined by South Korea, was read to reporters condemning the launch "in the strongest possible terms" and stressing that it was the 20th ballistic missile launch this year in blatant violation of multiple Security Council resolutions banning such tests.
In Pyongyang, Kim Yo Jong, the powerful sister of North Korean leader Kim Jong Un, slammed the U.N. Security Council for convening a meeting to "pick a quarrel with" her country's self-defense step while ignoring the U.S. push to increase the danger of a nuclear war. In a statement carried by state media, Kim Yo Jong called the council "a new Cold War mechanism totally inclined to the U.S. and the West."
She also warned that the United States would pay a price for its hostility toward the North. "I do not conceal the fact that very unlucky things will wait for the U.S.," she said without elaborating but reiterated her country's push to build up its nuclear deterrence capability.
The Security Council imposed sanctions after North Korea's first nuclear test explosion in 2006 and tightened them over the years in a total of 10 resolutions seeking — so far unsuccessfully — to cut funds and curb its nuclear and ballistic missile programs.
The last sanctions resolution was adopted by the council in December 2017. China and Russia vetoed a U.S.-sponsored resolution in May 2022 that would have imposed new sanctions over a spate of intercontinental ballistic missile launches.
The two veto-wielding permanent members have blocked any council action including statements to the media since then.
The statement by the 10 countries said the Security Council cannot remain silent in the face of so many North Korean provocations and must send a message to all proliferators "that this behavior is unlawful, destabilizing, and will not be normalized." It also called on all countries to confront North Korea's illicit activities to generate revenue such as cybercrime.
But Russia and China remained opposed to any council action.
China's U.N. Ambassador Zhang Jun took note of the latest missile test but criticized the heightened U.S. military pressure on North Korea and its deployment of strategic weapons to the Korean Peninsula.
He said the long-time view of the U.S. and other countries that North Korea poses a security threat and their obsession with sanctions put North Korea under "existential pressure," while the country's own legitimate concerns "have never been addressed."
Zhang said history since the 1990s clearly shows that dialogue and negotiation are the only way to ease tensions, and he urged the U.S. and North Korea to resume talks.
The statement from the 10 countries said they remain committed to diplomacy without preconditions. Kim Song, the North Korean ambassador, made no mention of talks, which have been stalled since 2018.