South Korea's Yoon Pushes for Strong Resolve Against North's Nuclear Ambitions at NATO Summit
Yoon Suk-yeol will attend the annual NATO summit being held this year in Vilnius, Lithuania, on July 11-12 as part of a two-nation trip that includes a stop in Poland.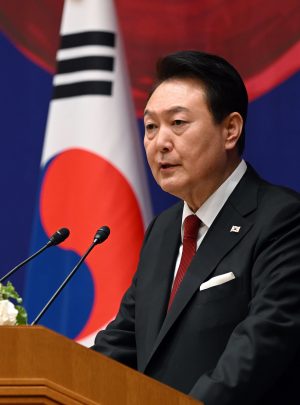 South Korea's president says it's time to clearly demonstrate strong international resolve to deter North Korea's nuclear ambitions, and he plans to discuss how to cope with the North's expanding weapons arsenal with NATO leaders this week.
Yoon Suk-yeol will attend the annual NATO summit being held this year in Vilnius, Lithuania, on Tuesday and Wednesday as part of a two-nation trip that includes a stop in Poland.
"Now is the time to clearly demonstrate that the international community's determination to deter North Korea's nuclear weapons program is stronger than North Korea's desire to develop nuclear weapons," he said.
It's the second consecutive year that Yoon will take part in the summit, underscoring his push to deepen ties with the world's biggest military alliance. South Korea faces a mix of security challenges, including North Korea's nuclear program and the China-U.S. strategic rivalry. Last year, he became the first South Korean leader to attend a NATO summit when he took part in Spain.
In written responses to questions from The Associated Press ahead of his departure, Yoon said South Korea will stress at the NATO meeting the importance of international cooperation against "North Korea's illegal acts." He also said a new NATO-South Korean document will take effect at the summit to institutionalize cooperation in 11 areas, including non-proliferation and cybersecurity.
North Korea's headlong pursuit of reliable nuclear weapons has taken on new urgency after it test flew more than 100 missiles and openly threatened to use nuclear weapons in potential conflicts with South Korea and the United States since the start of last year.
Whether North Korea possesses functioning nuclear missiles is still a source of debate. But according to a South Korean government estimate in 2018, North Korea already had up to 60 nuclear warheads. Experts say North Korea is able to add six to 18 new warheads every year.
In response to North Korea's missile tests, Yoon, a conservative who took office in 2022, took steps to beef up his country's own missile capability and expand military drills with the United States. Yoon and President Joe Biden in April announced plans to reinforce their countries' deterrence capabilities, such as the periodic docking of a U.S. nuclear-armed submarine in South Korea and the establishment of a new bilateral nuclear consultative group, whose inaugural meeting is slated for next week in Seoul.
In its typical, fiery rhetoric, North Korea's Defense Ministry warned Monday the deployment of the U.S. submarine may incite "the worst crisis of nuclear conflict in practice." It also threatened to shoot down U.S. spy planes. South Korea's military countered it maintains a readiness to repel potential North Korean provocations.
Yoon's discussion of North Korea with NATO leaders could trigger a backlash from North Korea, which has called increasing cooperation between NATO and U.S. allies in Asia a process to create an "Asian version of NATO" that it said will raise regional animosities.
North Korea argues its weapons testing spree was meant to issue a warning over the expanded South Korean-U.S. military drills that it views as invasion rehearsals. Yoon says he wants to opt for peace through strength, though he remains open to dialogue with North Korea.
"Peace is never as certain and reliable as when it is backed by powerful force and deterrence," Yoon added. "Strong international sanctions against North Korea have the effect of preventing the advancement of its nuclear and missile capabilities."
In Vilnius, Yoon said that there will be "several opportunities" for him to speak with Biden over a range of topics, such as the strengthening of the U.S. security commitment and the expansion of trilateral security cooperation between Seoul, Washington and Tokyo.
Yoon said he and Japanese Prime Minister Kishida Fumio also plan to hold a bilateral meeting there. He said he and Kishida will be able to discuss the advancement of bilateral relations but also ways to expand mutual solidarity and international cooperation.
Relations between South Korea and Japan have improved significantly in recent months, with Yoon taking a major step toward resolving a thorny dispute over Japan's colonial-era mobilization of forced Korean laborers. The Yoon-Kishida meeting in Vilnius is expected to touch upon Japan's contentious plan to release treated wastewater from the crippled Fukushima nuclear power plant, which was recently approved by the U.N. nuclear watchdog but is still opposed by many in neighboring countries.
During the summit in Vilnius, NATO leaders are expected to offer more help in modernizing Ukraine's armed forces as the Russian invasion of the country continues with no end in sight. They are also expected to create a high-level forum for consultations and reaffirm that Ukraine will join their alliance one day.
Yoon said South Korea has provided humanitarian and financial support to Ukraine in a variety of forms and that supplies of demining equipment, ambulances and other materials "are in the works" following a request from Ukraine. He said South Korea has also already provided support to repair the damaged Kakhovka Dam in Ukraine.
South Korea, a growing arms exporter, has avoided directly providing arms to Ukraine in line with its long-standing policy of not supplying weapons to countries actively engaged in conflict. Leaked U.S. intelligence documents posted online earlier this year indicated that South Korea's National Security Council "grappled" with the U.S. in March over an American request to provide artillery ammunition to Ukraine.
"The Korean government will continue to fulfill its necessary role in tandem with the international community in order to safeguard the freedom of Ukraine," Yoon said. "On top of this, we will work out multipronged support measures needed for the prompt post-war restoration of peace in Ukraine and its reconstruction."
Yoon is invited to the NATO summit along with the leaders of Japan, Australia, and New Zealand, a sign of strengthening ties between NATO and nations in the Asia-Pacific region. The four countries were invited to last year's summit as well.
"Just as incidents in Europe can have a substantial and consequential impact on the Indo-Pacific region, Indo-Pacific events can have immense ramifications for countries in Europe," Yoon said. "In particular, the war in Ukraine has reminded us all that a security crisis in one particular region can have a global impact."