Taking Stock of Kyrgyzstan-US Relations With Amb. Lesslie Viguerie
The Diplomat's Managing Editor Catherine Putz had a recent conversation with U.S. Ambassador to Kyrgyzstan Lesslie Viguerie about the state of relations.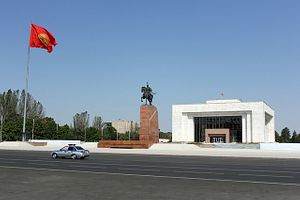 Back in 2015, the United States and Kyrgyzstan hit a serious bump in bilateral relations. Less than a year after U.S. and NATO forces vacated the air base at Manas (June 2014), the U.S. State Department decided to give Azimjan Askarov, an ethnic Uzbek Kyrgyz political prisoner, its 2014 Human Rights Defender Award (he died in a Kyrgyz prison in 2020). Bishkek expressed its frustration by denouncing a 1993 bilateral cooperation agreement (BCA).
Cooperation continued, absent the BCA, but in the ensuing years the two sides repeatedly said they were working on a new agreement. Last year, both U.S. officials and the Kyrgyz president hinted that a new BCA was near.
The Diplomat's Managing Editor Catherine Putz recently had the opportunity to interview current U.S. Ambassador to Kyrgyzstan Lesslie Viguerie in Bishkek about the status of the BCA, possible evasion of sanctions on Russia via Kyrgyzstan, the state of media freedoms in the country, and a host of other critical issues in the Kyrgyzstan-U.S. relationship.
The following interview has been edited for length and clarity.
Last year, the U.S. Undersecretary of State for Civilian Security, Democracy and Human Rights visited Bishkek in April and in an interview with a local media outlet said that the U.S. and Kyrgyzstan were nearing the conclusion of a new bilateral cooperation agreement. I haven't seen much said about it since then, so can you offer an update on the status of that negotiation?
Obviously, we're continuing with the wide range of cooperation across many fields, democracy and human rights being some of the more interesting areas, but also public health and energy. Kyrgyzstan plays a good role in C5+1, which we're encouraging.
But no, the BCA has not been signed yet. Our perspective is that they'll sign it when they're ready to sign it, and we can continue to cooperate with Kyrgyzstan even without the BCA. But frankly, the BCA opens many more doors and would allow us to expand that level of cooperation which we want and which the Kyrgyz say they want.
So we're waiting, but we're not stopping. 
So the ball's in the Kyrgyz court.
Completely.
The war in Ukraine has drawn a lot of attention to Central Asia in a way that is natural given the difficult political and economic situation Central Asia is in amid that war. But there have been recent investigations that suggest that countries like Kyrgyzstan are trading in dual-use technologies, possibly engaging in sanctions evasion. What have your conversations with the Kyrgyz been like? 
Yes, as far as the war goes in general, we've tried to be supportive of Kyrgyzstan given the economic impacts. For instance, we provide food security assistance, about $1.5 million, and we're also working through ERICEN (Economic Resilience Initiative in Central Asia) to help them vary trade routes, encourage investment, and look at how we can bolster skills here so that they don't have to rely on Russia as much as they do.
But they do rely on Russia. There are trading links there that go back many many years including to the Soviet period. So we're aware of these reports that companies in Kyrgyzstan are reexporting. We've had a series of conversations with them. In April, the assistant secretaries of treasury and commerce came through.
And I think the goal here is, at this point, not to punish Kyrgyzstan but really to give them the information that they need so that they do not become a place of sanctions avoidance, and that message has been repeated by other visitors. It's something that I often bring up: that this is important, that the United States is watching this closely. We have seen from the Kyrgyz some efforts to begin to build capacity so they can avoid becoming a sanctions evasion center.
They look at their neighbors, too — Kazakhstan and Uzbekistan. I think there's a recognition that they don't want to get the bad reputation of being a "sanctions evader" and all the consequences that might flow from that. 
RFE/RL's Kyrgyz Service is widely respected here, but it's come under an awful lot of pressure by the government. Does this concern you? The broader question is: what is the U.S. doing to support media freedoms and the freedom of speech in this country at a time when there's been some regression in those areas?
Yes, it does concern us. It is something that we've engaged on, not just at my level here in country, but with visitors like Assistant Secretary Donald Lu.
Azattyk, the RFE/RL broadcaster, has had its website blocked, its funds frozen, and the Ministry of Culture here has filed suit in court to shut it down. There was a trial court ruling that they could be shut down, but that's now on appeal. 
So what do we do about Azattyk? Well, one thing is that we've been consistently engaged across the board in trying to understand frankly what the precise issue with Azattyk is. There was a news story back during the September 2022 conflict between Tajikistan and Kyrgyzstan that the government objected to. In the time period since then, we think that Azattyk has taken a number of steps to try to address the complaints that the government had about that story. And as far as I know, and as far as we hear, that is the sole complaint.
You're quite right, there are a number of people — even in the government — who say "I really like Azattyk and I used to listen to it." We'll continue to to press on this question.
I would hope that the government would decide to put this behind them — essentially withdraw the suit — and move forward. It remains to be seen if they will.
On press freedom in general, we work through my public diplomacy colleagues, as well as through the U.S. Agency for International Development (USAID) through multiple projects that encourage press freedom. We are visible in our support; we don't try to hide anything. I think that in general, it has been appreciated that we are so supportive.
The Kyrgyz parliament was recently considering another one of these "foreign agents" laws. It was not passed before the parliament went on break and the number of supporting MPs has begun to drop. There are a lot of NGOs in Kyrgyzstan that are funded by the U.S. government or U.S.-based organizations. What kinds of concerns do you have with this sort of legislation?
Yes, we are concerned. We have engaged again across the board. I think that one concern is that there are 18,000 NGOs in Kyrgyzstan; some may not be particularly active and some are very active. Particularly in rural areas, these NGOs are often the ones that are providing the services that the government is unable to provide, and often the United States or other donors are supporting these NGOs.
If legislation is passed which allows the government a wide range of discretion as to whether they can shut them down or even register them in the first place, that is of concern. Given the capacity of the government, I don't know how they're going to be able, in the time period laid out in the legislation, to actually register 18,000 NGOs.
And then after that, what bounds are there on shutting those NGOs down, or a subset of those NGOs. 
Are there other legislative efforts that concern you?
Well, I was just in Parliament yesterday trying to get a sense of where it was going. [There are] three different laws that we're tracking in particular and are concerned about. One is the foreign representative, aka foreign agent, one. The other is an NGO registration law and then the third is a law on media. So as of June 29, it looked like the government had decided to put off any action on on all three, as it turned out. We'll have to see in the fall, when parliament comes back into session, whether they're going to go back to at least using a working group to solicit opinions from civil society about these laws.
The open question, I think, is do they take on board these working groups suggestions? Because they haven't in the past. 
What are the areas of friction in the Kyrgyz-U.S. relationship? And where do you see opportunities?
I would say it's pretty clear that the main friction is our concern that the space for free media and for civil society is closing. And we've been pretty clear on that. There are not a lot of other areas that come to mind where we have issues with the government. I'm able to meet with really almost anyone I want to meet in the government and our visitors are treated well. Our programs continue with the usual level of bureaucratic red tape, but not unusual levels, let's put it that way. In that sense, there aren't huge issues in the relationship.
It's not like in the past when there was the air base, that's years and years ago. Other than some of this legislation that we're concerned about, I wouldn't say there are big issues.
On the positive side, we really have seen just a huge enthusiasm for English language training here. Frankly, Washington, could not give me enough money to train all the people who want English language training. I was meeting with a cabinet minister about a month or so ago and he asked, "can you train everyone in the ministry in English?" I said, "I'd love to do that, sir…" 
We started out in 2018 with an English for Young Professionals program and then that was so successful that Washington decided — using some of the Ukraine supplemental funds — to expand that program so it's now region wide, but it's still run out of Bishkek. We also have the Peace Corps, which is now ramping up. They are expanding English teaching programs and then we have Fulbrighters and English language fellows.
[The embassy's public diplomacy department] has an army of people, but it's never going to be enough. 
What's great about this is that if you look at the internet, 60 percent is in English. If you look at efforts to try to diversify their trade connections, or their employment opportunities, English is going to be vital. It really does open doors here and the enthusiasm for it is just astounding.
We do lots of other good stuff in education, in health — in particular with HIV and TB. That part of the relationship is really thriving.
The Kyrgyz-Tajik border is a mess. Meanwhile, in the last year, the Kyrgyz have settled a border agreement with Uzbekistan. In the opinion of many observers, including myself, it was a good deal, but was very poorly advertised and has led to the detention of a number of activists and politicians who were opposed to it. Can you explain the U.S. perspective on these border issues?
The Kyrgyz-Tajik border, yes it's of concern, particularly given the level of fighting that took place in September 2022. The U.S. has been pretty clear about encouraging a peaceful resolution of the disputes and encouraged the sides to keep talking. The Kyrgyz and Tajiks have not really welcomed outside mediation and there are a number of organizations like the OSCE, the U.N., but also Moscow… they've all offered to mediate and both sides have not accepted the mediation.
So for outsiders like us, what we can do is talk to both sides and we try to encourage a peaceful resolution of this dispute. It's thorny though, and I think that border situation is a little bit different than the Uzbekistan border. The populations are more enmeshed with each other.
We continue to be hopeful and the sides do hold these periodic conversations, but it's not a 100 percent clear where those conversations are going. We hope in a peaceful way. 
As far as the Kempir-Abad detainees go, the good news was some were released from prison to house arrest. What we hope to see is that those who can be released, as appropriate, be released, and that the government follows due process and its own laws and procedures in speedily trying those detainees. They cannot just be held indefinitely. 
I'm going to ask a question I always like to ask ambassadors. What did I not ask you about that you wish I had asked you about?
I think one of the interesting things to me is been the revival of the security relationship with Kyrgyzstan. We had always been providing law enforcement and border guard training, so they can protect their borders. We're hoping to expand that more and the Kyrgyz seem interested in doing that. We'll see how far that goes. Kyrgyzstan is in a unique position. It definitely lives in a tough neighborhood and it's got lots of pressure from neighbors to the east and the north. 
So to the extent that we can do things that underline that the U.S. supports their sovereignty, independence, and territorial integrity, we will. In that vein, I think there's a lot of promise in C5+1. I think in the past it was seen as a talk shop and we're now getting into more interesting, more concrete work. For instance, they had a security working group that met recently and focused on issues like cybersecurity, which is a huge concern to all five, as well as sort of the what you would expect: borders security and developments in Afghanistan.
I'd also say, if you look at the C5, not plus anything, just the C5 — that's gaining momentum. It's in fits and starts, but I think they really do recognize that they are stronger together.
To conclude, I'm going to ask you a question I was recently asked at a conference at the OSCE Academy. A student noted that we've seen Chinese leader Xi Jinping and Russian President Vladimir Putin meet with all five Central Asian presidents in their own versions of the C5+1. The student asked if there was any chance that a U.S. president would meet with all five Central Asian presidents in a similar format?
Is there a chance? There's always a chance. But that is really a White House decision. 
I do expect that there will be some sort of C5+1 event in New York [on the sidelines of the U.N. General Assembly] at the secretary's level and that's because in the last two years we have done a C5+1 event. I think it underlines the U.S. is interested.
China and Russia are always going to be more interested in Central Asia than the United States. That's just a reality. I would say that we do have interests here and we use the funds we have, and the people we have out here, to try to pursue those interests.