Thai FM Says He Met With Aung San Suu Kyi on Secret Myanmar Mission
Don Pramudwinai reportedly described the secret meeting as a breakthrough. It is more accurate to view it as a setback.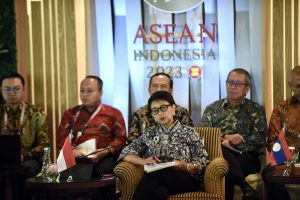 Thailand's Foreign Minister Don Pramudwinai said yesterday that he held a secret meeting with Myanmar's jailed former leader Aung San Suu Kyi, the first high-ranking foreign official to do so since she was imprisoned by the military in February 2021.
According to various media reports, Don briefed his Association of Southeast Asian Nations (ASEAN) colleagues about the meeting at the bloc's Foreign Ministers' Meeting in Jakarta yesterday. According to Thailand's Ministry of Foreign Affairs, the secret meeting took place on July 9 and lasted more than an hour.
"She was in good health both physically and mentally. (Don) briefed ASEAN on the retreat this morning," said ministry spokesperson Kanchana Patarachoke.
Don later confirmed the trip to reporters on the sidelines of the ASEAN event, saying that the meeting was "an approach of the friends of Myanmar, who would like to see a peaceful settlement" to the country's conflict. He said that the 78-year-old leader "is in good health" and that she "encourages dialogue." He did not offer any further details about the meeting.
The secret meeting marks the culmination of Don's freelance initiative to address the crisis in Myanmar. The diplomatic initiative began in December and has since involved four meetings, including two at the ministerial level. These have taken place outside ASEAN's auspices, and unlike the Southeast Asian bloc, which has excluded the junta's senior leadership from its summits since late 2021, Thailand has chosen to invite the junta's foreign minister. As a result, the Thai initiative, a seeming act of frustration with the general course of the ASEAN-led diplomatic process, has drawn criticism from within and without the bloc for marginalizing and complicating current chair Indonesia's efforts to implement the bloc's Five-Point Consensus peace plan.
Further details about the meeting were contained in a report by Kyodo News, which cited a regional diplomatic source to say that Aung San Suu Kyi told Don that she supports "dialogue without any preconditions" to address her country's ongoing crisis, which has raged since the military seized power in a coup in 2021. Another source who spoke to Kyodo said that Don presented the meeting to ASEAN's foreign ministers as a possible breakthrough in efforts to resolve the country's crisis. "It was the first time ever," he was quoted as saying, "and it may signify a fresh opening to a political peace process for Myanmar."
This is, to put it mildly, a highly optimistic reading of the situation. Since seizing power in February 2021, the military administration has shown no interest in compromising with those resisting its rule. For the past two years, the military junta has escalated its lethal attacks on resistance forces and civilians alike, trampling both the letter and spirit of the ASEAN Five-Point Consensus.
A more accurate interpretation of the meeting, assuming that it took place, is as an attempt by Myanmar's military administration to split ASEAN, sideline its diplomatic initiative, and relegitimize itself, while buying the time needed to crush the opposition National Unity Government (NUG) and the People's Defense Forces (PDFs) with which it is aligned.
Myanmar's generals understand well the totemic status of the NLD leader, and know that granting access to her – a concession that they have refused to a string of ASEAN envoys, United Nations officials, and heads of government – would be viewed by many outside of Myanmar axiomatically as a concession, if not a breakthrough.
"By blocking ASEAN chairs' access to Aung San Suu Kyi and while allowing Thai FM Don to meet with her," Aaron Connelly of the International Institute for Strategic Studies wrote on Twitter yesterday, "the junta is seeking to shift international diplomacy away from a forum it finds hostile to its interests and toward one that is more sympathetic."
Further evidence of this can be gleaned from a report on the meeting by the pro-junta news site Pan-Orient News. The report cited a "reliable source" as stating that Aung San Suu Kyi "confirmed in the meeting that she neither recognizes nor supports" the PDFs and the NUG, of which she is the titular head, which the junta accuses of "terrorism and the killing of innocent people," and of being "supported by Western countries."
Needless to say, this seems incredibly unlikely – and very much out of character for a leader who has long been known for a stubbornness bordering on rigidity, certainly without some confirmation from Aung San Suu Kyi, or those close to her. As Zin Mar Aung, the NUG's foreign minister, put it in an interview with The Irrawaddy, the meeting was a form of "hostage diplomacy" and was hard to credit as a genuine diplomatic exchange. "They put her in solitary confinement and they relayed 'this is what she said.' For me, it's quite untrustworthy," the minister said. "I have doubts about whether it's OK to respond to such nonsense."
As Derek Tonkin, a former British diplomat, pointed out yesterday in relation to Don's account of the meeting, "it has never previously happened that what [Aung San Suu Kyi] discussed when under house arrest or detention was not confirmed by her personally. It is simply not possible to accept this account of [Aung San Suu Kyi's] views as a fair record."
Whatever was said in Don's meeting with Aung San Suu Kyi, it is another sign of the corrosive impact that Thailand's diplomatic initiative will have on the region's wider attempt to address the spiraling conflict within Myanmar. It is hard to imagine that the initiative has not already eroded trust between Thailand and other members of ASEAN, and undermined Indonesia's efforts to push forward ASEAN's peace plan, however quixotic its implementation may appear. All told, this episode offers another example of how the Myanmar question continues to undermine ASEAN's credibility and erode the bonds between its remaining nine member states.