How Thailand's Myanmar Policy Could Change Under Move Forward
Assuming he is able to form government, Pita Limjaroenrat has promised significant changes to the Thai government's approach toward its conflict-torn neighbor.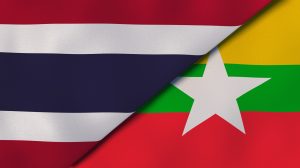 One of many questions to emerge from the stunning opposition victory at Thailand's general election on May 14 is the possible impact on the country's policy toward Myanmar.
The progressive Move Forward Party (MFP), which won the most seats in the House of Representatives, is also the one major party that has flagged a significant shift in the country's foreign relations in general, and its approach toward Myanmar in particular.
The party is not assured of forming Thailand's next government, given the vagaries of the country's military-drafted Constitution. But as Adam Simpson and Nicholas Farrelly wrote on May 16, "if [Thailand's] own military strongmen now relinquish control, the weekend's election could spark a change in the region's approach to its most pressing strategic and humanitarian crisis."
In the more than two years since the military coup of February 2021, Prime Minister Prayut Chan-o-cha's administration has taken a strikingly accommodative position toward the military junta. While claiming the be engaging in "quiet diplomacy," it has remained muted in the face of the Myanmar military's frequent atrocities against civilians, and the destabilization of regions directly bordering Thailand.
In recent months, Thailand has hosted a spate of Track 1.5 dialogues that have included the military and representatives of neighboring countries – but have excluded the opposition National Unity Government (NUG), which is coordinating the anti-coup struggle.
This approach can be put down to both a range of factors, including the close personal and institutional relationships binding the two nations' militaries, and the Thai government's congenital adherence to the Association of Southeast Asian Nations (ASEAN)'s norm of "non-interference."
In the year leading up to last week's election, the MFP's leader Pita Limjaroenrat has promised to end to the current approach toward Myanmar, part of its broader promise to foreground principles of human rights, justice, and the rule of law in Thai foreign policy.
In his first press conference after the election, Pita recognized Thailand's pivotal role in ensuring that Myanmar adheres to ASEAN's Five-Point Consensus peace plan, which calls for an immediate cessation of violence and inclusive political dialogue involving "all parties" the conflict.
He also said that one of his priorities as prime minister would be the establishment of a humanitarian corridor between Thailand and Myanmar, and that his administration will aid the implementation of the especially with U.S. Congress' recently passed Burma Act, which authorizes the provision of non-lethal support for resistance forces in Myanmar. Overall, he pledged to "work with the international community to make sure that we have the right amount of pressure and incentives for people to resolve their conflict."
Pita has since stated that his policy on Myanmar will involve engagement "with all stakeholders," including, presumably, the opposition National Unity Government and other resistance forces.
However, the military brass in Naypyidaw certainly seem concerned about the MFP's ascendance. "The Move Forward Party is pro-West and they will assist terrorists," Vice Senior Gen. Soe Win said in a directive to regional commanders based along Thai border that was reported by The Irrawaddy on Monday. "We have to watch the border and get information about them, their movements and their activities."
These pledges alone would mark a significant shift in Thai policy, if not a radical one. Just what impact they would have on the course of the country's conflict, however, is hard to say.
At the regional level, a more active Thai government would certainly bolster those ASEAN member states, such as Malaysia and Indonesia, pushing for a stronger regional response to the junta. However, such an approach would still face opposition from nations like Vietnam, Cambodia, and Laos that hew to the most restrictive and conservative interpretation of ASEAN "non-interference." It is perhaps hard to judge him at such an early stage, but Pita is still framing Thailand's policy in the terms of the Five-Point Consensus, which many activists and Myanmar observers, to say nothing of the resistance itself, argue is functionally dead.
In an article last year, I argued that given its porous 2,416-kilometer border with Myanmar, the Thai government's cooperation was a necessary precondition of "any attempt to resolve Myanmar's complex of interlocking crises and alleviate the deteriorating humanitarian conditions inside the country." But it is far from a sufficient one, and would at the very least require similar shifts on the part of Myanmar's other two major neighbors, India and China, who for their own reasons continue to engage with the military administration.
Then there is the domestic front. It can be taken for granted that should Thailand's conservative establish deign to allow the MFP-led coalition to take office, they will resist the implementation of its policy agenda. This could conceivably stretch to foreign policy. As The Diplomat's columnist Tita Sanglee wrote back in March 2022, Pita's attempt to chart a new international course would likely "face serious constraints from Thai elites who still favor incremental changes and a pragmatic approach to international relations to protect Thailand's interests."
She added, "The old way has several drawbacks, but for Thai elites, it is the safest way to navigate through turbulent waters."
In truth, there is probably a limit to what any outside government can do to shift the calculus of the inward-facing Myanmar military – a recognition that should frame any discussion about a possible Thai policy shift. Within that framework, however, any move in the direction of a more humane policy – of more effective support for displaced civilians and a more realistic and robust regional response – will represent a rare spot of good news for Myanmar's long-suffering people.