What's Cooking Between Ukraine and Pakistan?
The Ukrainian foreign minister is reported to have met senior Pakistani intelligence officials during his recent visit to Islamabad.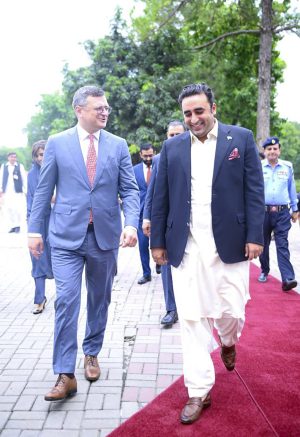 The recent visit of Ukrainian Foreign Minister Dmytro Kuleba to Pakistan was far from ordinary. Not only was it the first visit by a Ukrainian foreign minister to Pakistan since the establishment of diplomatic relations between the two countries in 1992 but also it holds significant potential for revitalizing ties between Ukraine and Pakistan.
What sets this visit apart is the exceptional protocol extended to Minister Kuleba, a gesture rarely bestowed upon dignitaries from friendly nations visiting Pakistan.
An incident involving the expulsion of a Russian journalist from a joint presser of the Ukrainian and Pakistani foreign ministers led to Russia seeking an explanation from Pakistan. This action, seen by many as in bad taste, could potentially dent ties between Islamabad and Moscow. However, despite this risk, Islamabad complied with Ukraine's wishes in this regard.
The Ukrainian foreign minister's visit has sparked intrigue and speculation also because of his meetings with Pakistan's senior intelligence officials. This is a significant development, as it is rare for a foreign minister of another country to meet with intelligence officials in Pakistan. The fact that Kuleba engaged in such meetings suggests that there may be more at play than just enhancing government-to-government ties. It raises the possibility of Ukraine seeking Pakistan's assistance in areas such as training of its troops or gaining access to weapons.
Despite Pakistan's claims to have no involvement in sending weapons to Ukraine, the country has never denied shipping weapons to other European countries likely to supply Ukraine. In any case, the reported meetings between the Ukrainian foreign minister and Pakistani intelligence officials indicate a deeper level of engagement between the two countries.
These developments highlight the growing importance of the relationship and suggest that Ukraine sees value in exploring avenues beyond traditional diplomatic channels with Pakistan. Ukraine, in particular, seems to be seeking a more proactive role from Pakistan in its ongoing conflict with Russia.
So far, Pakistan has abstained from voting on three United Nations General Assembly resolutions condemning the "Russian invasion of Ukraine." However, "Ukraine's expectation is that Pakistan will be voting in favor of resolutions, defending Ukraine's territorial integrity and sovereignty and also aiming at restoring just and lasting peace in Ukraine," the visiting diplomat said in an interview during his stay in Pakistan.
Ukraine will also likely want Pakistan to contribute to the 10-point global peace plan offered by President Volodymyr Zelenskyy. Pakistan may not have any problem discussing some of these points, such as extending support to international efforts in reviving the landmark Black Sea Grain Corridor agreement with Russia. The agreement played a significant role in stabilizing food prices, especially in developing countries in recent months.
On the other hand, Islamabad aims to expand its ties with Ukraine to strike a balance between Moscow and Kiev. Its growing diplomatic approach, which aimed at maintaining a delicate balance between Russia and Ukraine, stands as a testament to its strategic acumen.
By not taking sides, Pakistan aims to please both nations and foster positive relationships. One notable example of this is Pakistan's import of oil from Russia, which has not caused any concerns for Ukraine. Similarly, Pakistan's import of grain and other materials from Ukraine has not raised any objections from Moscow.
Moreover, the deepening of Pakistan's security ties with Ukraine strengthens its neutral role in the region with such relations with both Moscow and Kiev. This win-win situation allows Pakistan to benefit strategically, similar to its regional rival India.
Furthermore, the visit of the Ukrainian foreign minister serves as a means for Islamabad to renew its diplomacy in Western capitals. By engaging with Ukraine at such a high level, Pakistan aims to expand its diplomatic outreach and forge new partnerships that can contribute to its strategic interests.
Overall, Minister Kuleba's visit signifies a promising chapter in the relationship between Ukraine and Pakistan, with immense potential for collaboration and mutual benefit. Pakistan's current policy suggests that it does not need to take sides and can work with both Russia and Ukraine at the same time and ease their concerns.
It is clear that both countries have strategic interests at play. As events unfold, it will be interesting to see how this visit shapes future exchanges between Ukraine and Pakistan, and how it impacts the geopolitical policies of the two countries.