2 Karakalpak Activists Denied Asylum in Kazakhstan
The two men – and three other detained Karakalpak activists – face the potential of being deported to Uzbekistan should their appeals fail.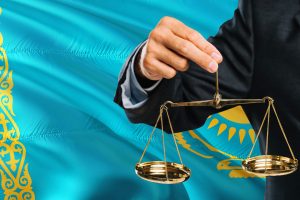 Two Karakalpak activists detained in Kazakhstan last September at the request of Uzbek authorities have been denied asylum. Their lawyers are appealing the decision, but Kazakhstan does not often grant asylum. In recent years, high-profile cases of asylum seekers in Kazakhstan have ended in the seeker searching elsewhere.
Koshkarbai Toremuratov and Zhangeldi Dzhaksymbetov were detained in Almaty in September 2022. The two men were said to have been arrested at the request of Uzbek authorities who accused them of violations under Article 159 of the Uzbek Criminal Code, "encroaching on the constitutional order."
Another Karakalpak activist, Raisa Kudaibergenova, was detained in September 2022; with two more – Ziuar Mirmanbetova and Tleubike Yuldasheva – detained in October and November, respectively. 
Karakalpaks are a Turkic people native to the southern shores of what was once the Aral Sea. The Republic of Karakalpakstan is often described as an "autonomous" region in Uzbekistan, but the relationship between the two is far more complicated. Under the Uzbek Constitution, Karakalpakstan is a "sovereign republic" and a "part of the Republic of Uzbekistan." It also retains, per the constitution, the right to secede via referendum, but Uzbek authorities have never permitted such a vote to take place. Those calling for one find themselves accused, and convicted, of threatening the constitutional order.
Indeed, this is precisely what happened in the summer of 2022, when Tashkent put forward a draft constitution that, among other things, nixed Karakalpakstan's special position. Protests in Nukus, the capital of Karakalpakstan, against the proposed changes were suppressed violently. According to Uzbek authorities, 21 people were killed; human rights groups and Karakalpak activists say the figure is far larger.
Although Tashkent backed off on changing Karakalpakstan's status, prominent figures in the protest were arrested. Framed as the leader of the protest, Karakalpak lawyer and journalist Dauletmurat Tazhimuratov was sentenced to 16 years in prison. Dozens of others were handed prison sentences, with many more awaiting trial. 
So far, more than 60 civilians have been charged in Uzbekistan in connection with the 2022 Karakalpakstan protests. Only three members of law enforcement have been charged; two of them were convicted of torture.
A pair of Karakalpak diaspora leaders – Aman Sagidullayev, based in Norway, and Neitbay Urazbayev, based in Kazakhstan – were charged in absentia and convicted in May. Sagidullayev has asylum in Norway and Urazbayev is a Kazakh citizen; their sentences were 18 and 12 years, respectively.
The five Karakalpak activists detained in Kazakhstan last year are ostensibly Uzbek citizens, putting them at risk of deportation to Uzbekistan should their asylum claims be rejected by Kazakh authorities. 
According to Vlast.kz, citing Kazakhstan-based Karakalpak activist Aqylbek Muratbai, Toremuratov and Dzhaksymbetov's appeals will go through three judicial processes: a specialized inter-district court, a city court, and the Supreme Court.
"We expected that such an outcome would happen," Muratbai told Vlast.kz, "because since 2001, not a single person in Kazakhstan has been granted asylum in such cases."
Muratbai expressed his hope that the detained activists will at least be allowed to leave for a third country. He fears that they would face torture and unfair trials if deported to Uzbekistan.
A case worth recalling is that of Sayragul Sauytbay, an ethnic Kazakh Chinese national who was arrested in Kazakhstan in May 2018 after crossing the border "illegally." Her passport had been taken by Chinese authorities. She provided a vital first-hand account of China's internment camps in Xinjiang. Although the 1951 Convention Relating to the Status of Refugees, to which Kazakhstan is a party, stipulates that a refugee "should not be penalized for their illegal entry or stay," that's precisely what Sauytbay was charged with. The convention also forbids "refoulement," or the deportation of individuals to a country where they would be in probable danger of persecution.
In a surprising twist, Sauytbay was convicted by a Kazakh court but released in August 2018 – not deported to China. Two months later, however, Kazakh authorities rejected her asylum application. She was offered asylum by Sweden.
In a more recent case, in May 2023 a court in Western Kazakhstan rejected a political asylum request from Igor Sandzhiyev, a man from the Russian region of Kalmykia. He had fled the military unit to which he'd been assigned, first to Belarus, in November 2022. After being arrested, he was deported to Volgograd but fled again to avoid getting sent to the war in Ukraine. He was given a six-year sentence in Kazakhstan for illegally crossing the border but not deported to Russia.
Kazakhstan did, however, extradite Mikhail Zhilin, a Russian FSB officer who had fled to Kazakhstan in December 2022 – he was sentenced to six and half years in a prison in Siberia earlier this year.
There are major differences between the Sauytbay case, those of Russians fleeing Moscow's war in Ukraine, and that of the Karakalpak activists mentioned above. One critical difference is that Sauytbay was ethnically Kazakh, which added pressure on Astana, and the Karakalpaks are not. Her story nevertheless presents one possible future pathway if Kazakhstan wants to avoid accusations of refoulement and failing to uphold the international human rights standards to which it has committed.
The other pathway is less hopeful: eventual deportation to Uzbekistan and the diminishment of the Karakalpak diaspora community in Kazakhstan.