Kazakhstan Denies Asylum to Woman Who Fled China's Camps in Xinjiang
The decision highlights Kazakhstan's continued navigation of sensitivities with China.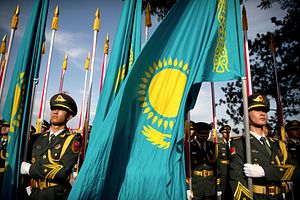 Last week, Kazakh authorities rejected an asylum request from Sayragul Sauytbay. Sauytbay's closely followed trial for illegally crossing the Chinese-Kazakh border ended dramatically in August with the court declining to deport her and handing down only a six-month suspended sentence.
The rejection of Sauytbay's initial asylum request brings attention back to the difficult position Kazakhstan finds itself in with regard to China, the Kazakh public, and the troubling happenings in Xinjiang on which Astana has been largely silent.
***
An ethnic Kazakh Chinese citizen, Sauytbay fled the re-education camps in Xinjiang in April to join her family in Kazakhstan. Chinese authorities had previously taken her passport when she was reassigned to teach in one of the so-called political re-education centers. Sauytbay, whose husband and children are Kazakh citizens, fled the camps into Kazakhstan but was arrested in May.
During her trial, which ended in August, Sauytbay spoke openly in court about the camps, which Chinese authorities at the time denied existed. Sauytbay said in court that while the Chinese authorities called them "political camps… In fact, it is a prison located in the mountains."
Abzal Kuspanov, Sauytbay's lawyer, warned ahead of the trial that if Sauytbay was sent back to China she would "simply disappear."
The conclusion of the trial — which included Sautbay walking freely out of the court — was warmly welcomed. Serikzhan Bilash, a local activist told The Guardian, "I think it's a very good judgment. This is a first in Kazakhstan. This evening we will celebrate."
***
Kuspanov (whose name can also be Anglicized as Quspan), told the Associated Press on October 5 that Kazakh officials had rejected Sauytbay's request for asylum.
"We were expecting this (decision)," he told the AP. "We all understand what kind of influence China wields on the authorities here."
Kuspanov said they would be appealing as the ruling is not yet final.
Sauytbay's trial was closely watched not only by an international community hunting for any information on what's happening in Xinjiang, but domestically by Kazakhs concerned for their fellow Kazakhs, but also steeped in rising anti-Chinese sentiments.
Of the estimated 1 million people, human rights advocates and regional observers believe have been detained in re-education camps in Xinjiang, the majority are Uyghurs. Nevertheless, as I noted in a piece last month, ethnic Kazakhs have provided a critical window into what's happening in Xinjiang. For example, of 58 people directly affected by the Chinese internment campaign interviewed by Human Rights Watch for its devastating report on the camps, 32 were ethnic Kazakh.
Ethnic Kazakhs and Kazakh citizens who had been detained and either released — after quiet diplomacy by Astana — or escaped have featured in numerous high-profile articles about the Chinese campaign.
While Sauytbay's trial drew heavy international attention, it was domestic attention that likely concerned the Kazakh authorities more. Astana, ever nervous about the possibility of public protests, perhaps hoped to avoid antagonizing its citizens by declining to deport Sauytbay. But doing so also raised the potential of directly crossing Beijing.
Speaking to RFE/RL recently, Kuspanov, Sauytbay's lawyer, asked rhetorically: "Why was the decision [not to grant her refugee status] made so fast? I think, Sayragul was the victim of other 'circumstances' between Kazakhstan and China."
Kazakhstan, where Chinese President Xi Jinping launched part of what's now come to be known as the Belt and Road Initiative (BRI) in 2013, is a major component of the massive strategic project. China is one of Kazakhstan's top trading partners and China has made massive infrastructure investments in the country. The relationship with China is hugely important for Kazakhstan's leaders, at the same time there has been persistent and in some ways growing unease among Kazakhs about Chinese economic and political interests.
It would seem unlikely that Kazakhstan would risk the ire of Beijing for a single ethnic Kazakh woman. At the same time, sending Sauytbay back to China has the potential to bring some Kazakhs to the streets. The web of interrelated issues — ethnic, religious, political, economic — are tangled and sensitive. Kazakhstan doesn't have a good way out of this conundrum of tangled interests, and Kazakhs don't have a good way to influence their government's decisions in this matter.
Kuspanov told AP that Sauytbay can remain in Kazakhstan through the end of October as an asylum-seeker and while the appeal is pending. Kazakhstan is on its way to facing again the dilemma: to deport Sauytbay or let her stay. Kuspanov is also reportedly planning to write to the United Nations High Commissioner for Human Rights.
With Sauytbay's case having moved out of the brightest international spotlight, her fate remains uncertain.