A Warm July in China-Nicaragua Relations
An impending free trade agreement – and repeated visits from President Daniel Ortega's son to Beijing – may presage even closer ties between Beijing and Managua.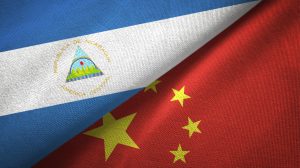 An eventful July in China-Nicaragua relations kicked off with the fourth round of negotiations on a free trade agreement (FTA), which were held in Managua from July 3-5 by China's vice minister of commerce and Nicaragua's minister of development, industry, and trade.
A few days later, Presidential Advisor Laureano Ortega Murillo travelled to China, signing several cooperation agreements and reaffirming Nicaragua's commitment to the One China principle. Ortega Murillo – who is, perhaps more notably, the son of President Daniel Ortega – met multiple high-profile statesmen, including director of the China International Development Cooperation Agency Luo Zhaohui and the Chinese Communist Party's top-ranking diplomat, Wang Yi, who has since been reinstated as China's foreign minister as well.
Ortega Murillo has been an instrumental figure in Nicaragua's rapprochement with China. It was Ortega Murillo who, in December 2021, signed an agreement in Tianjin that switched Nicaragua's diplomatic allegiance from Taiwan to China. When the two countries announced an early harvest free trade arrangement in July 2022, Ortega Murillo and Wang Yi signed a memorandum of understanding "to officially establish an economic and trade cooperation mechanism." And, in February 2023, Ortega Murillo returned to Beijing once more, highlighting the two countries' shared values and interests in another meeting with Wang.
Ortega Murillo is widely regarded as the most likely successor to his father, President Ortega, and his mother, Vice President Rosario Murillo. Under Ortega's tenure, Nicaragua has entered a serious democratic crisis, which has seen numerous NGOs expelled, universities closed, and political opponents jailed. The political turmoil has led to a massive exodus of refugees from Nicaragua, and the regime faces sanctions from the U.S. government.
This political shift has left Managua searching for allies amongst the United States' critics, with Ortega Murillo acting as an envoy not only to China, but also Iran and Russia. If Ortega Murillo does succeed his parents in power one day, China will likely find in him a reliable and enthusiastic ally.
There are several factors that make a partnership with Beijing appealing to Nicaragua's current regime. For one, friendliness toward China opens the door to new investments and humanitarian assistance. The first major project announced by the two countries following the establishment of diplomatic ties involves the construction of over 12,000 housing units in Nicaragua, 920 of them in the very first phase. China also supplied Nicaragua with 3 million doses of the Sinopharm COVID-19 vaccine and $1 million worth of medical equipment. Other Chinese donations have included instruments for orchestras, technological kits for schools, and equipment for the police force.
However, investments are only part of the whole picture. As the Voice of America writes, Taiwan had been Nicaragua's principal donor before Managua's pivot to Beijing, sending $28 million to the country in 2020 alone. According to Nicaraguan ex-deputy Eliseo Núñez, this aid even went to the national police, which was at the time already engaged in a crackdown against the opposition. But even though Taiwan equivocated on Nicaragua's controversial 2021 elections and vowed to promote mutual cooperation, Western condemnation and Ortega's ensuing geopolitical shift to China left Taiwan at the altar.
As for China's motives, obtaining Nicaragua's recognition is another win for Beijing's One China principle – and a blow to the hated Republic of China government on Taiwan. Following Honduras' break with Taiwan in 2023, there are only 13 countries that officially recognize the ROC over the People's Republic of China, most of them in Latin America, the Caribbean, and Oceania.
Experts have pointed out that beside this opportunity for a diplomatic coup, Nicaragua has little to offer China. Although rich in some natural resources, its small size means that it will never take on the same importance in Beijing's eyes as larger countries in South America.
This fact helps to explain why Nicaragua's rapprochement with China has been questioned by experts and the Nicaraguan opposition. According to former diplomat Arturo McFields Yescas, trade between the two countries is highly asymmetric despite trade liberalization, with Nicaraguan imports from China 70 times higher than vice versa.
Nicaragua has also received fewer investments than other partners in the region; upon Costa Rica's recognition of Beijing, for example, China bought $300 million in Costa Rican bonds and promised to construct a stadium for another $100 million. Yescas remarks that while Cuba recently received a donation of $100 million from Xi Jinping, Ortega has never even met the Chinese leader in person.
Experts also doubt that the free trade agreement will bring much change to Nicaragua's trade deficit with China, given the local lack of know-how and the difficulty of competing with established suppliers. Not only that, but the agreement seems to have taken longer to approve than originally expected. In December 2022, it was reported that the FTA would be ready for approval by Nicaragua's national assembly in the first trimester of 2023. Toward the beginning of July 2023, however, the Global Times wrote that both sides were working to complete negotiations by the end of the month. While there was a curt announcement of a "substantial conclusion" of negotiations in late July, the agreement has yet to be signed.
It remains to be seen whether Ortega's bet on Beijing will pay off, and whether Nicaragua itself will prove to be consistent in its new diplomatic direction. Ortega's behavior toward Taiwan was at times highly volatile, and there is no guarantee China will receive more respect if it comes to be viewed as underdelivering on its promises. The more reliable partner seems to be Ortega's son, who appears to have a much more personal relationship with Beijing. However, Ortega Murillo's succession is not guaranteed either, and there is still a chance that the more China-critical opposition will return to power in the future.