Bill to Stifle Criticism of Pakistani Intelligence Figures Set to Become Law
Former PM Imran Khan had publicly disclosed the names of senior intelligence officers, saying they were conspiring against him.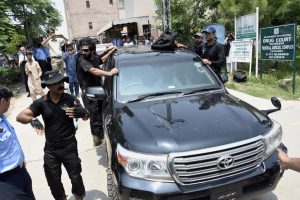 Pakistan's lower house Tuesday passed a bill that recommends a three-year prison term for anyone found guilty of disclosing the identity of an intelligence official, a move apparently aimed at stifling criticism of military-backed spy chiefs and agents.
The legislation comes amid growing criticism of military and intelligence officers by former Prime Minister Imran Khan and his deputies. It is expected to pass the Senate this week and then go to President Arif Alvi for signing into law, a formality.
It was "necessary to amend the official secret act law to make it more effective," said Parliamentary Affairs minister Murtaza Abbasi, who introduced the legislation in the National Assembly.
Khan was the first politician to publicly disclose the names of some of Pakistan's senior intelligence officers, saying they were conspiring against him.
He even claimed that Maj. Gen. Faisal Naseer, who works at Inter-Services Intelligence, or ISI, was behind the November 3 gun attack that wounded Khan when he led a protest march to pressure the government to agree to early elections.
One of Khan's supporters was killed in the shooting. The gunman was immediately arrested, and police later released a video of him in custody confessing to the shooting and saying he acted alone.
Since then, Khan has alleged that Pakistan's Prime Minister Shehbaz Sharif, Interior Minister Rana Sanaullah and Naseer conspired to attack him. Sharif and the military have denied the charges.
Khan was replaced by Sharif in April 2022 in a no-confidence vote in parliament.
On Tuesday, lawmakers from Sharif's government sent the new legislation to the National Assembly and amended the Secret Act, proposing that anyone who discloses the names of intelligence officers, informers or sources would face three years in prison.
The legislation comes days after the National Assembly and Senate passed another bill recommending up to five years in prison for both currently serving and retired officers found guilty of taking part in politics or disclosing sensitive information.
Sharif is making new laws only two weeks before the current parliament completes its five-year term, paving the way for parliamentary elections in October or November.
According to analysts, the legislation done in recent weeks is primarily aimed at taking action against some of those retired officers who have been "maligning" the military since the ouster of Khan, who claims his removal was part of a U.S. plot.
Currently, Khan is facing more than 150 legal cases, including several on charges of corruption, "terrorism" and inciting people to violence over deadly protests in May that saw his followers attack government and military property across the country.
The violence subsided only after Khan was released on an order from Pakistan's Supreme Court.