Cambodia Unveils Youthful New Cabinet Ahead of Power Transition
As expected, the line-up of ministers, who will be sworn in along with Prime Minister Hun Manet on August 22, includes many close relations of high-ranking CPP officials.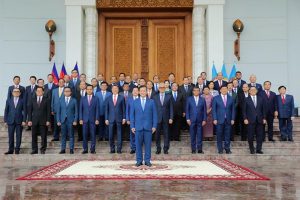 Cambodia's outgoing Prime Minister Hun Sen has revealed the country's new and more youthful cabinet, which is set to take office on August 22 under the leadership of his eldest son Hun Manet.
The impending generational handover comes after Hun Sen's Cambodian People's Party (CPP) won a walkover election victory on July 23, in which the main opposition party was barred from participating and the CPP subsequently emerged with 120 out of the National Assembly's 125 seats. Shortly after the election, Hun Sen announced he was stepping down and handing power to Manet, after more than 38 years at the pinnacle of Cambodian politics.
Yesterday, Hun Sen posted photos to his Telegram channel of a meeting of outgoing and new government ministers, including one showing Manet, 45, flanked by around 30 incoming cabinet members.
While the government has not yet formally released a list of cabinet appointments, many of those appearing in the photo (a full list of them is available here) have already appeared on leaked cabinet lists.
These lists show that Manet's accession will be accompanied by a broad generational transfer within the CPP, which will see a host of old guard ministers make way for a younger cohort of officials, most of them in their 40s.
Interior Minister Sar Kheng and Defense Minister Tea Banh, both of whom have held their positions for more than two decades, will make way for their sons Sar Sokha and Tea Seiha, while Hun Sen's youngest son, 40-year-old Hun Many, will become the new minister of civil service. Similarly, Cham Nimol will become commerce minister, taking over the post that her father Cham Prasidh held for many years.
Among the other purported cabinet members are Chea Somethy, a son of the late former CPP President Chea Sim; Eang Sophalleth, an assistant to Hun Sen and son-in-law of outgoing Land Minister Chea Sophara; and Sok Soken, the son of the late Sok An, a key ally of Hun Sen dating back to the 1980s.
Those who aren't related to senior CPP officials by marriage have been chosen for their political loyalty to Hun Sen. Among these are a number of close aides of Hun Manet, who have been promoted along with their former boss.
In this generational transfer, only a few members of the cabinet will remain unchanged, among them Finance Minister Aun Pornmoniroth (who has been in his post since 2013), Women's Affairs Minister Ing Kantha Phavi (2004), Education Minister Hang Chhuon Naron (2013), and Education Minister Say Sam Al (2013), who not incidentally is also the son of CPP powerbroker Say Chhum.
While the incoming cabinet will mark an important watershed in the renewal of the party, a generational transfer of sorts has been underway since 2013, when the CPP experienced a serious challenge from the opposition Cambodia National Rescue Party (CNRP). (For its trouble, the CNRP was disbanded on spurious grounds in 2017.) Indeed, Say Sam Al, Hang Chhuon Naron, and Aun Pornmoniroth were all appointed in the immediate wake of the election, as technocrats who could introduce much needed reforms in their various portfolios. (Their successes have been mixed.)
Cambodia's new cabinet appointees reflect the interwoven mesh of elites, adhered by bonds of marriage and pacts of mutual survival, that makes up the political system under Hun Sen. It also suggests that delicate compromises were necessary in order to maintain internal unity within the CPP and ensure elite support for Hun Sen's plan to transfer the prime ministership to his son. Indeed, the price of gaining this support was to entrench further the influence of key political clans, such as the Sar and Tea families, which now control ministries almost as miniature hereditary fiefs. The new cabinet is also notable for its paucity of women, who make up just three –or 10 percent – of the 30 ministers in the new cabinet.
Faced with the challenge of ensuring political continuity in a system characterized by fluid relations of power, Hun Sen is hoping that a generational transition can maintain stability of the CPP, secure the party's hold on power for a further generation, and unsure that his political legacy lasts beyond his own demise.
As Hun Manet wrote when he posted yesterday's group photos on Facebook, the most important factor for the CPP's continued electoral dominance over Cambodia's politics was the "solidarity and internal unity of the party."