Cambodia's King Officially Appoints Hun Manet Prime Minister
The 45-year-old son of long-serving Prime Minister Hun Sen will take office on August 22, pending a parliamentary vote of confidence.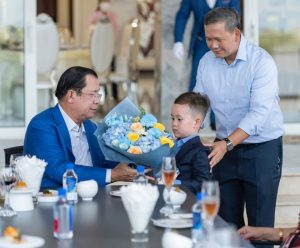 Cambodia's King today officially appointed Hun Manet as the country's next prime minister, in line with a transition plan formulated by his father Hun Sen. In the royal decree, which followed a request from the Cambodian leader, King Norodom Sihamoni wrote that he "appoints Dr. Hun Manet as the prime minister of the Kingdom of Cambodia for the 7th mandate of the parliament."
"The designated Prime Minister," the decree added, "is tasked with forming a new government pending a vote of confidence at the National Assembly." The prime minister-in-waiting will be officially sworn in on August 22, following the vote.
The appointment follows a national election on July 23, at which Hun Sen's Cambodian People's Party (CPP) secured 120 out of the National Assembly's 125 seats after the country's main opposition party was barred from participating. A few days after the election, Hun Sen, who posted today's decree on his Telegram channel and Facebook page, announced that he was stepping down as prime minister and that he would initiate a transfer of power to the 45-year-old Manet.
In a Facebook post today, Manet thanked King Sihamoni and described the appointment as the "highest honor" of his life.
The King's sign-off is a formality, given the supine and captured nature of the royal institution under the CPP, but it marks an important step in the generational transition designed to ensure the preservation of Hun Sen's political legacy after more than 38 years in power.  Hun Sen's relinquishing of the top political office will also see a host of old-guard ministers set to step aside in favor of younger officials, in some cases their own children.
How will Manet rule? Aside from his CV, which reflects his expensive overseas education and frictionless rise through the ranks of the military, we don't know much about Manet and how he might govern Cambodia. His public comments have offered a mix of leadership clichés and promises to uphold his father's legacy, in which it is it hard to determine any distinctive national vision.
That is not to say there won't be shifts in the atmosphere of Cambodian politics, given Manet's radically different background and life experience. Hun Sen is in some senses the personification of Cambodia's tumultuous passage through the 20th century. He is among the generation of neak tasou, or "fighters," who came of political age in an era of civil war, social dislocation, and revolutionary upheaval, an experience that has shaped his worldview and political methods.

Manet, on the other hand, has grown up in a context of wealth and privilege. He has been educated at some of the world's best schools – first the U.S. Military Academy at West Point and then graduate school at Bristol University and NYU – and has been groomed to take power from a relatively young age. Watching his public speeches, one is struck by the extent to which he echoes his father's cadence and Khmer accent, but there is undeniably something lighter and less menacing about Manet's public persona.
More positive and accommodative rhetoric could result in a less openly repressive political environment. Another point of difference is that Manet also lacks Hun Sen's deep resentments at past episodes of Western policy, which could make him more adept at dealing with the United States and other Western governments.
At the same time – and this is the crucial point – Manet will be expected to serve the highly personalized political system that has grown and metastasized under his father's rule. His room for maneuver will be tightly circumscribed by the nature of this system, which requires that he maintain, and periodically renew, the loyalty of a distributed network of powerbrokers spanning the political establishment, business elite, and security forces. It is this system – rather than Manet's Western education or life experience – that will do the most to shape the country's political direction in the years to come. The imperatives of the political system will also prevent the sort of significant reform that is probably a precondition of improved ties with the West, ensuring the relatively continuity of Cambodia's foreign alignments (as I've argued here before.)
Even if we put to one side the fact that Hun Sen will continue to exercise a tremendous influence behind the scenes – "It is not the end yet," he wrote on social media today. "I will continue serving in other positions for at least until 2033" – Manet has offered no sign that he has either the ability or the desire to push Cambodia in the direction of significant reform. In recent Facebook postings, he has echoed his father's paeans to the importance of peace and development, slogans that have often justified crackdowns on the political opposition.
On July 19, four days before the national election, the country's incoming prime minister posted a photo of himself on Facebook. The photo showed him on a military exercise or patrol, with text printed across the image, meme-style. "In battles we must adapt to [the] enemy's tactics in order to defeat them," it reads. "If your enemy does not play by the rules or becomes ruthless, then HE MUST BE RESPONDED IN KIND."