China's FM Wang Pledges Support for New Cambodian Leadership
Despite the changes in Phnom Penh, Cambodia-China relations are likely to maintain their current upward trajectory.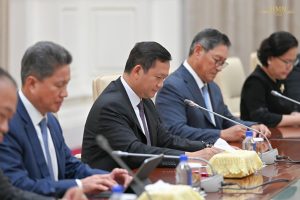 Chinese Foreign Minister Wang Yi has pledged that his country will work to build a "high-quality" relationship with the new-look Cambodian leadership that is scheduled to take office next week.
Wang's visit comes ahead of the planned handover of power from long-serving Prime Minister Hun Sen to his 45-year-old son Hun Manet, part of a larger generational transfer within the ruling Cambodian People's Party.
After landing in Phnom Penh on Saturday, Wang met with both Hun Sen and his son, in addition to outgoing Foreign Minister Prak Sokhonn, the Chinese foreign ministry said in a statement.
During his meeting with Sokhonn, Wang "conveyed China's resounding support for the Kingdom's emerging government leadership and development path," according to a readout from the Cambodian Foreign Ministry. In return, Sokhonn "reaffirmed" Cambodia's "firm commitment to further reinforcing a high-quality, high-level, and high-standard Community with a Shared Future… thus mutually benefiting both countries and peoples."
Wang also reportedly praised Cambodia's July 23 election, in which the CPP won a lopsided victory over a field of allied and poorly-resourced opposition parties, clinching 120 of the 125 seats in the National Assembly. The Chinese foreign minister said it was free and fair, and that the result "underscored the responsive governance approach" of the CPP, which has sought to address the "exigencies and aspirations of the citizens."
Hun Manet, who is expected to take office on August 22, told Wang that his new government remains "steadfast" on its stance in support of "one-China policy" and "non-interference into China's internal affairs." The two sides also reportedly discussed Manet's possible attendance at the upcoming third Belt and Road Forum in Beijing, which, given the closeness between the two nations, could well be his first bilateral state visit as prime minister.

Taking all of this mutual amity at face value, Wang's visit seems to have achieved its purpose, which was to ensure that that the leadership transition in Phnom Penh does nothing to disturb the trajectory of China-Cambodia relations, which has been trending in an upward direction for the past two decades. Indeed, as Chhengpor Aun, a visiting fellow at the International Institute for Strategic Studies, wrote in The Diplomat last week, the Cambodia-China relations "are unlikely to take a huge hit amid the leadership changes," given the military, economic, and political benefits that have accrued to Cambodia's government.
Much more interesting is the question of whether relations with Western democracies improve under Hun Manet's leadership. There are a number of reasons to expect that the change from the grizzled Hun Sen to Hun Manet, an English-speaking West Point graduate who lacks his father's suite of resentments about past episodes of U.S. policy toward Cambodia, might create an opening for a diplomatic reset. However, as I've argued previously, the characteristics of the Cambodian political system that make China such an attractive partner are the very characteristics that will make it hard for Western nations to become genuine partners of Phnom Penh.
In this context, much hinges on whether the U.S. and other Western countries are willing to "adopt a more pragmatic policy toward the country, and realistic expectations of the incoming Hun Manet administration."
While a genuine reset in U.S.-Cambodia relations would have interesting and unpredictable impacts on Cambodia's relationship with China, there remains little so far to suggest that the continuity in Cambodia's domestic political arrangements will not be matched by continuity in the country's foreign alignments.