Digitalization: How the EU Can Transform Central Asia 
The EU has the potential to contribute to the digital transformation of Central Asia by leveraging its comparative strengths.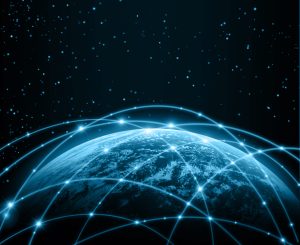 In recent years, digital technologies have emerged as pivotal factors that possess the power to fundamentally reshape not only the dynamics of competition but also the geopolitical balance of power. Their exponential proliferation has also transformed the lives of people around the globe, opening doors to unparalleled prospects for sustainable development, as well as ushering in potential risks that demand careful consideration. In late 2022, the European Union (EU) declared the commencement of the Global Gateway flagship initiatives, one of which focused on water, energy and climate and the other on digital connectivity in Central Asia, which aims to enhance the region's access to secure internet through trusted satellite connections. 
The EU recently released the results of its study on sustainable transport connections between Europe and Central Asia, undertaken as a part of the Global Gateway Strategy. 
Although the EU is a digital latecomer with limited resources, it still has the potential to contribute to the digital transformation of Central Asia by leveraging its comparative strengths in areas such as effective digital governance, inclusive digital development and transportation digitalization.
Effective and Inclusive Digital Governance
The EU has the opportunity to have a significant impact on Central Asian countries by providing assistance in the development of effective and inclusive digital governance. The EU intends to push for reforms in digital governance, with a specific focus on areas such as telecommunications, personal data protection, cybersecurity, and the preservation of human rights. In accordance with its recently adopted Digital Diplomacy priorities, the EU furthermore plans to share its high standards and best practices with countries in the region through integration into programs and initiatives for member states. 
Given this context, Central Asian countries can benefit from technical assistance, including regulatory and legal capacity building, as well as financial support to private, public, or public-private partnership beneficiaries. This assistance would help strengthen their institutional frameworks, prioritizing the interests and well-being of individuals, in line with the priorities of the Digital for Development (D4D) Hub. Simultaneously, by adopting the European approach and expertise on connectivity, cybersecurity, and green data centers, which are globally recognized, countries in the region can develop policy and investment packages to stimulate the private retail telecom sector and offer last-mile services. 
Furthermore, Central Asian countries can adopt the best practice standards set by the EU, which have gained international recognition and approval from leading standard-setting bodies such as the International Organization for Standardization, International Electrotechnical Commission, and International Telecommunication Union. These standards are protected by the regulations and rules of the World Trade Organization, ensuring they cannot be prohibited in international trade. Aligning with these standards would help Central Asian countries conform to global norms and enhance their participation in international trade.
Overall, the adoption of EU standards, coupled with EU assistance in digital governance, would not only enable Central Asian countries to develop effective and inclusive digital governance but also bolster ongoing national reforms, leading to inclusive growth and development.
Inclusive and Sustained Digital Development
The proposed plan by the EU to construct earth stations with integrated internet exchange points and green data centers in Central Asia (excluding Turkmenistan) has the potential to significantly impact the region. This initiative would complement ongoing national fiber broadband projects and address the issue of limited internet access, particularly in remote and rural areas.
Studies have revealed that nearly half of the Central Asian population lacks internet access, and the countries of the region have slow download speeds, with Tajikistan and Turkmenistan ranking among the slowest globally. To combat these challenges, the EU could establish comprehensive satellite connections, with a specific focus on low earth orbit (LEO) satellites. Such an approach would provide a sustainable solution to improve accessibility in remote locations and bridge the digital divide at both national and regional levels.
The benefits of this initiative would have broad implications, particularly for vital service sectors such as agriculture, healthcare, education, and finance. Access to reliable internet would revolutionize these sectors and make the region more appealing to private-sector investors.
Additionally, recent findings have demonstrated that countries with robust connectivity infrastructure are better equipped to mitigate up to 50 percent of the negative economic impacts caused by pandemics. Moreover, studies conducted by the World Bank indicate that just a 1 percent increase in internet connectivity can lead to a 4.3 percent rise in exports. Therefore, these efforts would not only contribute to inclusive digital development but also promote economic resilience in Central Asia, aligning with the EU Strategy on Central Asia.
Transport Digitalization
The EU has significant potential to support Central Asian countries in their efforts to digitize transportation documents and improve paperless cross-border trade. This includes implementing electronic systems such as e-CMR (International Carriage of Goods by Road) and e-TIR (Transports Internationaux Routiers). It is crucial to recognize the growing demand for trade facilitation in Central Asia, which is a key region connecting East and West. However, the current situation presents challenges for international trade due to increasing traffic congestion on evolving routes and difficulties at border crossings. These obstacles hinder the flow of goods and result in long waits at border checkpoints, negatively impacting drivers, transport operators, and overall trade.
With the EU's assistance, Central Asia could effectively address these challenges by embracing digital solutions such as e-CMR and e-TIR instead of relying solely on physical infrastructure construction, which is time-consuming and costly. Recent studies have shown that implementing e-CMR can significantly reduce non-compliance issues, enable signature tracking, provide instant access to documents, enhance the security of document exchange, improve administrative efficiency (leading to a potential cost reduction of 45-55 percent), and reduce processing time (resulting in 3-4 times lower handling costs). 
Furthermore, the implementation of e-TIR has demonstrated  the potential to reduce transportation durations by up to 80 percent and decrease expenses by as much as 38 percent. EBRD findings suggest that with e-TIR, Central Asian countries can further reduce administrative time for all parties involved, including shippers, transporters, and governments. By providing advance cargo information and enabling real-time information exchange, e-TIR can expedite border processing. It also offers more accurate delivery times, grants transporters 24/7 access without the need for guarantees, and reduces administrative time, costs, carbon emissions, and paper consumption. Consequently, all these measures would be crucial in reducing errors, enhancing transparency, combating corruption, and decreasing administrative time and associated costs for trade. Moreover, they would yield positive environmental outcomes by minimizing paper usage and the transportation of paper documents.
Overall, digital connectivity is a relatively new field of action for the EU worldwide and an entirely new one in Central Asia. Moreover, the EU is a digital latecomer with limited resources available for digital projects in the region. Despite these challenges, the EU can still make a substantial impact by utilizing its strengths in digital governance, fostering inclusive digital development, and promoting the digitalization of transportation documents. These efforts have the potential to greatly contribute to the region's economic prosperity, resilience, and cooperation, all in accordance with EU's strategy on Central Asia and Global Gateway Strategy. Last but not least, these endeavors align with the EU's new geopolitical aspirations in the evolving global digital order.