For China's Economy, a Crisis of Confidence
Dwindling confidence by businesses and consumers alike is a precursor to deflation in the Chinese economy.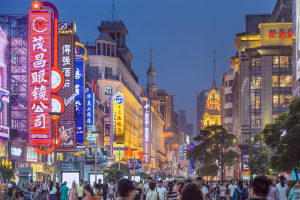 This year, China confronts the looming shadow of deflation, underscored by significant drops in both the Consumer Price Index (CPI) and the Producer Price Index (PPI). As of July, the statistics indicate a 0.3 percent decrease in the CPI and a pronounced 4.4 percent fall in the PPI.
As former Chinese Premier Wen Jiabao aptly pointed out during the 2008 global financial crisis, "In times of economic turmoil, confidence is more precious than gold or currency." Fast forward to today, and China is grappling with the repercussions of eroding confidence.
Businesses' hesitancy to invest, paired with consumers' reluctance to spend, epitomizes the current economic downturn. At the heart of this lies a pervasive crisis of confidence.
The private sector, the linchpin of China's economy, contributes roughly 60 percent of the national economic output and accounts for 80 percent of urban employment.
Nevertheless, recent findings from Standard Chartered Bank paint a disconcerting picture: the Small and Medium Enterprises Confidence Index has been on a downward trajectory throughout the first half of 2023. This trend starkly highlights the pessimism prevalent among Chinese enterprises about the current economic climate and its trajectory.
The debilitating impact of a three-year-long stringent pandemic containment strategy manifested in halted economic activities and a surge in business closures. Even with the easing of containment measures, a reinvigoration of the private sector remained elusive. The first half of 2023 registered a 0.2 percent year-on-year dip in private fixed investment and a staggering 13.5 percent decrease in private enterprise profits.
But why is this happening? Central to the issue is the increasingly challenging business environment private enterprises confront. Over recent years, regulatory policies have become more restrictive. In the digital sphere, the authorities have enforced rules to counter monopolies and prevent the "disorderly expansion of capital." The education sector experienced the "dual reduction policy" clampdown, while the real estate industry grapples with measures such as the "three red lines" and the mantra that "housing is for living, not for speculation."
Consequently, state-owned enterprises are reasserting their dominance. Data from the Peterson Institute for International Economics reveals that in the first half of 2023, the share of private enterprises among China's top publicly listed firms dipped from 55 percent to 39 percent. Conversely, state-owned entities expanded their share, commanding over 60 percent.
This shifting dynamic, often referred to as "the state advances, the private [sector] retreats" (国进民退) has seriously dented private sector confidence. Entrepreneurs are left navigating a labyrinthine policy environment, fostering a cautious approach and a focus on risk mitigation over expansion.
Individuals are feeling equally insecure. The economic future seems increasingly bleak for China's youth, evidenced by a surging unemployment rate, which currently stands at a historic 21.3 percent. This figure signifies the challenges faced by a significant number of university graduates in finding gainful employment.
Driving this unemployment crisis are both structural and frictional factors. Technological advancements, exemplified by AI solutions like ChatGPT, signal a paradigm shift in the employment landscape. A multitude of positions, particularly those characterized by repetitive tasks and lower technical requisites, are slated for automation. As companies anticipate this shift, there has been a deliberate decrease in hiring for these soon-to-be redundant roles.
Concurrently, an oversaturated job market in top-tier companies has forced elite university graduates armed with impeccable credentials, who traditionally targeted big firms, to broaden their job search parameters. This has resulted in increased competition in the overall job market, thereby amplifying the challenges faced by graduates from non-elite institutions.
The significant mismatch between the job market and job seekers has contributed to the current distortions observed in the employment landscape. A case in point is the emerging trend of master's degree holders from prestigious "985" institutions opting for teller positions in local banks.
This rising unemployment has cast a long shadow over the economic outlook of many, with the youth's uncertainty permeating throughout their families. Consequently, households are prioritizing liquidity over consumption, underscored by increased savings and restrained discretionary spending.
A testament to this shift is data from the People's Bank of China showing that household deposits saw a remarkable 60 percent increase in the first quarter of the year. Additionally, there is a notable trend of consumption downgrade. During this year's 618 shopping festival, e-commerce giant Taobao recorded its slowest sales growth in three years. However, Pinduoduo, which focuses on the low-price market segment, has experienced a significant surge in performance, with its first-quarter revenue exhibiting a remarkable increase of 60 percent.
Instilling confidence in China holds the utmost significance in the present economic context. China's leadership must to exhibit a genuine commitment to entrepreneurs and residents, disseminating clear and potent signals that foster confidence among them.