Growing Japan-Italy Ties Emphasize Tokyo's Pressing Need for Assistance
The European nation forms an increasingly important part of Japan's goal of consolidating its security cooperation with like-minded Western nations.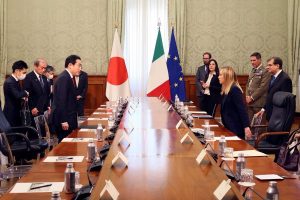 In May, Italy's Chief of Defense Adm. Giuseppe Cavo Dragone gave a speech to the Center for Strategic and International Studies in Washington, D.C. in which he warned of the inevitable rise of militaries in Asia and their newfound ability to project force beyond their normal spheres of influence. China, Dragone noted, was now capable of flying from its East Asian home to the Balkans to hand-deliver surface-to-air missiles. While not mentioning Japan by name, Dragone warned that defense sectors in many countries were struggling to adapt to rapidly changing security conditions.
Last week, several Italian Air Force aircraft arrived in Japan for exercises with the Japan Air Self-Defense Force (JASDF), which are designed to improve joint tactical skills. While the drills are not significant in and of themselves, the speed at which Japan has made inroads with European countries is worth a closer look. Tokyo's ties with Rome come as both countries attempt to provide a sufficient counter to Beijing's growing military capacity in the Indo-Pacific region.
Recent developments highlight Japan and Europe's dilemma. China in 2021 made considerable progress in the development of nuclear-capable hypersonic missiles, in part because it had already surpassed the United States in the research and development of advanced aircraft engines, evidenced by the fact that it now hosts many of the top research institutions in military-grade technologies. China's National University of Defense Technology, for example, is the world's leader in electronic warfare research. In a report prepared for the U.S.-China Economic and Security Review Commission, China aims to advance its military modernization efforts to increase power projection capabilities, and develop both AI-based platforms to take advantage of trends that shape both conflict and military capacity.
Italy is making its presence known in China's backyard. In June, the ITS Morosini docked in Japan, the first docking of an Italian warship in Japan in 27 years. At the end of the year, Italy's flagship aircraft carrier ITS Cavour and its associated battlegroup, will make the journey to Japan and back in an effort to project a more pronounced role for itself in the region. However, despite the arrival of Italian fighter jets at Komatsu Air Base this week, the real focus for Japanese Prime Minister Kishida Fumio and Italian Prime Minister Giorgia Meloni is to fill the gaps where China is taking full advantage, and to develop as quickly as possible advanced technologies to accelerate military modernization efforts in the region and beyond.
That means that both Rome and Tokyo must move fast to establish a substantial strategic partnership on defense cooperation and the joint development and exchange of new technologies, beyond routine bilateral exchanges. There's some movement in this direction, although results will not be visible until at least 2035. Working collaboratively with the United Kingdom, the Global Combat Air Program will work to develop a sixth-generation fighter by 2035. The new fighter jet will replace Japan's decades-old fleet of F-2s, while Britain and Italy would replace their aging Typhoon fighter jets.
There are two reasons for this urgency. The first, already mentioned above, is the rapid acceleration in Chinese power projection capability. The second is the two nations' need for a degree of independence from the United States, the domestic political volatility of which is a threat to European security and Japan's security umbrella. A Republican win in 2024 might signal additional shifts in strategic ties, evidenced in part by former President Donald Trump's shift toward Russia and the expectation that Europe and Japan would have to shoulder more of the costs associated with their defense. European partnerships, like that of Rome with Tokyo, provide assurances that there are alternate sources of advanced technology, and those that can be produced domestically.
However, Japan cannot limit itself to Italy alone. Given its need for security assistance in its own backyard, the country needs to continue to reach out to European allies, such as France, which has the naval capacity and knowledge that could greatly benefit Tokyo. While President Emmanuel Macron's recent vacillation on Taiwan muddied the waters on China, France has still been an increasingly important partner for Japan, working with the JSDF near Kyushu in 2021 and conducting urban drills near Nagasaki that same year.
It used to be that Japan thought it could get by through the development of defense partnerships with Asia-Pacific countries like Australia or deeper engagement with Southeast Asian countries, but that's no longer enough. The security environment in the Indo-Pacific is increasingly volatile, but also increasingly global. In a matter of a decade, Japan's strategic calculus has gone from holding tightly to an aging U.S. security alliance to a complete reevaluation of its security posture. Indo-Pacific partners like India under Prime Minister Narendra Modi have encouraged this transformation, but as the spheres of Chinese military capacity and influence expand, it must look beyond the Indo-Pacific construct altogether, increasingly more toward European partners, in order to develop the required capacities and technologies to counter an assertive China.