How Terry Gou's Independent Run Impacts the 2024 Taiwanese Election
Taiwan's four-way presidential race will mean a dramatic end to the campaign season.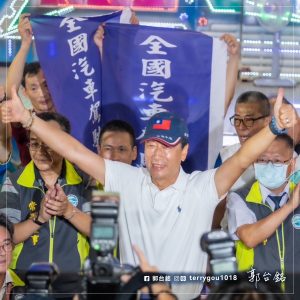 Terry Gou, one of Taiwan's most recognizable businessmen, announced his intention to stand as an independent presidential candidate on Monday. The billionaire founder of Foxconn recently lost out on the nomination for the opposition Kuomintang (KMT) party, but with KMT nominee Hou Yu-ih proving unpopular in the polls, Gou has decided to go it alone. 
The 72-year-old billionaire has spent the last few weeks touring Taiwan and holding campaign-style events, culminating in his announcement of a presidential run. His promise to bring "50 years of peace to the Taiwan Strait" in exchange for four years as president, making use of his experience and personal connections made as head of Foxconn, is a pledge that clearly grabs attention. But how will his entrance into the 2024 presidential election affect the current race?
None of the candidates are denying the gravity of the upcoming election. The ruling Democratic People's Party (DPP) from the pan-Green camp labels the vote as a choice between democracy and authoritarianism, while the KMT from the pan-Blue camp bills it as a choice between war and peace. The pan-Green camp leans toward Taiwanese independence, while the pan-Blue camp lean toward closer relations with China. 
DPP candidate William Lai has experience at the highest levels of government; he is currently the vice president and prior to that served as premier. On the topic of cross-strait relations has combined cautious pragmatism with previous hints of support for Taiwanese independence. 
The KMT nominated Hou Yu-ih, the popular mayor of New Taipei. He won the nod over Gou, but with an asterisk: The KMT completely overhauled its nomination process this year, scrapping an open primary in favor of having party leadership unilaterally select the candidate. This was believed to be an attempt at nominating the most electable candidate, after two cycles in which the KMT's party base selected nominees who were soundly rejected by the overall electorate. However, since being awarded the KMT nomination, Hou has struggled to mark his authority on the party.
Hou has been unable to shake questions about both competence and strategy. While popular as mayor of New Taipei, his former strategy of sticking to local issues and steering clear of national politics is not one that will win a national contest. On that note, there has been a lack of clear messaging behind the major geopolitical issue facing the island; how best to maneuver Taiwan in its cross-strait relations. Recent policy U-turns about the length of military service have also added to confusion regarding Hou's foreign policy approach. 
Questions over whether Hou is up to the job have plagued the KMT for months, which has inspired Gou to unilaterally run as an independent.
As an independent, Gou will need to secure 290,000 signatures, representing 1.5 percent of the electorate, to get his name on the ballot. For most independent candidates, this would be a huge task. However, the billionaire's household-name status along with wider reservations around the current KMT candidate should mean he is able to reach the threshold.
Gou launching his own bid for the presidency is not good for the KMT. It is an explicit indicator of the unpopularity of Hou, and demonstrates clear ruptures within the pan-Blue camp. Considering that Gou initially stated he would support the KMT nominee, the fact that he saw an opening to run independently exhibits clear party disunity. 
Gou's entry adds another layer to an already complicated race, one that is seeing Taiwan's most competitive third-party bid for president since 2000. Currently polling in second place, Taiwan People's Party (TPP) candidate Ko Wen-je has attempted to capitalize on voter disillusionment with traditional partisan divides. Rejecting classification with both the pan-Blue and pan-Green camps, Ko has branded his TPP as a new "White camp." Although this positioning attempts to mark the TPP as a genuine alternative for voters, it has led to unfortunately worded party slogans such as "Vote White, Vote Right."
Fundamentally, Ko's strategy is to position himself as neither DPP nor KMT. He is unweighted by the baggage of either, and it is likely that sections of his support come from a wider disdain of the traditional mainstream candidates.
Regardless of the attempt to differentiate his TPP from the Blue-Green divide, Ko's foreign policy aligns more with the pan-Blue camp. He is a known quantity to Beijing after his stint as Taipei mayor, which saw him embrace city-level interactions with China. Ko's policy toward the United States, meanwhile, is rather inconsistent. 
Ko has said in the past that Taiwan should keep "equidistant" relations with China and the United States. However, his support for resurrecting a controversial cross-strait agreement with China hints that a Ko administration has the potential to tilt Taiwan economically and politically toward the mainland. 
Given the similarities in their approach to cross-strait relations, Ko was likely already siphoning some support away from Hou and the KMT. Gou's entry into the field will further fracture the pan-Blue vote.
In Gou's press announcement, he called for a meeting of opposition candidates to emphasize unity. Whether there is a deeper political play to force the opposition figures to fall behind a single candidate remains to be seen. 
Gou has not announced a running mate, leaving open the possibility of a joint ticket. It is unlikely that Hou would forfeit the KMT nomination for this role. In the past Gou and Ko have been seen, at least on the surface, to get on quite well. Although it is also unlikely that Ko forfeits his current position in second to be a businessman's vice president, it is something Gou may nevertheless offer. 
Currently, the DPP's Lai is the frontrunner, with about 40 percent support in the polls. With the DPP sitting firmly behind their candidate, pan-Blue candidates splitting their vote three ways would only strengthen Lai's chances. However, the DPP have not been immune to their own scandals this presidential cycle, with claims of institutional sexual harassment within the party. Whether this will be a significant factor in the election remains to be seen. 
A culmination of political uncertainty within the opposition, personal brand recognition, and ego underpinned by financial heft has led Gou to think that he can pull something off. With the election under five months away, this does not give the opposition a lot of time to unify behind a single candidate. Gou thinks he could be that unifier. If he turns out not to be, then Lai may have an easier time winning the DPP their third consecutive presidential election.