Taiwan's Presidential Slate Is Set for 2024
New Taipei mayor Hou Yu-ih, long considered the front-runner, was named as the presidential candidate of the opposition KMT.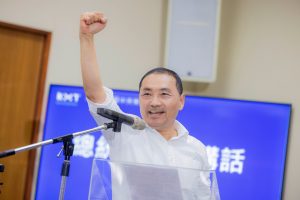 After months of speculation, New Taipei Mayor Hou Yu-ih was named as the presidential candidate of the opposition Kuomintang (KMT) on Wednesday. Though Hou was long the clear front-runner based on polling, the process by which Hou was named the party's presidential candidate proved tortuous.
The KMT announced in March that it would be deciding its presidential candidate through a closed nomination process by the party leadership, rather than an open primary. This was widely thought at the time to be an attempt by party chair Eric Chu to shut Hou out of the presidential nomination process.
Chu became the KMT party chair in September 2021. At the time, Chu claimed that he would not seek the KMT's presidential nomination, but instead act as a "kingmaker" who would seek to cultivate the strongest presidential candidate for the party. Nevertheless, it was widely thought that Chu still harbored presidential ambitions, after having unsuccessfully run as the KMT's presidential candidate in 2016 and failed in his efforts to secure the KMT's presidential nomination for 2020 elections.
Despite his popularity with the general public, Hou is distrusted by the KMT party establishment. For one, Hou is benshengren, the term referring to the majority of ethnic Han Taiwanese whose ancestors were living on Taiwan before the KMT decamped to the island after the Chinese Civil War. Moreover, historically Hou has been moderate on his cross-strait stances. In his original career as a high-profile police official before entering politics, he was close to the Democratic Progressive Party (DPP), the KMT's main political rival. During the Chen Shui-bian administration, the DPP in fact tried to recruit him to the party. Hou later became a deputy mayor of New Taipei when Chu served as mayor of New Taipei.
But it is probably Hou's moderate stances that have allowed for his popularity with the general public. While Hou has generally sought to avoid being pinned down with any specific cross-strait stance, more recently, he tried to position himself as opposed to both the DPP's Taiwanese independence and China's "one country, two systems," suggesting that both are extreme positions.
Yet ironically, Hou's moderation on cross-strait issues may precisely be what has led to distrust of him within the KMT. The KMT has long feared another benshengren politician rising to the top of the party and later proving to be a covert pan-Green sympathizer, in the manner of Lee Teng-hui, Taiwan's first democratically elected president.
In the past decade, this skepticism has sabotaged efforts within the party to localize and shed the party's pro-China image, which has proven to be a stumbling block for national elections. This has also obstructed the party's efforts to win over younger voters, given concerns about the KMT's cozy relations with China and identity trends that favor Taiwanese over Chinese identity. Indeed, this already resulted in a blow-up in the present election cycle as the KMT sought to decide on its legislative candidates for the next round of elections. Younger KMT politicians are revolting against that the KMT's election strategy committee, which favored individuals from established, powerful families in the party rather than younger, up-and-coming politicians who could perhaps rebrand the party's image.
Ironically, Chu himself in the past faced many of the same accusations as Hou, including regarding his moderate stance on cross-strait politics. When he became chair of the KMT, Chu promised that he would pivot toward the United States so the KMT would not be perceived as pro-China, and seemed to suggest that he did not acknowledge the 1992 Consensus before seeing pushback over the proposition.
The 1992 Consensus has increasingly become a toxic brand for the KMT in past years, with not only Chu but preceding chair Johnny Chiang suggesting a willingness to drop the formula when he won office. The KMT increasingly faces difficulty distinguishing the 1992 Consensus' notion of "one China, respective interpretations" from "one country, two systems," especially as Chinese President Xi Jinping increasingly conflates the two. That worked to the KMT's detriment in 2020, when the specter of the brutal suppression of the 2019 protests in Hong Kong hung over the elections. Yet party heavyweights such as Ma Ying-jeou, who likely view the 1992 Consensus as part of their political legacy, have strongly resisted suggestions that the KMT should abandon the formula.
Likely to distinguish himself from Hou, Chu has more recently leaned harder into traditionalist stances of the KMT. But, though acknowledging the 1992 Consensus and Ma's advocacy for it, Hou has to date avoided explicitly committing to the position.
Although, as mentioned above, there was no open primary voting, Hou defeated FoxConn founder Terry Gou to win the KMT's presidential nomination. Like Chu, Gou also unsuccessfully sought the KMT's presidential nomination in 2020.
Gou has made moves aimed at positioning himself as a possible presidential candidate for close to a decade. This raised questions as to whether Gou could potentially split the pan-Blue vote if, in failing to secure the KMT's presidential nomination, he were to run as an independent. As a billionaire and one of Taiwan's richest men, Gou would be able to fund his own campaign independent of the KMT.
Gou had declared that he would be leaving the KMT after he failed in securing the party's 2020 presidential nomination, claiming irregularities in its nomination process.
However, in April, Gou publicly apologized for his prior departure from the party. Likewise, Gou vowed that he would not challenge the KMT's eventual candidate if he was not chosen.
Compared to 2020, in which he was up against populist Kaohsiung mayor Han Kuo-yu and Chu, Gou leaned far more heavily into Han-style populism this year. He raised eyebrows in the course of campaigning with a number of bizarre campaign promises, from vowing to construct an army of 80,000 robots to fend off the threat of Chinese invasion to promising to build small-scale nuclear reactors in all of Taiwan's administrative districts.
On cross-strait issues, Gou framed the DPP as provoking China into military action against Taiwan through covert efforts to redefine the 1992 Consensus. As such, Gou framed his run for president as an effort to preserve peace for Taiwan and to rescue the Republic of China, the official name by which Taiwan is known, from the DPP's efforts at redefining the status quo.
Yet, significantly, Gou also sought to moderate his stances on cross-strait relations. Although Gou is arguably the most iconic of the taishang entrepreneurs who built their wealth on owning factories in China, Gou asserted in campaigning that Taiwan should reduce its economic dependency on China.
The closed nomination process was thought to favor Gou, seeing as he could potentially frame himself as a compromise candidate if Hou was distrusted by the KMT establishment. Nevertheless, Hou still polled higher than Gou and was backed by more of the KMT's central leadership, and this seems to be what resulted in his nomination.
It is to be seen if, as some reports suggest, Gou could potentially be persuaded into serving as Hou's running mate. At least publicly in a statement made on Facebook, Gou has promised to back Hou, even if he did not appear at the party meeting at which Hou's nomination was announced. Before the announcement, Gou claimed 99.99 percent certainty of his victory.
After close to a decade of successive party crises, the KMT has managed to get its act together and nominate its strongest possible candidate for 2024. That said, the decision to select a candidate through a closed nomination process rather than an open primary might still come back to hurt the party.
After all, an open primary – which Hou would have likely won anyway – would have allowed him to build legitimacy among the various factions of the KMT. By contrast, the closed nomination process could still result in bruised egos and unresolved grudges in a way that eats into voter turnout and support for Hou.
Moreover, the pan-Blue Taiwan People's Party (TPP) is slated to field its party chair, former Taipei Mayor Ko Wen-je, as its candidate. Ko's challenge could potentially split the pan-Blue vote in a way that results in a pan-Green victory, as occurred with Chen Shui-bian's 2000 presidential win. While the KMT has said that it will try to negotiate with the TPP to cooperate in the 2024 elections, Ko has long been gearing up for a presidential run, and if he abandons this at a time in which he holds no formal elected position, he could lose political relevance.
In comparison to in-fighting among the pan-Blue camp, the pan-Green camp unified relatively quickly behind the DPP candidate, Vice President William Lai. Since news of Hou's victory, Lai has called on both Hou and Ko to have a common consensus on cross-strait issues.
Apart from attacking Hou for an unclear cross-strait stance, it is expected that the pan-Green camp will focus on his past as a police officer during the authoritarian period. Though the DPP, again, did in fact try to recruit Hou during the Chen presidency, Hou was the lead police officer that oversaw the series of events that led to newspaper publisher Nylon Deng's self-immolation during authoritarian times. Deng is remembered in Taiwan today as a popular martyr for free speech. It is probable that the DPP will lean into attacks on Hou over this and other events during the KMT's period of one-party rule.
For his part, Hou has denied any regret over his actions.