Humanitarian Assistance and Disaster Relief: The Quad's Path Forward in Southeast Asia
A focus on HA/DR would be a return to the Quad's roots – and an effective way to merge public goods provision and maritime security in a politically palatable manner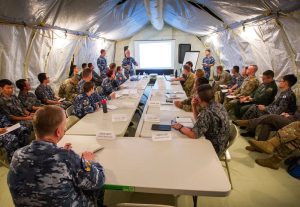 With Australia hosting the 27th  iteration of the Malabar exercise in August 2023, Quad countries have once again demonstrated that it's full steam ahead for the group's maritime cooperation. Yet, it is important to recognize that the exercises technically fall outside of the Quad's remit, because there is still internal reticence to explicitly incorporate a collective defense position, as well as pushback from regional partners. That said, within these political limits and regional dynamics, Australia, India, Japan, and the United States are still taking concrete steps to increase their efforts to enhance cooperation across a variety of issue areas, most importantly the provision of public goods in the Indo-Pacific.
In light of the political realities, non-traditional security, especially humanitarian assistance and disaster relief (HA/DR), should be bolstered and framed within the Quad's public goods agenda as a mechanism to enhance cooperation with the Association of Southeast Asian Nations (ASEAN). With the depoliticized nature of HA/DR, these exercises and activities avoid the risk of running afoul of regional politics and mitigate concerns about the Quad and traditional security, while simultaneously providing tangible, concrete public goods deliverables.
There's no shortage of calls for deepening Quad security cooperation, but political sensibilities within and outside of the four members mean explicit, traditional security is effectively tabled. This is doubly so for external partners, particularly ASEAN. These concerns should not be taken lightly, as trepidations about forming an implicitly anti-China coalition derailed the first iteration of the Quad in 2008. Even in its new rendition, Canberra, New Delhi, and Tokyo remain less comfortable with traditional security activities than many policymakers in Washington. The "rebranding" of the Quad in 2021, largely a response to these concerns, shifted the grouping away from previous traditional security rhetoric in favor of a focus on public goods.
With climate change and natural disasters posing a serious and urgent risk to human security in geostrategically crucial Southeast Asia, HA/DR support and interoperability should be elevated as a top-tier priority in the Quad's public goods engagement with ASEAN. The the world witnessed its hottest month on record in July 2023, and Southeast Asia is one of regions most likely to be severely impacted by climate change. Indeed, an ISEAS survey highlighted that climate change is one of ASEAN's most pressing challenges.
While ASEAN has taken great steps to strengthen its own disaster resiliency and mitigation capabilities, an internal ASEAN survey highlighted that a majority of respondents viewed the region's disaster resilience as generally weak. In 2021 alone, Southeast Asia was home to more internal displacement than anywhere else in the world due to natural disasters, with over 5 million Filipinos and close to 800,000 Indonesians and Vietnamese, respectively, displaced.
In light of this pressing need, HA/DR activities represent an optimal means to expand the Quad's non-traditional security and public goods agenda while bolstering ties, capacity, and interoperability with ASEAN states. The grouping's September 2022 "Guidelines for Quad Partnership on Humanitarian Assistance and Disaster Relief in the Indo-Pacific" underscore the weight the four states are putting behind this policy initiative and is precisely the right next step. Moreover, while the guidelines may be new, the four members' engagement with Southeast Asia and ASEAN on HA/DR is certainly not.
Individually, Australia, Japan, India, and the United States have a long history of working with and supporting Southeast Asian states when it comes to HA/DR. Aside from the Quad's genesis coming out of the 2004 Indian Ocean tsunami, HA/DR has remained a key vector for engaging and enhancing interoperability between the individual members and ASEAN states. Stretching back to March 1996 under the auspices of the ASEAN Regional Forum (ARF), the United States and Singapore co-hosted the first instance of HA/DR cooperation on Search and Rescue coordination in Hawaii. Through exercises such as Cobra Gold, the U.S. and regional and Southeast Asian partners regularly undertake HA/DR exercises.
Australia's engagement with ASEAN on HA/DR can also be traced to the late 1990s and early 2000s, when Australia and Thailand co-hosted the first Train the Trainers Seminar on disaster relief operations in January 2000. Australia has been a critical supporter of the ASEAN Coordinating Center for Humanitarian Assistance and Disaster Management (AHA Center) and has funded programs to improve the center's capacity to respond to crises. Recently in June 2023, Australia, the U.S., and Indonesia held Exercise Crocodile Response, which is specifically aimed at bolstering interoperability in responding to natural disasters.
Japan has also been a major supporter of the region's HA/DR efforts. During the SARS epidemic in 2003, Japan was a leading provider of assistance to the region and sent a disaster expert team and medical equipment to Vietnam to combat the virus. More recently, Japan has emerged as one of the key funders of regional organization's Disaster Emergency Logistics System for ASEAN (DELSA), and regularly holds bilateral HA/DR exercises with regional partners.
Following Cyclone Nargis in 2008, India provided aid and undertook HA/DR operations in Myanmar, which was notable because the Burmese government refused to accept any Western aid. Supplementing its bilateral HA/DR operations, India has joined ASEAN HA/DR exercises that have boosted its own interoperability with Southeast Asia militaries.
With close to 70 percent of regional respondents of the 2023 ISEAS survey viewing the Quad as either beneficial or complementary to ASEAN efforts, Quad members should double down on their HA/DR engagement in Southeast Asia both as a group and individually. As the grouping finalizes its standard operating procedures for HA/DR, its members have already embarked on an ambitious work plan.
Quad initiatives related to this issue promise to pay dividends for the region. For instance, the Indo-Pacific Partnership for Maritime Domain Awareness (IPMDA) aims to provide Southeast Asian states with real-time data from commercial satellites, technology, training, and access to regional information centers to enhance their own capabilities to address illicit activities, which also crucially supports HA/DR operations. The Climate Change Adaptation and Mitigation Package (Q-CHAMP) will help integrate and facilitate access to climate change data and early warning systems through existing centers and programs, which will go a long way toward bolstering regional capabilities. In addition to Quad initiatives, the four members should elevate their support of ASEAN-centric centers and initiatives including the AHA Center, DELSA, and the ASEAN Emergency Response and Assessment Team. These efforts should be expanded both in funding and scope.
Importantly, HA/DR work blends security and public goods in a manner crucial for the Quad's mission of a free and open Indo-Pacific. Southeast Asia continues to regard the Quad with some concern in the context of renewed great power competition and its own centrality, but HA/DR can provide tangible and concrete deliverables that bring real benefit to Southeast Asian governments and people – especially as it is non-controversial politically. Following early missteps and delays with the Quad's Vaccine Partnership and other activities including infrastructure, it is important for the grouping to show it can deliver on public goods.
At the same time, HA/DR should not solely be conducted under Quad auspices, but also in bilaterally and other arrangements. As seen in Cambodia's recent rejection of ASEAN naval exercises in the South China Sea, there are times when a Southeast Asia-wide approach won't make sense. In those cases, individual Quad countries can and should continue their own efforts with interested ASEAN states.
Of course, an emphasis on HA/DR is not a panacea to the Quad's image in Southeast Asia and other areas of the Indo-Pacific, including the Pacific Island states. It is only one part of a wide-ranging agenda. But real progress on HA/DR can go a long way toward merging public goods provision and maritime security in a politically palatable manner. For a few years now, the Quad has suffered a bit of an identity crisis, with experts arguing in favor of a more open security focus and the governments highlighting public goods. Through HA/DR, the Quad can do both and directly benefit the region – all while accomplishing wider, longer-term goals of institutionalization and internal and external maritime cooperation.
The views expressed are the authors' alone, and do not represent the views of the United States government or respective institutions.