Hun Manet's Cambodia: An Anatomy of Administrative Bloat
The transition of power from long-serving PM Hun Sen to his son has been accompanied by a significant expansion of the country's administrative apparatus.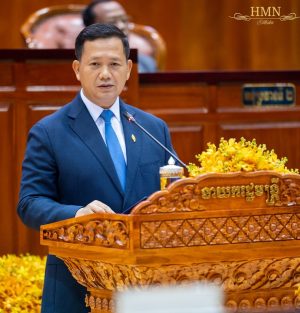 In late July, shortly after leading his Cambodian People's Party (CPP) to a walkover election victory, Cambodia's Prime Minister Hun Sen announced that he was stepping down and handing power to his eldest son after more than 38 years at the helm. Since then, much commentary has focused on what kind of leader Hun Manet will be – in particular, whether he will govern Cambodia in a more moderate or democratic way than his father.
A hint was offered by an article that Camboja News published yesterday, which revealed something interesting about Manet's new government. According to the report, the government has a remarkable 1,422 officials serving as secretaries or undersecretaries of state, the two ranks beneath that of minister. As the publication noted, this represents a 121.8 percent increase over the government that ruled during 2018-2023, which had only 641 officials serving in those positions.
As Camboja explained, "Many of these appointments appear to have gone to relatives of current or former ruling CPP officials and also a flurry of former opposition leaders, environmental activists, and union leaders who joined the ruling CPP in the lead-up to July elections."
This "hyperinflation of political leadership," as one observer put it today, is a trend that has persisted in the three decades since the United Nations-organized election in 1993. Since then, as the ruling Cambodian People's Party (CPP) consolidated its control, eliminating its opponents, intimidating them into silence, or absorbing them into its own ranks, the size of the government, and the number of senior officials accommodated within it, has steadily increased from mandate to mandate.
Camboja cited one example from this week, in which four sons of the late Sok An, a key ally of Hun Sen dating back to the 1980s who died in 2017, were granted new posts at the upper levels of the civil service. As it explained, "Sok Sangvar became a Public Service Ministry secretary of state, Sok Puthivuth became a Posts and Telecommunications Ministry secretary of state, Sok Sokan became a Land Management Ministry secretary of state, and Sok Soken was given the top job of Tourism Minister."
The answer lies in the logic of Cambodia's neo-patrimonial political system, where power flows through personal relationships and largely bypasses formal political institutions. Rather than serving institutions, civil servants serve the minister or official that heads them; rather than earning a living from the paltry state salaries, they do so by leveraging the power that these positions and titles grant them.
Over time, the CPP's networks of patronage have had to expand to accommodate the growth of elite families from one generation to the next and the absorption of defectors from opposition parties and civil society. Provided they remain politically loyal, few senior officials are moved "out"; new posts are simply created to accommodate the newcomers, while serving officials are promoted upward or sideways in an unending cycle of expansion and co-optation.
However, the scale of elite inflation with the incoming government is unusual, even by the standards of the recent past – a fact that may be accounted for by the long-planned transfer of power from Hun Sen to his son.
Interestingly, Camboja observed that elite inflation was particularly marked in the Ministry of Interior, which now has 104 secretaries and undersecretaries of state compared to just 22 in the last mandate, and the Ministry of Defense, which now has 86 officials serving in these ranks, in contrast to 38 previously.
One can only speculate as to the exact cause, but it is probably no coincidence that these two ministries are headed by powerful and long-serving officials – Interior Minister Sar Kheng and Defense Minister Tea Banh – whose support for Hun Sen's accession plan was rumored to be in doubt.
Whether or not this is true – and it is usually tricky to separate fact from rumor when it comes to internal CPP politics – it is clear that Hun Sen's succession plan required the buy-in of the powerbrokers in the political establishment and security forces that have supported his rule over the years. In order to achieve this buy-in, it has been necessary to ensure that powerful people will be compensated with the necessary rewards and prestige.
As a result, the interior and defense ministries have aped the prime ministerial transition, with Sar Kheng and Tea Banh being succeeded by their sons, Sar Sokha and Tea Seiha, essentially formalizing the status of the two ministries as family-run patronage fiefs. This is likely also the reason for the bureaucratic "hyperinflation" within the two ministries: in order to accommodate the relatives and clients of these expanded power centers. In other words, administrative bloat may have been the price that Hun Sen paid to secure the support for his succession plan. (The new $60 million Interior Ministry building, inaugurated last week, is in some ways the concrete embodiment of this bureaucratic metastasis.)
All of this says something important about the nature of the Cambodian political system as it has developed under Hun Sen, and how it might develop in the years to come. Needless to say, few of the 1,422 high-ranking officials listed by Camboja perform many concrete duties associated with their positions – but all have the need to earn a living from their positions, provide for their own extended families, and sustain their dependent networks of assistants, advisers, toadies, and other clients. Though it is hard to say whether this is the case in this instance, there have been past documented cases in which officials have been required to pay for key appointments, and then to cede a portion of their income to those "above" them in the hierarchy.
This system creates an incentive for civil servants to wring as much income out of their positions as they can, to the detriment of those – the Cambodian people – whom they are theoretically supposed to serve. This is the root cause of the corruption that has been such an ingrained problem in Cambodia under Hun Sen. To return to the question that I posed at the beginning of the article, this is also perhaps the primary reason why Hun Manet will be limited in what he can do to reform the political system, assuming he has any interest of doing so, or to engineer a reorientation of Cambodia's foreign relations.
The most interesting question is what might happen to this system in the event of a severe economic contraction. As Jack Adamovic Davies wrote for Radio Free Asia last month, Cambodia's economy is not in a good state. The tourism, real estate, and construction sectors are all stagnant, and the country is burdened by high levels of household debt for a nation at its state of development. Meanwhile, the slowdown in China's economy is set to end the economic sugar-high created prior to COVID-19 by large influxes of Chinese capital, which has manifested in the half-occupied apartment towers that have altered Phnom Penh's skyline.
While the ultimate effect is hard to say – and Hun Sen's system has been nothing if not durable over the years – there is always a risk with such a top-heavy government that, given a sufficiently strong economic wind, it might simply topple over.