Will Cambodia's PM Hun Sen Resign Next Year?
There are numerous signs that the long-planned transition of power from the prime minister to his son may happen sooner rather than later.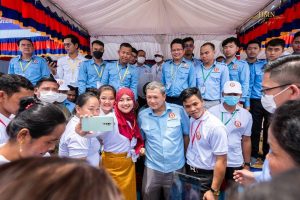 In July, I argued in this column that Cambodia's political succession was more likely around the time of the 2028 general election than the 2023 ballot. But succession plans are developing quickly, and it wouldn't be all that surprising if Prime Minister Hun Sen steps down next year.
Hun Sen, in power since 1985, has never been an easy figure to read. He's often contradictory and is one of the most protean politicians around. He managed to claw a co-prime minister role after losing the 1993 election by threatening the secession of several provinces. He defeated his power-sharing rivals through a brutal coup in 1997. He outfoxed the rising Cambodia National Rescue Party (CNRP) through niceties and then brutality in the 2010s. The Phnom Penh Post paraphrased him as saying this week that "one of his strengths that makes his rivals unable to win is that he is unpredictable, explaining that they have wrongly judged him and that even the [ruling party] ranks have been unable to predict his next move."
Yet it's been known for years that he eventually wants one of his sons to succeed him. Last December, Hun Manet, his eldest and the de-facto military chief, was named by the ruling Cambodian People's Party (CPP) as its prime ministerial candidate once Hun Sen resigns. That was the first step. The second was for Manet to form a circle of younger party officials around him who would eventually rise up the ranks with him, part of a much broader "generational succession" that will need to take place alongside the prime ministerial succession. Manet is also head of the CPP's youth wing and his "reserve cabinet" (as Hun Sen phrased it) is gaining momentum.
But it always seemed that Manet would need some time to gain experience as an elected official and minister before taking the top job. He's never held an elected office before. He will have to resign as military chief next year to run as an MP. His becoming the next defense minister seems likely. Hun Sen, one suspected, was being patient. At a closed-door, two-day conference in July, the 865-strong CPP Central Committee expressed its support for Hun Sen to be the party's prime ministerial candidate for next year's general election and for Hun Manet as "prime minister-candidate for the future."
But the pace of the succession has ratcheted up recently. This week Hun Sen publicly confirmed that he would retain effective decisions over government personnel, as CPP president, after he steps down as prime minister. "Although I will leave the prime ministerial post, I will still serve as the CPP president. I have the right to oversee the activities of the prime minister and ministers. If they are not up to the task, I will remove them, period," he stated during a public speech, another occasion in recent months where he has laid out what a post-Hun Sen system might look like. This week, he also offered a bumbling explanation of the role of the National Assembly, the lower house of parliament, which makes one think he might have eyes for a position there, too, once he resigns.
Sources tell me that Hun Sen may want the presidency of the National Assembly or the Senate. Some reckon the former. But the "unpredictable" Hun Sen could opt for the latter. His CPP already dominates the National Assembly. It won all 125 seats in the chamber at the 2018 general election. It will likely win all but a handful of seats (and that's an optimistic forecast) at next year's general election. And Hun Sen has now made sure the party apparatus, which he dominates as CPP president, also controls the National Assembly. Early last month, the King signed into law new constitutional amendments, rushed through by the government, that will make it easier for Hun Sen to dictate politics after he resigns. Changes to Article 119 will mean the party with a majority of seats in the National Assembly has the direct authority to designate a prime minister, "and hence will bypass the National Assembly and prevent a public debate," according to one critique of the changes." (Normally, the National Assembly must give a vote of confidence to a new prime minister.) "And an amendment to Article 98…raises the quorum to table a motion of censure against a cabinet member from 30 to 42 lawmakers."
Instead, taking on the Senate presidency would give him powers that he wouldn't possess as party president. Granted, his arch-loyalist Say Chhum is already Senate president, and the Senate was only created in 1999 so Hun Sen could send out his rivals within the CPP to ceremonial posts. But the Senate presidency would allow him to serve as acting head of state when the King is out of the country, which isn't infrequent. (King Norodom Sihamoni, 69, is often in Beijing for medical checkups.) If there was any major political crisis, the monarch could depart temporarily, leaving Hun Manet as head of government and Hun Sen as (acting) head of state. As such, he would then have the power to sign into law any constitutional change that he would have decided as CPP president, protecting his son's position, and commanding the support of the armed forces. The Senate president is also often visited by foreign dignitaries and ambassadors, which would allow Hun Sen to still dictate foreign policy.
At the same time, the country is not in too bad a shape for succession to happen next year. The economy is looking back on track after two fateful years of the pandemic. The World Bank reckons it'll grow by 4.5 percent in 2022 and 5.5 percent in 2023. Cambodia gives up ASEAN's rotating chairmanship later this year, after holding it for 2022. Even Hun Sen would probably admit that its tenure over the bloc hasn't been a success, but this is the last time Cambodia has to take on such an international role for several years to come.
Hun Sen arguably hasn't had as much power over politics as he does today. The CNRP, outlawed in 2017, is essentially dead. The rest of the opposition is squabbling. Sam Rainsy, the opposition figurehead, won't be allowed to return anytime soon. Kem Sokha, the other opposition leader, will probably have his day in court before next July's election, and he will be expected to step away from politics in return for clemency.
Hun Manet is also hurtling along the succession path. Scroll through his popular Facebook page: most days he's opening pagodas or schools or hospitals, and lecturing audiences on politics and culture – all tasks a prime minister is expected to do. He's bickering even more often with Sam Rainsy – another apparent duty of a prime minister. Rarely is he spotted nowadays in military fatigues doing his day job. He has now visited all the foreign capitals of importance. Just last month a eulogizing book was published about his life, entitled "PM's Eldest Son: Hun Manet's Journey to Prime Ministerial Post," and given out for free. He even created a Twitter profile this month! Radio Free Asia carried an interesting article last week about how ordinary Cambodians are now petitioning Manet to help them with their problems, which suggests the public is now aware of succession plans.
If Hun Sen does go next year, the question is whether it happens before the general election, set for July 23. If he steps down beforehand, the ballot would essentially become a plebiscite and means of conferring legitimacy on the new prime minister. That would be key for Manet, especially among rivals within the CPP. He would be able to say any post-election attempt to remove him from office is against the will of the people. The danger of resigning before the election, though, is that the Cambodian electorate is also unpredictable. Without Hun Sen as the prime ministerial candidate, a greater number of people could be tempted to vote for the smaller opposition parties. Alternatively, Hun Sen could hand over power post-election. That would deny Manet some public legitimacy but it's less risky. But, then again, Hun Sen is "unpredictable." He could well step down on the eve of the election, surprising voters and rivals. Either way, he'll package succession as a fait accompli. And, either way, Hun Sen won't be exiting the political stage once he steps down as prime minister.