Hundreds of Thousands Trafficked into Southeast Asian Scam Centers, UN Says
Digital scam operations are generating billions of U.S. dollars in revenue each year, the Office of the U.N. High Commissioner for Human Rights said in a new report.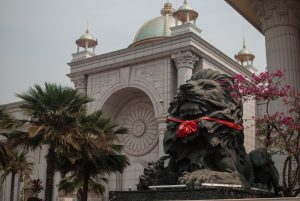 Hundreds of thousands of people are being trafficked by criminal gangs and forced to work in scam centers and other illegal online operations that have sprung up across Southeast Asia since the onset of the COVID-19 pandemic, according to the United Nations.
In a report published yesterday, the Office of the U.N. High Commissioner for Human Rights cited "credible sources" to the effect that at least 120,000 people in Myanmar and at least 100,000 in Cambodia "may be held in situations where they are forced to carry out online scams." Laos, the Philippines, and Thailand were also cited as countries of destination or transit for people trafficked into scam operations.
The report focuses on a phenomenon that has exploded into public view since the waning of the COVID-19 pandemic: a region-wide wave of digital criminality, perpetrated mostly by Chinese criminal syndicates, which runs the gamut from romance-investment scams and crypto fraud to money laundering and illegal gambling.
These scam centers operate within an archipelago of Chinese-run special economic zones and other interstitial voids of regulation in Southeast Asia, and rely on what are essentially armies of indentured slaves: innocent jobseekers who are attracted by promises of clean and legitimate employment, only to be kept in virtual captivity and forced to operate various types of digital scams, often on pain of beatings, mistreatment, and torture.
While the scale of these scam operations is difficult to gauge because of the practice's clandestine nature, the U.N. cited estimates claiming that scam centers in Southeast Asian countries "generate revenue amounting to billions of U.S. dollars" per year.
The report emphasized that the phenomenon had claimed "two sets of victims." The first were those targeted by the scams, many of whom have been robbed of their life savings. The second were those coerced into working in factory-like scam centers, most of whom have hailed from Southeast Asia, China, Taiwan, and Hong Kong, but some of whom have been recruited from as far away as Africa and Latin America.
"People who are coerced into working in these scamming operations endure inhumane treatment while being forced to carry out crimes. They are victims. They are not criminals," U.N. High Commissioner for Human Rights Volker Türk said in a statement announcing the report's release.
These scam operations grew out of the host of unregulated gambling operations that have long flourished in poorly regulated parts of Southeast Asia, particularly the borderlands between Myanmar, Laos, Thailand, and China. The catalyzing factor was the COVID-19 pandemic, which threatened these operations and forced the criminals that operated them to seek out a new "business" model.
"Faced with new operational realities, criminal gangs increasingly targeted migrant workers, who were stranded in these countries and were out of work due to border and business closures, to work in the scam centers," the report stated. Given the COVID-19-era shutdowns and reduced job opportunities that resulted, it added, "traffickers were easily able to fraudulently recruit people into criminal operations under the pretense of offering them real jobs."
The U.N. rights office called on Southeast Asian governments to strengthen the rule of law and tackle corruption in order to "break the cycle of impunity" that allows such criminal enterprises to thrive. "The traffickers' ability to move their operations – and often physically their victims – between countries in the region demonstrates that ASEAN States need to take a sustained regional approach to addressing this issue," it added.
The challenge, of course, is that much of this activity takes place outside the reach of state authority, or in some cases, allegedly with their connivance or tolerance. In Myanmar, scam operations are concentrated in regions of the country along the borders with Thailand and China that are under the control of rebel groups and militias allied with the Myanmar military, which have managed to consolidate their control further in the chaos that has followed the February 2021 coup.
Indeed, in a separate report released this month, the International Crisis Group (ICG) described the crescent of criminality that runs from Shan State in eastern Myanmar to Bokeo province in northern Laos, where cyber-scam operations are only one of the many forms of illegal activity that are flourishing. The ICG described the region as a "a contiguous zone of vibrant criminality, much of it beyond the reach of state authorities."
In Cambodia, the situation is somewhat different, in that the government exercises formal jurisdiction over the regions in which scam centers have been found to be operating. But as the local media outlet Voice of Democracy detailed in a series of reports before it was shut down by the Cambodian government in May, a number of these large scam operations have links to prominent tycoons and elite grandees.
All this suggests that eradicating the scourge of scammers will require extraordinary efforts on the part of Southeast Asia's governments – one that may well exceed their capacity and political will.