Incoming Cambodian PM Hun Manet Burdened With Human Trafficking Challenge
As the country's leader prepared to hand over power to his son, Indonesian police made arrests connected to an Cambodia-based organ harvesting ring.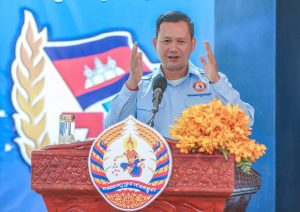 Cambodia's incoming Prime Minister Hun Manet is facing a series of pressing and unresolved issues left over from his father's administration, both in foreign policy and on the home front. As previously noted, the Ream Naval Base is at or near the top of that agenda.
However, Ream – and its Chinese-funded reconstruction – belongs in the realm of geopolitical strategies and the corridors of power in Washington, Beijing, and Phnom Penh. It's all about what might happen in the future amid ongoing brinkmanship in the South China Sea.
Closer to home are the many thousands, perhaps hundreds of thousands of people, who were duped into false job advertisements and trafficked into compounds where they were forced to work online scams and meet quotas under threats of torture from organized crime syndicates.
These victims were lured from all across Asia and despite pleas from their respective nations the scourge continued and it reared again as this country was preparing for the July 23 elections, which resulted in predictable victory for Prime Minister Hun Sen.
Hun Sen has since announced his resignation and a "generational" change in leadership with his eldest son Hun Manet expected to become prime minister by the end of the month while senior ministers are also expected to hand their portfolios to their offspring.
Meanwhile, in Indonesia, authorities began rounding-up traffickers, including three immigration officers in Bali, who had allegedly facilitated the trafficking of 122 people into Cambodia, where their kidneys were harvested for sale between March and June last year.
Fifteen people have been charged to date for running a trafficking cell, which was dated back to 2019, and Hengki Haryadi, the Jakarta police director for general crimes, described the victims as factory workers, teachers, and executives who lost their jobs during the pandemic.
"There have been kidney trafficking transactions at Cambodia's state-run Preah Ket Mealea Hospital," said Krishna Murti, the head of the National Police's international relations division, adding that his team was closely cooperating with the Cambodian police.
Amid the elections and since then, this was a story that barely rated a mention in Cambodia, where authorities have consistently denied reports that organ harvesting was a part of the business model deployed by traffickers, and the media is tightly controlled.
Nor was this the first report about organ harvesting in Cambodia. The Taiwan News reported in October that three Taiwanese people had been arrested in connection with a human organ harvesting syndicate that sent victims to Cambodia under the pretext of high-paying jobs.
Responsibility for human trafficking straddles the foreign and interior ministries and involves the police, military, and immigration department – and the Cambodian government was incensed when the United States dropped the country to its lowest Tier 3 level on its human trafficking index in 2022.
That position was unchanged when the index was updated in June 2023 because Cambodia "does not fully meet the minimum standards for the elimination of trafficking and is not making significant efforts to do so, even considering the impact of the COVID-19 pandemic."
Sources in NGOs focused on human trafficking and recruiters have told this journalist the next wave of people being trafficked into Cambodia compounds are starting to arrive. They are coming from India and Bangladesh and are being offered bogus jobs in Cambodia's "IT hubs."
"There are thousands upon thousands coming," a job recruiter said.
Yes that's right, Cambodia has Information Technology hubs, which have apparently been established in Kampot and on the south coast in Sihanoukville, which was well-documented as having emerged as the regional hub for human trafficking and online scams during the COVID-19 pandemic.
It's no secret that Cambodia has eschewed the West and annoyed many within ASEAN over its strategic alliance with China, and the scourge of human trafficking can only add to its isolation.
It's an unwanted scenario when its economy is floundering and in dire need of a rebooted tourism industry and much more foreign investment. That's another issue confronting Hun Manet once he assumes the top job later this month.