Indian Court Allows Survey of a 17th-century Mosque to See If It Was Built Over a Hindu Temple
The Gyanvapi mosque in the city of Varanasi dates to the 16th century, but Hindu petitioners claim a Hindu temple once stood on the site.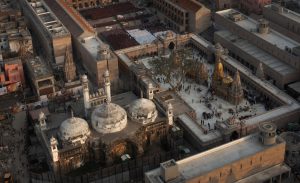 An Indian court on Thursday ruled that officials can conduct a scientific survey to determine if a 17th-century mosque in the country's north was built over a Hindu temple.
The Gyanvapi mosque in the holy Hindu city of Varanasi, an area Prime Minister Narendra Modi represents in India's parliament, is one of several mosques in northern Uttar Pradesh state that some Hindus believe was built on top of demolished Hindu temples.
The dispute over land ownership had been one of India's most heated issues between India's 80 percent majority Hindu community and Muslim minority, which makes up nearly 14 percent of the country's 1.4 billion people.
Vishnu Shankar Jain, an attorney representing the Hindu petitioners, said the High Court in the state on Thursday allowed the state-run Archaeological Survey of India to survey the structure without causing any damage to it.
"Scientific survey is necessary in the interest of justice," Live Law, an online portal for Indian legal news, cited Chief Justice Pritinker Diwaker as saying.
The Muslim petitioners objected to the survey, saying it would damage the structure.
Khalid Rasheed, a Muslim petitioner, said the mosque committee has the option to appeal Thursday's decision in India's Supreme Court.
"We are hopeful that justice will be done as the mosque is 600 years old and Muslims have been praying there for long," Rasheed told reporters.
The Archeological Survey of India began the survey last month, but the project was halted by the Supreme Court to give time for an appeal. The High Court decision was announced on Thursday.
Earlier, five Hindu women sought permission from a court to perform Hindu rituals in one part of the mosque, saying a Hindu temple once stood on the site.
A controversy arose over a structure claimed by the Hindu petitioners as a "shivling," a symbol of Hindu Lord Shiva. Muslims said it was part of a fountain in the "Wazukhana," a small water reservoir used by Muslim devotees to perform ritual ablutions before offering prayers.
The Muslim body, the Anjuman Intezamia Masjid Committee, which manages the Gyanvapi mosque, contends that the survey is contrary to provisions of a 1991 Indian law protecting places of worship.
The law states that the nature of all places of worship, except Ram Janmabhoomi-Babri Masjid in Ayodhya, shall be maintained as they were on August 15, 1947, and that it's illegal to convert such sites.
A 16th-century Babri Masjid mosque in northern Indian city of Ayodhya was destroyed by Hindu hard-liners in December 1992, sparking massive Hindu-Muslim violence that left some 2,000 people dead.
In 2019, India's Supreme Court ruled in favor of a Hindu temple on the disputed religious ground and ordered that alternative land be given to Muslims to build a mosque.
Hindu nationalists have been demanding a temple on the site in the town of Ayodhya in Uttar Pradesh state for more than a century. Hindus are building a temple there now.