Is China Facilitating Corrosive Capital in Serbia?
In Serbia, Chinese financing and democratic backsliding have forged a mutually reinforcing relationship.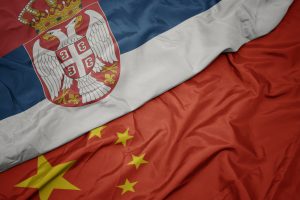 China's engagement in Serbia has given rise to consequential implications. To understand this trend, it is imperative to address two pivotal questions. First, what is the rationale behind Belgrade's decision to allow such extensive involvement from China, especially as Serbia is a candidate for European Union (EU) membership? Second, what are the strategies employed by Beijing to establish itself as the leading foreign partner of Belgrade?
The Rise – and Risks – of Chinese Capital in Serbia
Serbia, classified as a developing nation, faces a compelling need for financial resources to foster development. As of 2021, Serbia's Gross Domestic Product (GDP) stood at $63.08 billion, with an annual growth rate of 7.5 percent that year, as indicated by World Bank data. While Serbia has been an EU membership candidate since 2012 and negotiations for accession commenced in 2013, progress in the accession process has stagnated, rendering the timeline and likelihood of Serbia's EU membership uncertain.
The genesis of the comprehensive strategic partnership between Serbia and China can be traced to the 2009 Agreement on Economic and Technical Cooperation for infrastructure projects, signed when Serbia was confronted with the aftermath of the global financial crisis. This seminal agreement functions as a legal precedent for all subsequent infrastructural accords between the two nations. Having received ratification from Serbia's parliament, this agreement stipulates that forthcoming agreements, including loans, must conform to Serbia's legal framework. However, this agreement still provokes apprehensions due to its potential to bypass national legislation, including a competitive tender processes.
Since 2009, Serbia has sanctioned projects and secured preferential loan arrangements from Chinese financial institutions, amassing a sum exceeding $8 billion. These initiatives encompass significant endeavors such as the Belgrade-Budapest railway, the Belgrade-Montenegrin border highway, and sewage systems spanning various municipalities. Alarmingly, these contracts frequently dictate that disputes shall be adjudicated within Chinese courts in accordance with Chinese laws, effectively sidelining Serbia's legislative jurisdiction.
Furthermore, the management of these infrastructure projects by Chinese enterprises has resulted in a workforce predominantly comprised of Chinese labor, thereby constraining employment opportunities for Serbian workers. According to the National Bank of Serbia, the unemployment rate in Serbia was 9.7 percent in 2020, prior to the onset of the COVID-19 pandemic. This figure surged to 11 percent in 2021 before subsequently stabilizing around 9.5 percent in 2022. 
The exclusion of Chinese laborers from Serbian labor regulations, detailed within the Agreement on Social Security, engenders concerns regarding the potential denial of rights and services guaranteed by domestic legislation. This arrangement also raises questions pertaining to Serbia's legislative sovereignty, as China asserts jurisdiction over its citizens within Serbian territory.
Beyond preferential loan accords, China's foreign direct investment (FDI) within Serbia has witnessed a substantial surge since 2016. This FDI primarily targets brownfield acquisitions and the procurement of outdated industrial systems, illustrated by the acquisitions of the Smederevo steel mill and the Smelting and Mining Combine Bor. While China's greenfield investments tend to focus on undeveloped land for industrial utilization, exemplified by the Linglong vehicle tire factory in Zrenjanin, reservations persist concerning labor rights and ecological consequences. Although the legal framework governing Chinese FDI mirrors that applied to other foreign investments, concerns remain regarding labor conditions and environmental safeguards.
Nevertheless, Serbia's selection of China as its primary partner in infrastructure development can be attributed to the accessibility of funding and China's pragmatic approach to project execution. The ease of securing funds from China constituted a significant driver for Serbia's choice. The Agreement on Economic and Technical Cooperation established a streamlined process for project implementation, circumventing customary due diligence procedures. 
This approach has elicited concerns regarding the transparency of negotiation proceedings. The rationale behind the selection of Chinese corporations for specific projects, the consideration of alternate offers, and the assessment of whether the Chinese proposition represented the optimal financial choice for Serbia remain unclear. The absence of comprehensive scrutiny from national institutions, along with the dearth of official inquiry, has fueled speculation regarding potential corrupt practices.
The concentration of authority and the attenuation of democratic mechanisms in Serbia have empowered domestic stakeholders to align with China without sufficient checks and balances. Freedom House's 2023 Freedom in the World report describes Serbia as a partly free country, noting that "the ruling Serbian Progressive Party (SNS) has steadily eroded political rights and civil liberties, putting pressure on independent media, the political opposition, and civil society organizations."
Serbia's largest political party, the SNS, led by President Aleksandar Vučić, has been the country's dominant political force since 2012. Ana Brnabić has served as prime minister since 2017, and most ministers are SNS deputies, which means almost all of the important political positions are held by SNS members. Absent democratic mechanisms and robust oversight, monitoring the array of projects with China – comprising both loan agreements and foreign direct investment – becomes a formidable challenge. 
The consolidation of power within a singular political entity has engendered limited avenues for oversight. The dearth of opposition to collaboration with China, apart from sporadic protests, signifies a general lack of substantive discourse on this matter.
What Is China Getting?
For its part, China has harnessed Serbia to bolster its regional cooperation platforms and showcase its European achievements. Through a kleptocratic lens, Serbia has served as an instrument for advancing China's foreign policy objectives and collaborative mechanisms. Primarily, Serbia has exemplified cooperation between China and the Central and Eastern European countries (formerly known as 16+1 and 17+1). This mechanism has encountered disillusionment, leading to the departure of three Baltic states in 2021 and 2022, thereby reducing European participants to 14 as of February 2023. Yet Serbia has remained devoted to the China-CEE platform, even as its brand becomes tarnished. 
China has projected itself as a facilitator of economic advancement, a narrative embraced by Serbia. China's priority has been to avert the potential debt trap for Serbia, and to that end the significance of Serbia's stable economy cannot be overstated. With Serbia's overall public debt below 55.2 percent, the risk associated with joint projects with Serbia, both economically and politically, remains minimal.
Additionally, both Serbia and China have forged political alignment regarding territorial integrity, a pivotal concern evident in their reciprocal expressions of unwavering support. Serbian territorial integrity and sovereignty have become integral themes in official pronouncements by Chinese authorities. Conversely, Serbia has reaffirmed its adherence to the "One China" policy, recognizing Taiwan as an integral part of China. For Serbia, the benefits are apparent. China, as a permanent member of the U.N. Security Council, can lend support to Belgrade's endeavors to challenge Kosovo's independence. For China, this presents an opportunity to assert its stance on secessionism and independence movements, underscoring its commitment to the principle of territorial integrity.
Preventing Corrosive Consequences
To cultivate a resilient society and political system against corrosive capital and kleptocracy, Serbia should prioritize bolstering domestic capabilities, internal reforms, and robust institutions grounded in checks and balances. Decentralizing political power among institutions is crucial, accompanied by a clear assertion that the rule of law and values such as environmental protection hold equal importance alongside economic progress. Instead of pinpointing the origin of corrosive capital or kleptocratic behaviors, the focus should be on acknowledging and addressing domestic actors who propagate these tendencies. 
Serbian decision makers and relevant stakeholders have options that would limit and mitigate corrosive aspects of China's rising influence, including the establishment of a checks and balances system for monitoring infrastructure loan agreements based on existing parliamentary mechanisms and the revision of certain concerning agreements. Beyond that, Serbians must work on raising the capacity to understand, monitor and evaluate future Chinese activities in Serbia.
This piece is derived from a report the author wrote for International Republican Institute.